Need A Salt Fix? Here Are 9 Of The Healthiest Chips You Can Buy

Author:
Expert reviewer:
Updated on January 23, 2020

Contributing Health & Nutrition Editor
By Stephanie Eckelkamp
Contributing Health & Nutrition Editor
Stephanie Eckelkamp is a writer and editor who has been working for leading health publications for the past 10 years. She received her B.S. in journalism from Syracuse University with a minor in nutrition.

Expert review by
Jessica Cording, M.S., R.D., CDN
Registered Dietitian
Jessica Cording, MS, RD, CDN, INHC is a registered dietitian, health coach, and author with a passion for helping people simplify their wellness routine and build sustainable healthy habits.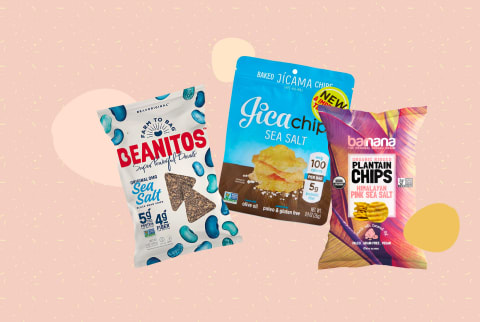 January 23, 2020
We carefully vet all products and services featured on mindbodygreen using our
commerce guidelines.
Our selections are never influenced by the commissions earned from our links.
When you need a hit of something salty and crunchy (and baby carrots dunked in guac just won't do), go ahead and reach for some chips. No, we're not trying to sabotage your healthy eating goals, we're here with the pretty awesome news that chips have come a long way in the nutrition department. While it's true that many of the more long-standing chip brands use less than stellar ingredients like pro-inflammatory vegetable oil, quite a few cleaned-up newcomers have entered the snack game featuring simple ingredients and better-for-you oils such as avocado, coconut, and olive oil.
"I tell my clients that if they want to enjoy chips, consider that their carb serving for a meal and to pay attention to portion size," says Jess Cording, R.D., mbg Collective member. "For example, crumbling chips over your salad instead of having croutons, skipping a tortilla if you want to have room for chips and salsa as an appetizer, leaving off one slice of bread (or doing a lettuce wrap instead of bread) if you really want chips with your sandwich."
Here, with a little guidance from Cording, we've rounded up eight of the best chip options you can feel good about snacking on when those salt cravings strike.
Bare Baked Crunchy Chips
Many veggie chips or sticks are anything but healthy—often consisting of potato starch and a little veggie powder. But simplified, healthy options exist. "My absolute favorite chip option is vegetable chips where the ingredients are just that vegetable and maybe some salt," says Cording. "I purchase Bare's Beet Chips and Carrot Chips a lot for when I'm traveling because they're a convenient way to add vegetables—along with the vitamins, minerals, and fiber they provide—to my day when fresh options might be limited. They're also delicious!"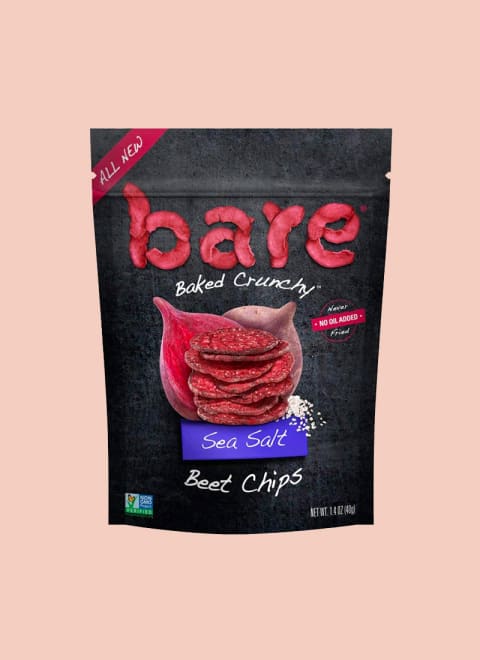 mbg creative + custom
Boulder Canyon Avocado Oil Kettle Cooked Potato Chips
"With so many great options out there now, it's easier than ever to find chips made in oil other than vegetable oil—avocado oil gets my pick because it's a food source of heart-healthy monounsaturated fatty acid and is appropriate for high-heat cooking," says Cording. For a healthier spin on a classic potato chip, we love Boulder Canyon's Avocado Oil Potato Chips, made with non-GMO potatoes and just the right amount of salt.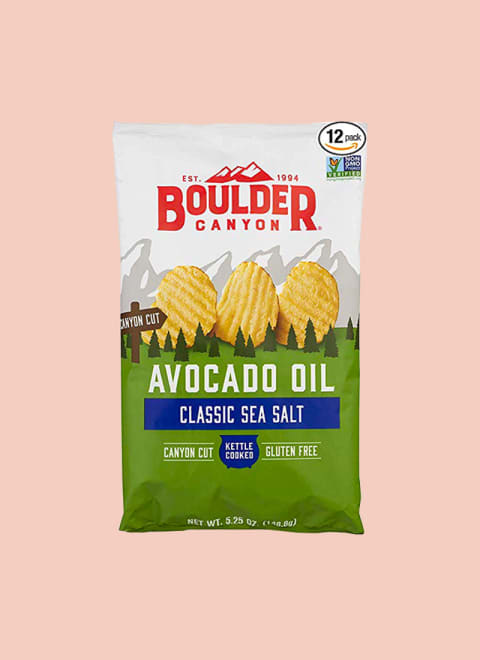 mbg creative + custom
Terra Sweets Medley
Terra Sweets Medley with Avocado Oil features three types of sweet potatoes (which deliver a nice dose of skin-protecting, antioxidant beta-carotene) cooked in better-for-you avocado oil. Though it's not a typical combo, we think these sweet potato chips pair perfectly with hummus.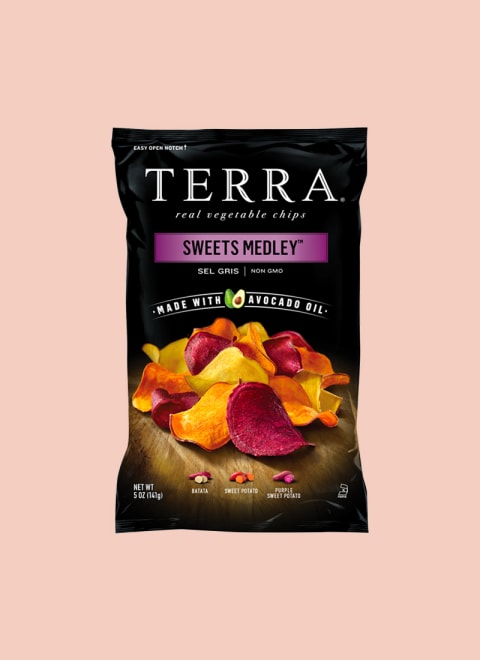 mbg creative + custom
Jackson's Honest Blue Corn Tortilla Chips
In addition to avocado oil, coconut oil is another good oil option for chips, as it is more stable when heated, so its fatty acids are less likely to become damaged and break down into pro-inflammatory compounds. "Coconut oil is a decent option, but keep context in mind," says Cording. "If you're keeping an eye on your saturated fat intake, you'll need to make room for it [in your diet]." We love these Jackson's Honest Blue Corn Tortilla Chips for their ultra-simple ingredient list: organic blue corn, organic coconut oil, sea salt.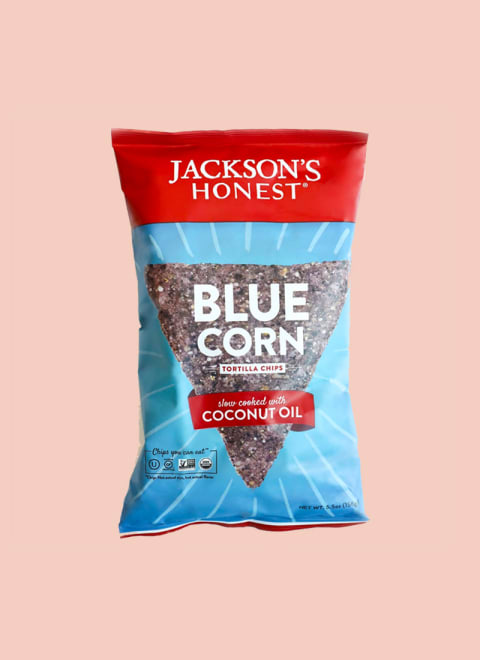 mbg creative + custom
Siete Grain Free Tortilla Chips
Cutting out grains? On a paleo diet? No problem. For an authentic tortilla chip experience minus the corn, Siete Grain Free Tortilla Chips are the answer. They are made with a combination of cassava and coconut flour, ground chia seeds, avocado oil, and sea salt, so there's nothing not to love. Pairs wonderfully with guac or Siete's new drool-worthy Sprouted Bean Dip.
Contributor
Barnana Organic Plantain Chips
For a fun, tropical alternative to traditional potato chips, go for plantain chips cooked in a high-quality coconut oil. We love Barnana's Plantain Chips, not only because they're organic but because they have delightfully satisfying ridges with just the right amount of Himalayan pink salt. These are the perfect pair to a chunky guac or mango salsa.
mbg creative + custom
Jica Chips
Jicama is a Mexican root veggie that tastes like a cross between a potato and an apple—and, with the addition of a little sea salt, Jica Chips makes one tasty sweet and savory chip. This baked snack is also loaded with prebiotic fiber (5 grams, or 20% of your RDI for fiber per serving) to feed those good gut bugs and promote digestive health. Bonus: These chips forgo vegetable oil in favor of regular olive oil, which is also good for high-heat cooking.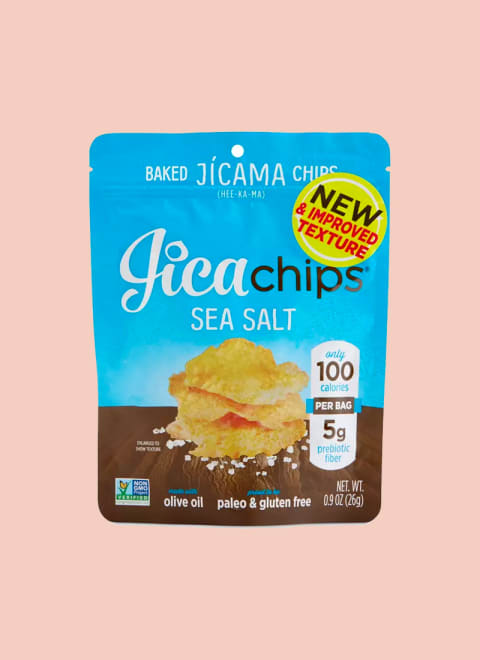 mbg creative + custom
Beanitos Original
For chips with a little more staying power, look beyond the white potato, recommends Cording. "Chips made from higher-fiber foods like beans, peas, lentils, sweet potato, and whole grains, rather than their refined counterparts, will break down more slowly to help you stay full longer and support more stable blood sugar," says Cording. One of the best bean-based options on the market: Beanitos black bean chips, with 5 grams of protein and 4 grams of fiber (14% of your recommended daily intake) per serving.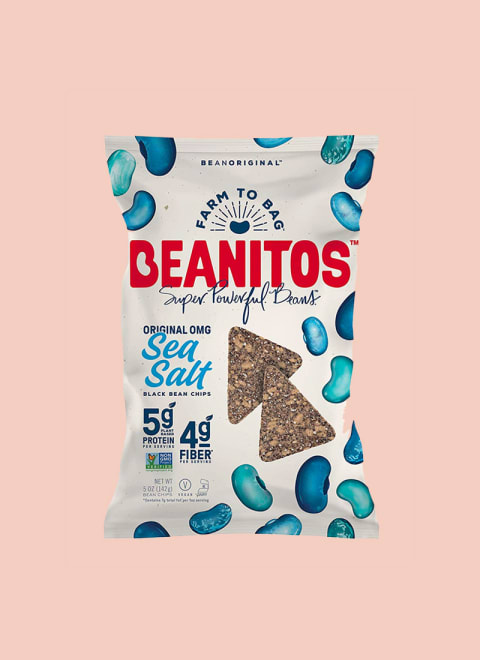 mbg creative + custom
Sea Salt PopCorners
If popcorn and tortilla chips had a baby, you'd get PopCorners—the delightful hybrid snack we never knew we needed. With just three ingredients—non-GMO yellow corn, sunflower oil (which is preferable to vegetable oil), and sea salt—they're surprisingly simple for a packaged snack. Good luck not finishing the whole bag in one sitting.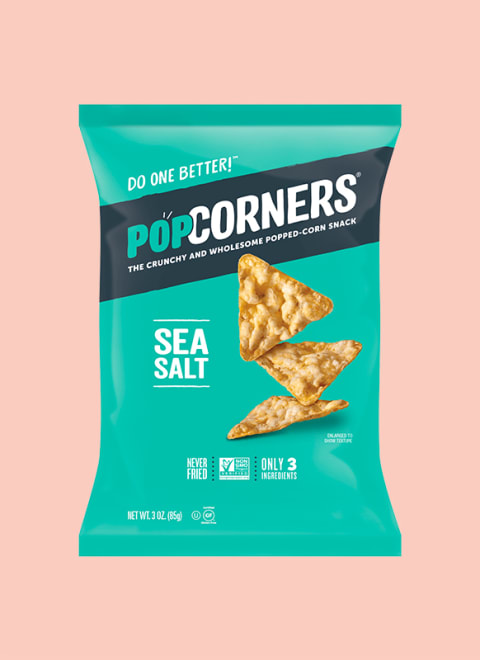 mbg creative + custom
Want to turn your passion for wellbeing into a fulfilling career? Become a Certified Health Coach! Learn more here.