This Is The Healthiest Breakfast You Can Make With Your Thanksgiving Leftovers
Contributing Food Editor
By Liz Moody
Contributing Food Editor
Liz Moody is a food editor, recipe developer and green smoothie enthusiast. She received her creative writing and psychology degree from The University of California, Berkeley. Moody is the author of two cookbooks: Healthier Together and Glow Pops and the host of the Healthier Together podcast.
Our editors have independently chosen the products listed on this page. If you purchase something mentioned in this article, we may
earn a small commission
.
So, you've got a fridge full of pastured turkey, Brussels sprouts, maybe some sweet potatoes and kale with za'atar, and you need a breakfast that will power you for a day filled with even more family fun time—without dragging you back into yesterday's tryptophan- and carb-induced coma.
The key to getting back on track? Balancing your hunger hormones to return to a state of stasis. There's one main one to focus on, according to celebrity nutritionist Kelly LeVeque, the best-selling author of Body Love. "Ghrelin is the hunger hormone," she says. According to her, if you don't turn off ghrelin, your body continues to get signs that it's hungry, making it much harder to satiate yourself. The best power-off switch? Protein. "Eat protein at every meal, especially breakfast, to promote satiety," says LeVeque. She also recommends eating a lot of fiber, "as it has the mass to physically stretch the stomach lining."
This frittata works with anything you have in your fridge—turkey, vegetables, whatever. Even a bit of leftover cranberry sauce dolloped on top at the end adds a balancing, acidic sweetness that'll brighten the entire dish. The eggs (pasture-raised, if possible) add a hefty dose of ghrelin-satiating protein and good fats to keep your blood sugar balanced to boot.
Thanksgiving Leftover Frittata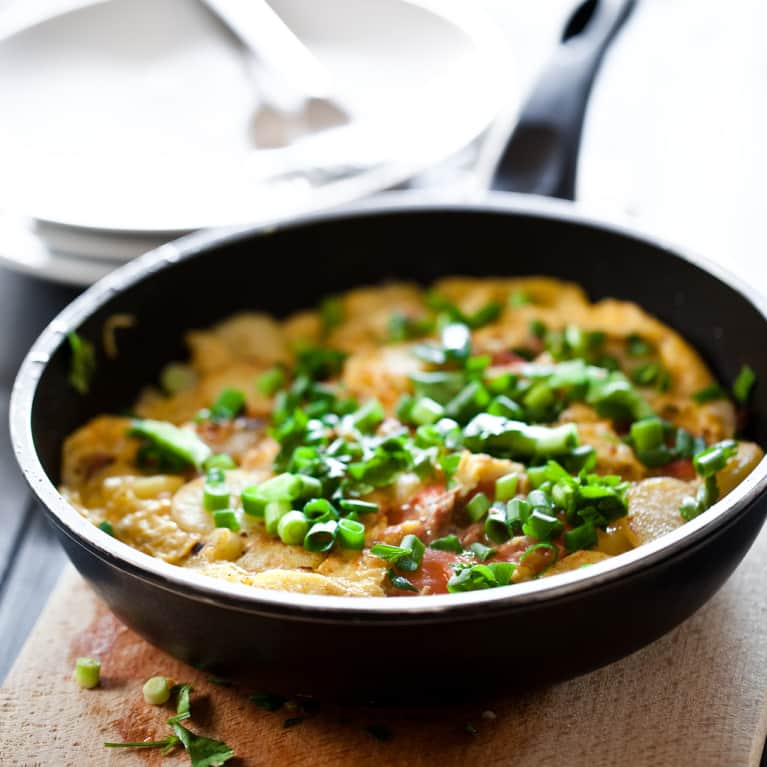 8 large eggs, preferably pastured
½ cup milk of choice (almond, coconut, and cashew all work well)
2 cups Thanksgiving leftovers of choice (almost everything works great: turkey, stuffing, Brussels sprouts, sweet potatoes...)
High heat oil of choice, to grease pan (ghee, coconut, and avocado all work well)
Salt and pepper to taste
Beat together eggs, milk, and a generous pinch of salt and pepper.
Lightly grease a 10-inch pie pan or cast-iron, then arrange Thanksgiving leftovers so they're evenly distributed.
Pour egg mixture over the leftovers. Bake at 350°F for 20 to 30 minutes, until middle is firmly set. Remove, slice, and eat!