3 Digestion-Boosting Tonics To Down Between Bites Of Stuffing & Pie
Our editors have independently chosen the products listed on this page. If you purchase something mentioned in this article, we may
earn a small commission
.
The big day is here, and hopefully, you're indulging your body and soul in time with family and friends and delicious food. While we've spent the week providing healthy Thanksgiving alternatives, we know it's hard to resist that second (or third...or fourth) piece of pumpkin pie, so we asked Rachel de Thample, author of the newly released Vital Tonics & Soothing Teas, to share a few stomach-soothing, digestion-boosting remedies with us.
Her top pick? A simple shot of apple cider vinegar, which can balance blood sugar, decrease bloat, and help digestion (always look for one with the raw, active cultures and the mother inside the bottle). If you're looking to get a bit more DIY, here are a few more options.
According to Rachel, "This stunning tea has lots of warming spices to soothe your digestive system after a big feast, but it's the dandelion here that is the star. The earthy root of spring's yellow blooms is brilliant for detoxing, but it's also deliciously similar to coffee in taste, making this tea the perfect after-dinner drink."
Serves 1
Ingredients
1 tablespoon dried dandelion root
1 star anise pod
3 cardamom pods
½ dried licorice root (about 1 teaspoon)
1¼ cups freshly boiled water
Method
Place all the ingredients in a teapot and pour over the freshly boiled water. Steep for 15 minutes, then strain into a mug and drink.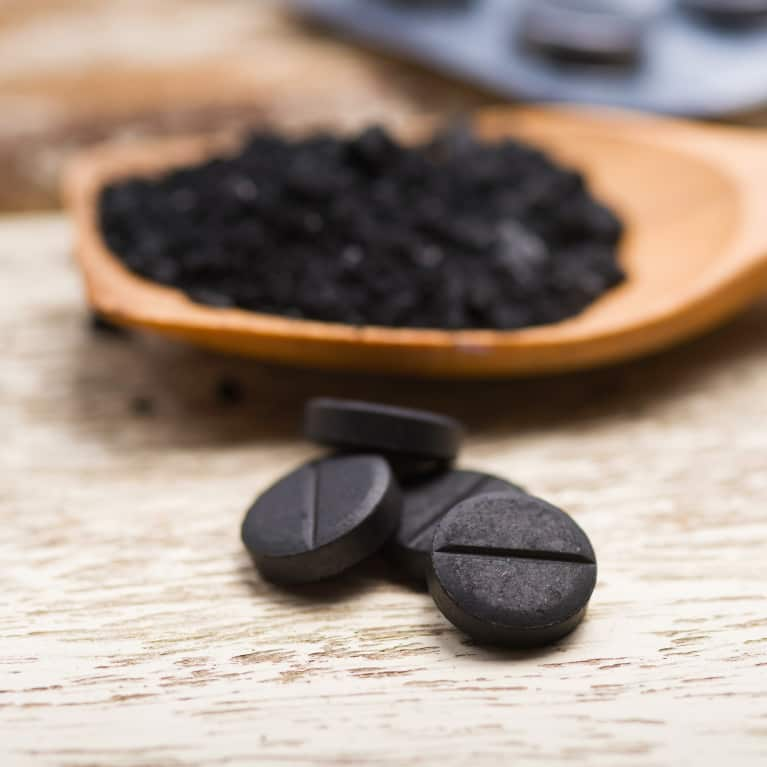 "Activated charcoal is like a magnet for toxins and is used in emergency medicine in cases of accidental poisoning," explains Rachel. "It's great to clear your system. Take the activated charcoal tablet at night and drink the shot with a large glass of water upon waking, followed by lots of water during the day to assist with elimination."
Serves 1
Ingredients
1 activated charcoal tablet (you can find these at most pharmacies and natural health stores)
¼ cup fresh apple juice or pineapple juice (or water)
A squeeze of lime
½ teaspoon fresh aloe vera or bottled aloe vera juice
Method
Take the charcoal tablet in the evening. In the morning, whisk the apple juice, lime juice, and aloe in a glass and drink immediately.
Vietnamese Lemongrass Tonic
"Lemongrass is effective for taming achy tummies," notes Rachel. "The lemonal compound contained in lemongrass makes it a mild astringent and antiseptic, and it's also great for soothing coughs and keeping colds and flu at bay."
Serves 2
Ingredients
2½ cups filtered or mineral water
4 lemongrass stalks
1 thumb-size piece of fresh ginger
1 tablespoon coconut sugar or raw honey, or to taste
Lime slices (optional)
In a medium saucepan, bring the water to a boil over high heat.
Smash the lemongrass and cut it into thin shreds. Peel and julienne the ginger.
Add both to the water and boil for 5 minutes. Reduce the heat to low and simmer for an additional 5 minutes.
Add the coconut sugar or honey, to taste, and serve warm with a garnish of lime slices if you like, or refrigerate and serve over ice.
Want to turn your passion for wellbeing into a fulfilling career? Become a Certified Health Coach! Learn more here.