This Hair-Styling Technique Changed My Entire Face
Contributing Wellness & Beauty Editor
By Lindsay Kellner
Contributing Wellness & Beauty Editor
Lindsay is a freelance writer and certified yoga instructor based in Brooklyn, NY. She holds a journalism and psychology degree from New York University. Kellner is the co-author of "The Spirit Almanac: A Modern Guide to Ancient Self Care," with mbg Sustainability Editor Emma Loewe.
A few weeks ago, I didn't get my hair cut—I got it carved. Kristen Shaw is leading the "hair carving" movement from her studio, Shop Cabin, in Los Angeles, and her frequent visits to New York's Suite 303 Salon, where she hunkers down and takes clients as a visiting stylist. Hair carving a special way of cutting hair that minimizes the need for product, allows for the hair to dry naturally with distinct shape and texture, and helps hair grow into a style that gets better, not worse, with time and length. She's also largely responsible for many of the modern-'70s-style locks in the wellness world at present—Amanda Chantal Bacon of Moon Juice and Paula Mallis of WMN Space are featured on her Instagram. She's graced the locks of Hilary Swank, Shailene Woodley, Olivia Munn, and many more.
I'd gotten a trim from Shaw several months prior to seeing her this past October, where we established that special stylist-client bond of trust. It's an important ingredient in a hair transformation. I'd been going through some scary health issues and big life transitions (new way of working, new diet, new lifestyle all together) and I wanted a big change to mark the end of an era. And, quite frankly, I needed to feel uplifted! I saved some inspiration photos that I showed Shaw before the appointment, and she got to work.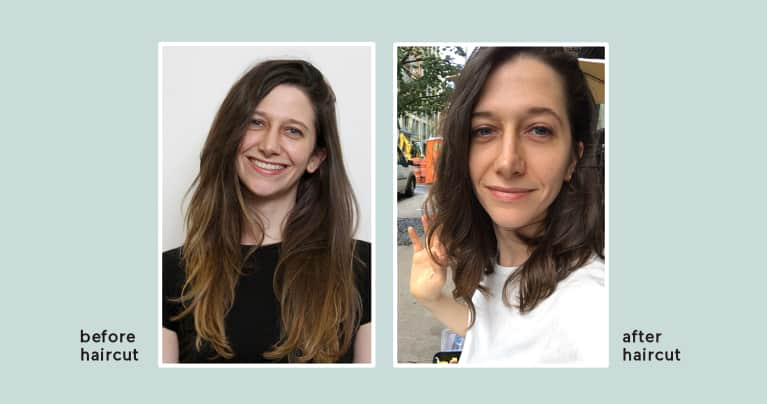 How is hair carving different from a regular haircut?
As it turns out, hair carving is quite technical. Shaw first learned the technique when she apprenticed with Suite 303 Salon in the Chelsea Hotel back in 2007. "I learned to look at hair and see where weight gathers in different areas of the head and use the corner of a beard trimmer to gently carve into the hair to create the kind of texture and weight that is right for the hair and desired style," Shaw told mindbodygreen.
"Hair carving is a super-precise way to balance how the hair falls, whereas a thinning shear doesn't give you as much control," Shaw said. She uses the technique to manipulate the hair to her and/or the client's liking, amping up curls or settling them down with wavy and curly locks, and building or taking away volume for people with straight hair. In other words, she's using classic cutting tools in new ways to achieve results that are hyper-customized to each client's head, which results in a wash-and-wear style that actually looks good.
Here's what you can expect if you see Shaw for a hair carving session.
Shaw cut my hair in three different stages. First, she lopped off all the extra dead length I was ready to release—that was probably 6 inches. She continued to snip dry for a while, and then we did a heavenly shampoo and scalp treatment, because I'm never not tending to my scalp. She spent the majority of time cutting while it was wet and blow drying. (Side note: Shaw gives one of the best and longest-lasting blowouts I've ever experienced. No matter how hard I try or how much she teaches me, I can never achieve the same balance of hold and movement she somehow consistently nails every time.) Finally, she had me stand up as she continued to cut what looked like large swathes of hair from my head. "All carving is done dry so I can see and feel the hair density and see how the hair responds to each snip. This gives the most accurate, beautiful haircut that will stand the test of time as your client leaves the salon," Shaw said.
"We are often taught to look at length to establish a haircut, but I believe more stylists would get it right if they decided to build their haircut from the inside out," Shaw said. That means taking a look (and feel) for the client's head shape, how the hair moves, and looking and the hairline to determine how the hair grows and how best to cut it.
"It's effective because it's true to your hair and no one else's, it allows for all areas of the head to have evenly distributed weight so there are no misshapen areas, and it creates space within the hair so you have a longer-lasting haircut," she said.
If you want to get your hair "carved"...
Shaw said it's not a widely practiced technique, and starting stylist education classes is on her dream docket. Until then, she has some pointers you can bring to your stylist. "I would recommend asking for a cut that involves a strong shape and loose, effortless texture—ask for something that will work with your head shape and as much as possible, to have your stylist play with the weight in areas of your head where hair can get chunky or bulky," she said. If your stylist isn't familiar with these techniques, ask for them to use scissors only—no feather blade or thinning shear. The attention to detail you'll get with a scissors-only cut will give you the longest-lasting style that will morph into new styles as it grows.