How To Use Beets To Make Red Velvet Pancakes For Breakfast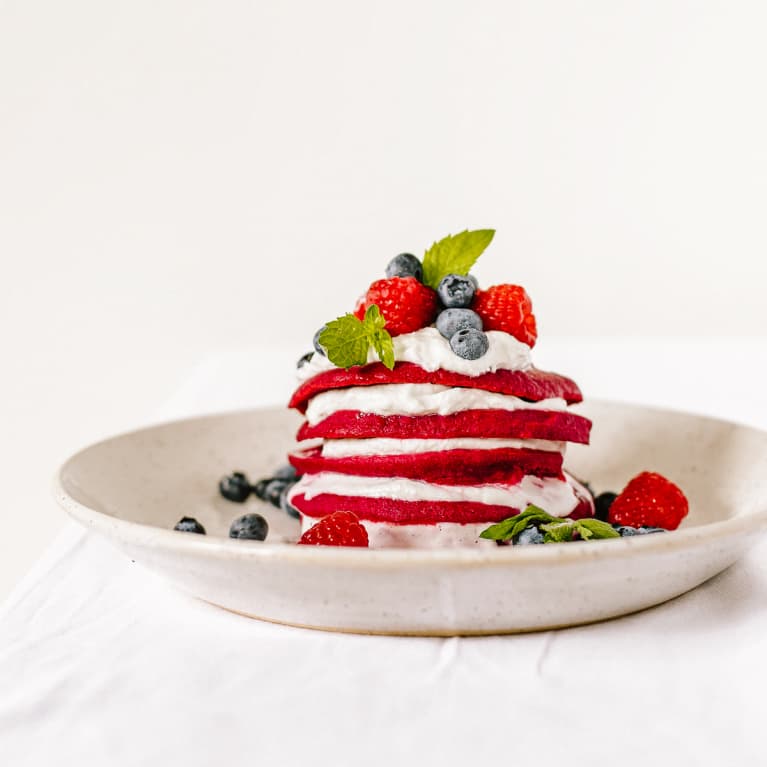 Our editors have independently chosen the products listed on this page. If you purchase something mentioned in this article, we may
earn a small commission
.
When you think of pancakes, it probably conjures mental images of maple syrup or berries and cream, and probably not of beets.
These colorful root vegetables are a popular ingredient in juices and are a good source of vitamin B3 (aka niacin) and betaine, which supports heart health.
This beet pancake recipe from Kirsten Buck's cookbook Buck Naked Kitchen is a great way to use up leftover beets but also a great way to try working them into a different meal. And you'll end up with gorgeous, red velvet-esque pancakes, too.
1½ cups gluten-free all-purpose flour
1 teaspoon baking powder
¼ teaspoon salt
1 small cooked beet, ends trimmed and peeled
1½ cups cashew or almond milk
2 large eggs
2 tablespoons maple syrup
2 tablespoons melted ghee or clarified butter
1 teaspoon vanilla extract
Coconut oil for cooking
Coconut whipped cream, berries, and mint leaves for serving
In a medium bowl, mix the flour, baking powder, and salt. Set aside.
In a blender combine the beet, milk, eggs, maple syrup, ghee, and vanilla, and blend until combined.
Slowly pour the wet ingredients into the dry ingredients, and mix until smooth.
Melt the coconut oil in a large nonstick skillet over medium heat. When the skillet is hot, add ¼ cup of the batter for each pancake. Cook the pancakes until lightly browned and the edges are crisp, 2 to 3 minutes per side.
Repeat for the rest of the batter, adding more oil if necessary. Serve the hot pancakes with whipped cream, fresh berries, and mint, if desired.