Ivory Nut Buttons & Tapioca Packaging: These Clothes Are Completely Compostable

mbg Senior Sustainability Editor
By Emma Loewe
mbg Senior Sustainability Editor
Emma Loewe is the Senior Sustainability Editor at mindbodygreen and the author of "Return to Nature: The New Science of How Natural Landscapes Restore Us."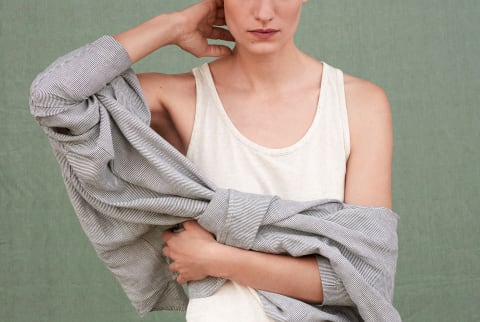 Image by Nadine Ottowa / Freitag
July 18, 2019
You'd think that clothes made from natural materials like cotton, silk, or wool will eventually break down back into the earth—but that's usually not the case. Dyeing fabric often requires chemicals; metallic buttons stay around forever; tags and accessories are made from synthetics. For these reasons, the majority of the clothes you've worn throughout your life are probably still sitting in a landfill somewhere.
Freitag, a fashion company based in Zurich, is setting a new standard with its line of basics that are 100% compostable—down to the last thread, button, and tag. They'll decompose in a (well-managed) compost pile in two to five months, leaving nothing behind. "We have a certification that says you can plant your salads on it, basically," Elisabeth Isenegger, a PR lead at Freitag, tells mbg.
Advertisement
This ad is displayed using third party content and we do not control its accessibility features.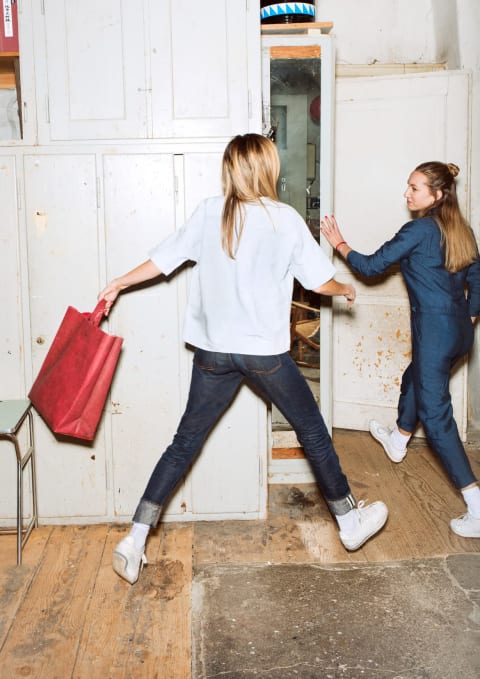 Image by Peter Hauser / Freitag
How Freitag makes its leave-no-trace clothing.
Creating these clothes, especially in the fashion industry's notoriously muddled supply chain, wasn't easy. It took the company, best known for its bags made from recycled tarps, five years to create its first compostable garment—which was actually just supposed to be a new uniform for Freitag factory workers.
Once the brand saw the clothing's potential to shift the fashion industry, it started to roll it out on a wider scale.
Today, its apparel collection begins with a base of natural fibers such as linen and hemp. (Freitag intentionally avoided organic cotton, an industry standard in the eco-fashion world, due to its high water footprint.) From there, the company searched for smart, simple solutions to all the synthetic elements you'll find on clothes these days. Instead of plastic buttons, it landed on ones made from ivory nuts, a tropical crop found in the South American rain forest. Care instructions were printed directly on garments to get rid of the need for tags. And the final product was shipped out in a biodegradable bag made from tapioca starch.
While thinking up these swaps was a challenge, finding partners to bring them to life proved even more difficult. "The biggest problem was the lack of transparency in the whole fashion industry," Isenegger explains. "Even if you want to do things right as a supplier or consumer, it's very hard because in many cases a lot of information is missing."
Instead of resigning to a murky supply chain, Freitag took on the extremely difficult and unconventional task of making their own from scratch.
"We took a completely different approach because we realized we couldn't get a product on the market with the ambitions we had. We wanted to know the working conditions and materials going into it. We didn't want to just rely on labels, because they tend to examine only isolated aspects, but rarely the whole picture regarding th comprehensive ecological and social impact," Isenegger says. "We looked for many different suppliers and set up our own textile supply chain, which took us five years. And we encountered many, many, many problems along the way."
Despite the hiccups (a weaving partner who went bankrupt, an initial shipment that was wrapped in plastic), Freitag eventually managed to build their supply chain, and they were able to keep it local to Europe to cut down on production emissions.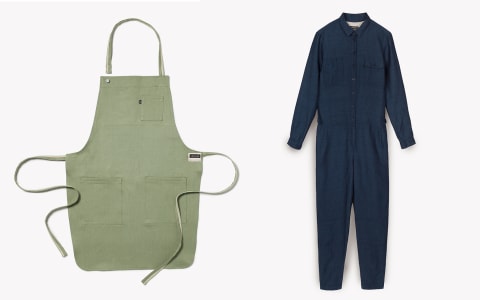 Image by Peter Hauser / Freitag
Advertisement
This ad is displayed using third party content and we do not control its accessibility features.
How the rest of the fashion industry can follow (compostable) suit.
The fruits of their labor—five pieces available for online orders in Europe—were released in 2014. Since then, Freitag has started shipping their line internationally, but it's careful not to grow it too quickly.
"The fast fashion cycle—the idea that brands always need to be putting out something new—is a big problem. We don't think we need to put out a whole new collection every year," Isenegger says. (Now, they cap their collections to around 20 styles.)
Ultimately, the hope is that people won't need to compost these clothes at all. They'll be too busy wearing them: "We believe in timeless design. If something is good, you don't need a new one." Unsurprisingly, Freitag clothes are minimal and understated, and although they cost a pretty penny (a scoop neck tee retails for $80; a sweatshirt $165), they're meant to be lifetime wardrobe staples.
Freitag is a standout in the fashion world, but other brands are slowly emerging with ideas of their own on how to keep clothes out of landfill. Take ADAY, a capsule collection that gives store credit to customers who give their old pieces to friends to wear instead of tossing them. Or For Days, a closed-loop clothing subscription service that allows customers to send in their old items to be broken down and re-spun into new garments.
The fast and furious fashion world has left us with more clothes than we know what to do with. In the future, more brands will have to take Freitag's lead and consider the full life span of their products.
Advertisement
This ad is displayed using third party content and we do not control its accessibility features.
Reset Your Gut
Sign up for our FREE doctor-approved gut health guide featuring shopping lists, recipes, and tips