Experts Say These 6 Fitness Trends Will Change The Game In 2019

By Caroline Muggia
mbg Contributor
Caroline Muggia is a writer, environmental advocate, and registered yoga teacher (E-RYT) with a B.A. in Environmental Studies & Psychology from Middlebury College.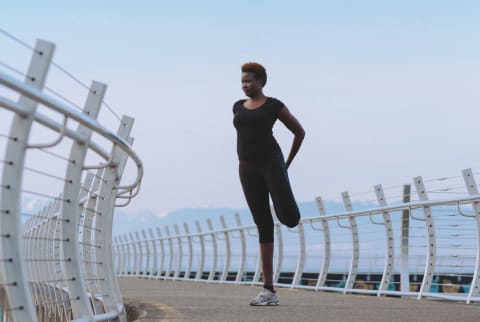 Image by Rob and Julia Campbell / Stocksy
December 29, 2018
As we move into 2019, a topic on our minds (as always) is movement. We're wondering what will be the next revolutionary way to exercise and how can we take our exercise regimen to the next level in the new year. With wellness trends on our minds, we asked our mbg fitness experts to share their thoughts on the fitness trends they think we're going to be loving in 2019. It's safe to say we're looking forward to January 1.
Embracing ease.
"I've been waiving the ease flag forever now, but I'm really starting to see not just the word being used within the yoga and wellness world, but I'm seeing ease being incorporated into the actual practices, as well. Collectively, it looks like we've had enough with breaking ourselves down in our wellbeing practices with the hope to somehow emerge better on the other side. Instead, I'm seeing the practice of ease pave the way to a more sustainable wellbeing." —Tara Stiles, founder of Strala Yoga
Staying active while traveling will be easier.
"There will be no excuses for staying fit and healthy while you travel. As a creator of content in the wellness and travel sector, I've had a higher demand for increased streaming videos on-demand and in-app, which keeps you connected to your team, fitness coaches, and workout buddies—you never miss a fit-beat. There will be in-room fitness videos specifically designed for use in the hotel room you're staying in with gear in your closet, along with technology and apps that offer meet-ups with other fit-minded people in the area you're visiting. I also think there will be an increase in video and audio content on planes that passengers can stream to ease anxiety and stress that occurs in-flight." —Sara Quiriconi, certified yoga instructor and health coach and author of Living Cancer-Free: A Warrior's Fall and Rise Through Food, Addiction & Cancer
Less is more.
"Simplifying is in right now, and I think that's going to continue to extend to people's wellness routines. I keep hearing from people that they're over doing things that take a lot of time and require a lot of money. They want simple, easy, no-fuss wellness at their fingertips. Honestly, I'm so ready for this. I think we're going to see more people this year discovering the joy of exercising at home and on the go; consuming less; and cooking with real whole-food ingredients... no adaptogens necessary." —Kait Hurley, founder of kaithurley.com
Self-care will be the new workout.
"I am noticing a growing general investment in self-care inspired by ancient wisdom and an interest in slowing down versus speeding up or softening versus hardening or taking a calming versus aggressive approach or acting from heartfelt intention versus physique-related ego. The collective community is shifting toward mindfulness and mind-body well-being—from Oprah to big-time corporations to small-town studios. I believe that mental fitness (meditation, mindful lifestyle habits, etc.) will start to be realized as equally as—if not more than—important than physical fitness." —Sasha Nelson, yoga instructor, wellness lifestyle coach, and sustainability enthusiast
Exercise creates community.
"Look, I love the advances in our digital platforms. They've allowed me to create an online fitness company that allows me to teach people around the world. That being said, you cannot replicate true human connection. I really like what my friend Lauren Schwab is building with her company Unplugged Mornings. Unplugged Mornings hosts free weekly workouts where people get to connect with other like-minded people and share a cup of coffee after. You can't put a value on true connection, and Unplugged Mornings has tapped into the primal human connection that we are starved for in our digital lives." —Todd McCullough, founder of TMAC FITNESS and the TMAC 20 workouts
Play and fitness will come together.
"Introducing more 'play' into fitness—taking things outdoors, recreational team sports, and moving the way kids do will become vital. Us adults need more play in our lives, and these types of activities engage our neuromuscular system in a different way. It's also a great way to relieve stress and spend time with friends while incorporating physical activity." —Minna Lee, personal trainer, nutrition coach, and founder of Living Minnaly and Live 24k
With these new trends top-of-mind we can't wait to run into the new year!

Caroline Muggia
Caroline Muggia has a B.A. in Environmental Studies & Psychology from Middlebury College. She received her E-RYT with Yoga Works and is a graduate of the Institute for Integrative Nutrition. A writer and environmental advocate, she is passionate about helping people live healthier and more sustainable lives. You can usually find her drinking matcha or spending time by the ocean.