I Used To Dread Walking My Dog Before Finding This Hands-Free Leash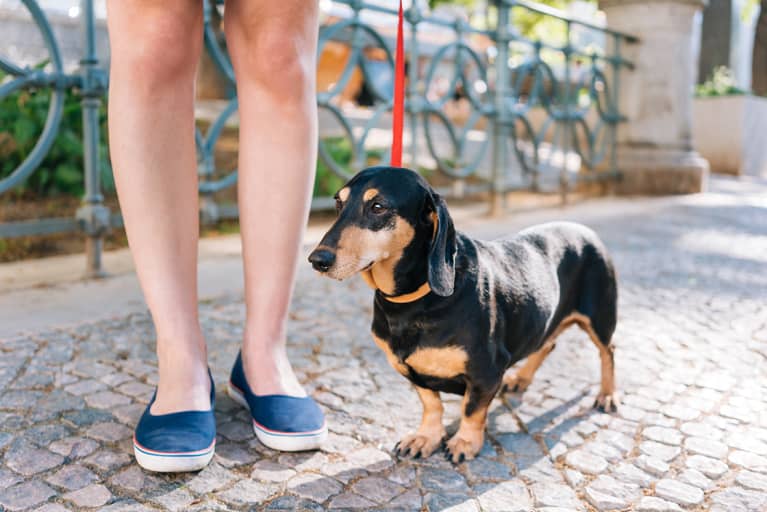 Our editors have independently chosen the products listed on this page. If you purchase something mentioned in this article, we may
earn a small commission
.
One of my biggest pet parent struggles was teaching my dog to walk on a leash. Because my vet recommended skipping outdoor walks until my puppy was fully vaccinated, my mini Australian shepherd got accustomed to being carried around like a baby doll. When she did finally step foot on the pavement, it required loads of bribing (and a little bit of pulling) to get her moving.
As my dog got comfortable walking on a leash, her herding instincts began to kick in. She would weave back and forth anytime there was extra lead, a safety hazard for all parties involved. Easily startled, she'd also yank out of my arms whenever a stroller or scooter passed (a common occurrence in my family-oriented neighborhood). Basically, I dreaded walking my dog.
When Fable offered to send over a sample of the Magic Link—a hands-free leash—I figured it was worth a shot. I was already at the end of my rope (or should I say leash), so our daily walks couldn't get worse.
I quickly realized that a hands-free leash came with more benefits than keeping your paws free. Fable's adjustable design lets me choose how to wear the body loop, which can adjust to different lengths. While some users opt to wear it around their waist, I like to loop it around my body. This gives me more control over the walk and keeps the leash relatively short so my pup can't excessively weave around my feet.
My pup also wears a harness during walks, but I prefer to take it off when we're home to ensure she doesn't overheat or get tangles in her fur. I love that the Magic Link can easily clip on to the harness when she's wearing one, but it also can serve as a slip-on collar for quick potty breaks throughout the day.
Plus, the durable design feels extremely sturdy. I've never had to worry about the leash snapping or the hardware breaking during my walks—something that used to constantly plague my mind. The rubber material is also extremely easy to clean, which is a must for my dusty gravel-based dog park.
I'm relieved that walks are finally a good experience for both of us; I can scroll through work emails or drink coffee while knowing my pup is securely heeling at my side.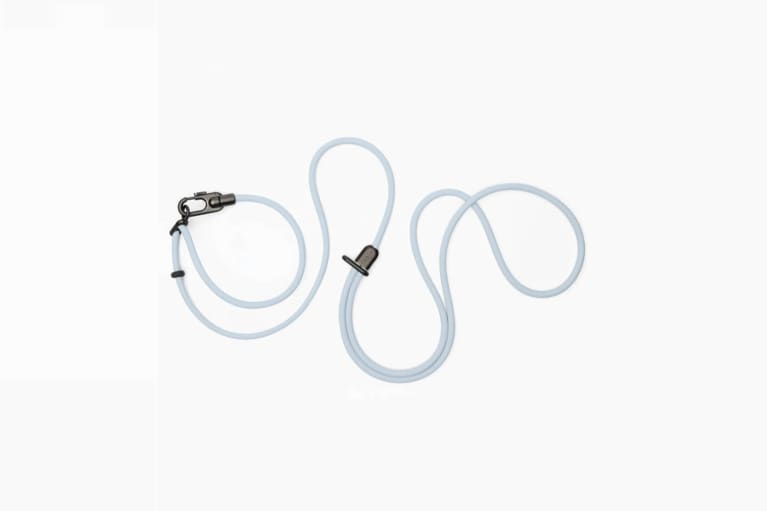 Where to buy a hands-free leash.
While I love my Magic Link, it's definitely a more luxurious option—especially for those new to the world of hands-free leashes. Luckily, there are plenty of great alternatives that give the same ease at a slightly lower price.
1. Zee.Dog Hands-Free Rope Leash
This sleek pick swaps silicone for a polyester corded rope, which gives your dog a bit more leverage. While it doesn't have a built-in slip collar, the wearable component easily adjusts to fit your waist, body, or wrist. Available in five modern colors, it packs plenty of value for just $40.
Available at amazon.com
2. iYoShop Hands-Free Dog Leash
Struggling with a dog that pulls? This popular Amazon pick opts for a bungee leash with two shock-absorbing sections. Woven with light-reflecting thread for night visibility, the leash connects to a fanny pack with enough room for your phone, poop bags, and treats.
Available at amazon.com
3. Oneisall Hands-Free Dog Leash
Not ready to fully commit to a hands-free design? This affordable pick costs $13, so you won't have to stress about trying something new. (Hey, new pet routines can be hard.) The streamlined option has both a slip-knot collar and an adjustable shoulder leash, but the metal rings require a bit of extra time in setup. It's also important to note the 8-foot leash is only recommended for small to medium pups.
Available at amazon.com
I used to despise walking my dog, but now I can't imagine a world without her on my hot girl walks—and it's all thanks to a hands-free leash. Along with the ChomChom Roller, I consider it a must-have purchase for pet parents everywhere. Your dog (and unspilled coffee) will thank you.