paid content
 for

What Finally Helped Me Become More Flexible—When Nothing Else Could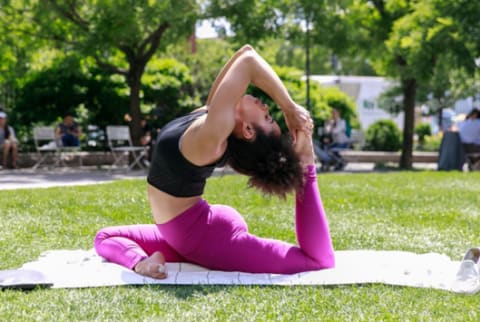 June 27, 2017
When we support each other, incredible things happen—which was something I realized on a journey to flexibility that once felt impossible.
Let me back up. I was attending The Ailey School, dancing alongside talented young artists from across the country, and I knew I didn't have strong enough splits. That's when flexibility became my obsession.
I originally pursued this goal in secret by myself—I borrowed books from the library, purchased DVDs—I was willing to do absolutely anything to get closer to my goal. I felt defeated that none of the other dancers seemed to be struggling with this—they were already so flexible, and without fail would just tell me, "I've always been this way!" when I did ask for help. Which, of course, wasn't helpful at all. I longed for a community that could support me on my journey, and this wasn't it.
Fast forward to my senior year of college, when I was hired to work at the front desk at a local gym. Despite having recently acquired a B.F.A. in dance, I had very little knowledge of fitness. I could barely do a push-up, and attending a group fitness class was beyond intimidating.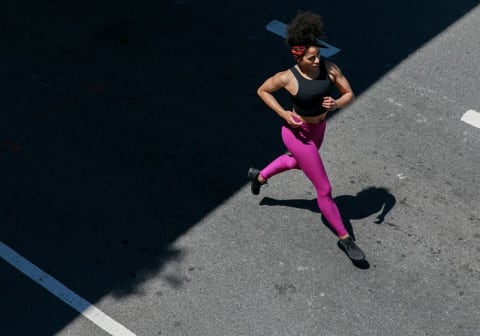 When I finally worked up the courage, I immediately felt part of a close-knit community of individuals coming together to support each other. Although I had a near-crippling burn in my legs from the squats and burpees, the energy of the people to my left and right inspired me to push through. I was determined to become stronger—as I continued to attend more group fitness classes, I began to feel a shift.
This was when I realized the most essential element of fitness isn't necessarily sweaty workouts or steely determinations—it's having the support of a community to cheer you on.
Success takes a village
I would not be where I am today without the support of these peers and mentors, who would graciously take time out of their day to help me out. Emboldened, I attended my first flexibility class. The extraordinary thing was that when I faced my insecurities I looked around and saw I was surrounded by adults who also wanted to become more flexible. Usually these classes are dominated by younger folk, and it was encouraging to see that thirtysomethings like myself were also taking on the challenge. This new path led to another revelation: Training the body to take on a new range of motion requires a flexible mindset that includes holistic, daily wellness practices.
Turning to essential oils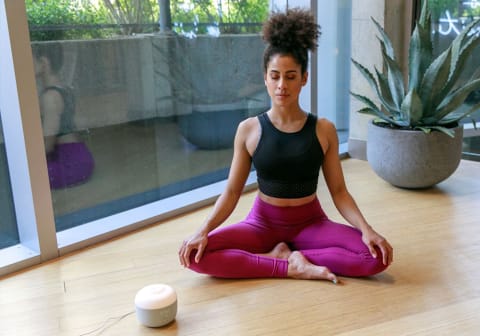 With the support of a community, I made progress toward my flexibility goals, feeling more balanced and healthy day by day. But to make it all the way to my goal, I was going to need more. I began to investigate the power of essential oils. I learned that adding essential oils to my daily wellness routine had a profound effect on my overall well-being. I found new ways to relax, get more rest and generally take good care of myself.
When I discovered how important sleep was to my journey, I knew I'd need help relaxing, turning off my scatterbrain, and easing into deep sleep, which had always eluded me. A light mist of lavender essential oil on my pillow transformed my sleep, leaving me feeling better rested throughout my day. Now I love the nightly ritual of spraying my essential oils.
I wanted to see where else I could take the feel-good vibes of my essential oils, so I brought my oil diffuser to my stretching class. The aromas helped me relax safely into stretches that otherwise might make me tense up. Rubbing an oil blend on my muscles post-workout is another way I like to relax and thank my body for its hard work.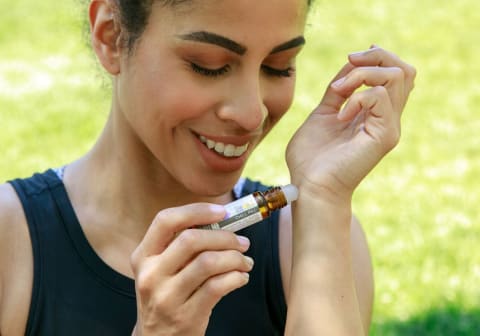 In combination with a community of stretch enthusiasts and the healing powers of essential oils, I feel that I'm on a full-spectrum program of wellness. My fitness goals aren't achieved by just performing the sweaty stuff; recovery, nutrition, and holistic practices have fine-tuned my overall well-being.
I personally know how hard it is to start this from scratch—and how much being part of a community led me to helping other people and finding purpose. If you're looking for a supportive wellness community of like-minded women, let me introduce you to Noteworthy by Aura Cacia. The online space offers a unique way to jump-start regular wellness practices with a 21-day journey. Each day for three weeks you'll get a wellness task and the opportunity to share your experience with other participants.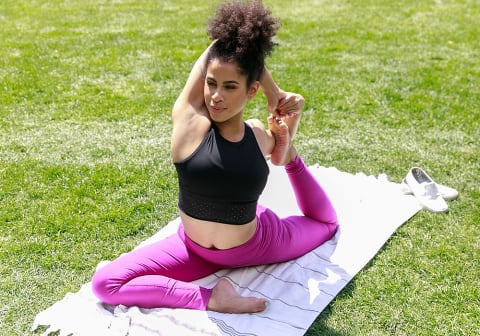 I am so grateful to be surrounded by resources that help advance my own training. In addition to the help of my friends, colleagues, and teachers, as I continue my journey, I know I will have the support of the Noteworthy community. And of course, encouraging and supporting my own students has inspired me to remain humble while helping to make incredible things happen within all the communities to which I belong.

Alicia Archer
Fitness Instructor & Flexibility Expert
Alicia obtained her BFA in dance from Fordham University/The Ailey School and continues to pursue a career in fitness. Although a dance major, Alicia was still very new to the world of exercise. She started taking group classes several times a week and developed a passion for fitness and instruction. Certified by AFAA, she now teaches several signature formats focusing on helping students realize their full potential joyfully, through musicality and rhythm. Through working in the industry, Alicia found herself influenced by circus arts. Always intrigued by aerial work and acrobatics, she looked for lessons in NYC and began training regularly in aerial, contortion, and hand-balancing. Now well-versed in the workings of flexibility, she combines her specialty in body-weight training with the knowledge of mobility and stretching techniques. Alicia believes discipline lies within and that tremendous results are possible for anybody willing to put in the work.