An Easy Vegetarian White Bean Soup Recipe, Just In Time For Fall
mbg Nutrition & Health Writer
By Eliza Sullivan
mbg Nutrition & Health Writer
Eliza Sullivan is a food writer and SEO editor at mindbodygreen. She writes about food, recipes, and nutrition—among other things. She studied journalism at Boston University.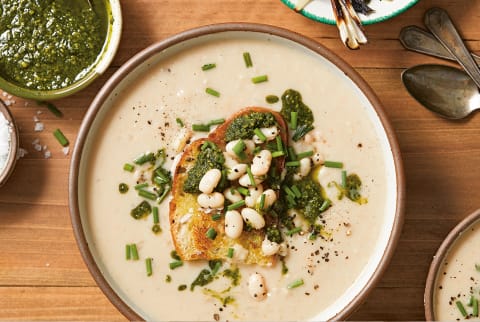 September 1, 2021
Our editors have independently chosen the products listed on this page. If you purchase something mentioned in this article, we may
earn a small commission
.
Technically, summer may not be over until late September but we're stockpiling soup recipes for fall starting as soon as the day after Labor Day—and this simple bean soup recipe from Weekday Vegetarians is certainly on the list of perfect easy weeknight recipes for those first brisk autumnal days.
While the base protein-packed white bean soup is a star on its own, author Jenny Rosenstrach (of the blog Dinner: A Love Story) thinks there's something special about the extras. "As with many soups, this one is about the add-ons," she writes, "Serving it with the three suggested toppings (croutons, pesto, scallions) will take this to the next level, but you're still OK if you only have the time or sanity for the first two."
Advertisement
This ad is displayed using third party content and we do not control its accessibility features.
She includes a delicious homemade pesto recipe in the book, but if you're planning to use this recipe on a busy weeknight, you can certainly swap in your go-to store-bought option, too. The charred scallions are a stroke of genius on Rosenstrach's part, upgrading a classic garnish with a deeper flavor.
Like many other soup recipes, this one will reward you for spending more time with it. Onion is the primary flavor driver in the blend, so while you can cook it for as short as five minutes before continuing the recipe, going for a deeper caramelization will only elevate the dish.
Easiest White Bean Soup
Ingredients
5 tablespoons extra-virgin olive oil, plus more for drizzling
½ small yellow onion, finely chopped
Kosher salt and freshly ground black pepper to taste
Pinch of dried red pepper flakes
2 garlic cloves, minced
4½ cups cooked cannellini beans, or 3 (15-ounce) cans, rinsed and drained
2½ to 3 cups vegetable stock, store-bought or homemade
2 tablespoons sherry vinegar
4 thick-cut slices crusty bread, such as ciabatta
4 tablespoons grated Parmesan cheese (optional to vegan-ize)
For serving: Kale pesto (below) and broiled scallions (toss one bunch trimmed scallions, with stems, in 2 tablespoons olive oil, place on a foil-lined sheet pan, and broil for 5 minutes; let cool and roughly chop)
Method
In a stockpot set over low heat, combine 3 tablespoons of the olive oil, the onion, salt, black pepper, and red pepper flakes. Sauté until the onions are golden and slightly caramelized, stirring often, for as long as you have patience, but a minimum of 5 to 7 minutes. (Any depth in this soup will come from caramelizing the onions, so the longer, the better.)
Add the garlic and cook until fragrant, about another 2 minutes. Add the beans and just enough stock to cover. Increase the heat to medium-high and bring the mixture to an aggressive simmer until warmed through, about 3 minutes.
Remove the pot from the heat and, using a slotted spoon, scoop out and set aside 1 cup of the beans. Stir the vinegar into the pot, then puree the soup using a handheld immersion blender.
Preheat the broiler. Place the bread slices on the sheet pan and broil until toasted but not quite golden, about 1½ minutes (watch carefully so they don't burn). Flip them over, brush with the remaining 2 tablespoons of olive oil, sprinkle each with 1 tablespoon Parmesan, and broil until the cheese has melted, another 1½ minutes. Remove from the oven.
Serve the soup in large shallow bowls, placing one giant crouton in the middle of the soup along with a few reserved beans, the pesto, and the scallions, if using. Drizzle with more olive oil just before serving.
Kale Pesto
Ingredients
Kosher salt to taste
4 cups torn curly kale, tough stems removed
½ large clove garlic, roughly chopped
3 tablespoons grated Parmesan cheese
Freshly ground black pepper to taste
¼ cup raw blanched almonds
3 tablespoons fresh lemon juice (from 1 small lemon)
½ teaspoon honey
⅓ cup extra-virgin olive oil
Method
Make an ice bath by filling a medium bowl with ice and water. Bring a large pot of salted water to a boil and add the kale. Cook until wilted and softened, about 2½ minutes.
Reserve ⅓ cup of the cooking water and, using the tongs or a slotted spoon, transfer the kale to the ice bath to stop the cooking process and preserve its bright green color.
Drain and cool until the leaves are comfortable to handle. Place the leaves between two paper towels and wring out as much moisture as you can.
In a blender or a food processor, pulse the blanched kale, garlic, Parmesan, salt, pepper, almonds, and 2 tablespoons of lemon juice until coarsely chopped. Add the honey and olive oil and continue to pulse.
Taste and adjust with the remaining 1 tablespoon lemon juice or the reserved kale water (if you prefer a less tangy flavor) until the pesto reaches a drizzling consistency.
Store in the refrigerator, covered, for up to one week.
Reprinted from The Weekday Vegetarians. Copyright © 2021 by Jenny Rosenstrach. Photographs copyright © 2021 by Christine Han. Published by Clarkson Potter, an imprint of Random House.
Advertisement
This ad is displayed using third party content and we do not control its accessibility features.
Eliza Sullivan
mbg Nutrition & Health Writer
Eliza Sullivan is an SEO Editor at mindbodygreen, where she writes about food, recipes, and nutrition—among other things. She received a B.S. in journalism and B.A. in english literature with honors from Boston University, and she has previously written for Boston Magazine, TheTaste.ie, and SUITCASE magazine.