This Summertime Habit Could Be Leading To Mold At Home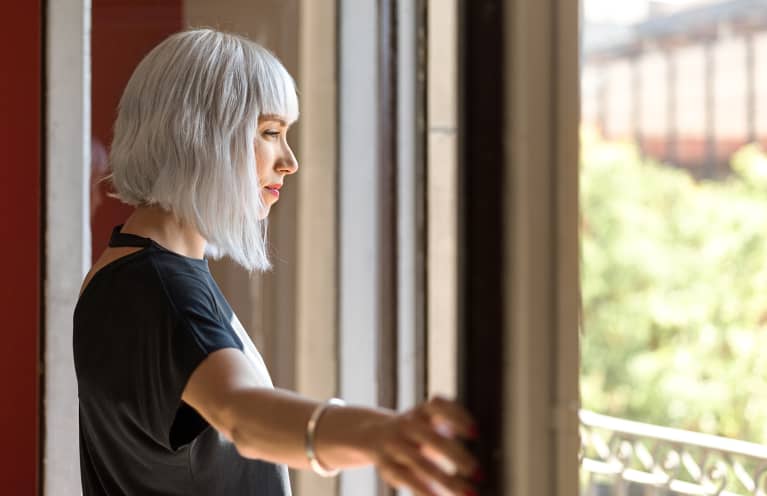 If you're lucky enough to have a backyard or balcony, I'm sure you're getting a lot of use out of your outdoor space now that summer is here. And that's great! You'll just want to make sure that you're not accidentally inviting mold into your home when you do.
Why mold growth can happen where indoor and outdoor spaces meet.
Mold can become an issue when you leave any doors that lead to the outdoors open while running your air conditioning unit. I frequently see this happen in homes that have folding accordion glass panel doors leading outside.
It may seem innocent or convenient to leave these doors open and let fresh air in, but when you do so, you're also letting excess heat and humidity into your chilly home. And whenever there's a big temperature differential like this, excess moisture builds.
Mold is a living organism that needs two things to thrive: a food source (such as dust or organic materials like insulation and drywall) and water (a leak, a spill, or any area that has humidity levels above 60%). Windows, walls, and doors where condensation has formed provide both.
Additionally, when humid outside air circulates through the home for long periods of time, it, too, can increase the odds of mold growth.
While it's unlikely that leaving doors or large windows open a few times will lead to toxic black mold, it could encourage the growth of allergenic species of mold, commonly known as aspergillus or cladosporium, which are still environmental irritants and can be dangerous in large quantities.
How to prevent the issue.
If you plan to open the doors or windows, it's best to do so with the air conditioning off and the fans on, as opposed to mixing cool air with hot air. This will prevent the large temperature differentials caused by hot and cold air mingling (and save you money on your electricity bill!).
To be clear, there's no harm in having windows open with the air conditioning off for some fresh air. Just remember to shut the windows and doors later when you turn the AC back on.
Your air conditioning acts as a large dehumidifier and will work to condition the air and stabilize it back to your preferred comfort level, removing any lingering humidity in the process.
Signs of mold to look out for this summer.
If you notice any musty smells around your window and door units, that could be indicative of a moisture problem that is allowing mold to grow. Or if you see any "coffee-like stains" on your walls or ceilings indicating water damage, those are red flags too.
Mold is a living organism that reproduces by spores, so once those spores are abundant in your home, they will begin to grow into new colonies once they find fresh sources of food and water.
I always recommend that people pop open the cover of their toilet tank and check the undersides. If there is mold present there, it could mean that you have mold somewhere in the house that's providing the spores needed to begin to spur growth inside your toilet tank. If you do have a mold problem at home, it's best to call up a professional to help you get rid of it.
If you're guilty of leaving windows and doors open while the air conditioner is running, make a point to cut the habit this summer. It will help you save energy, ease the stress on your AC, and prevent mold from forming where hot air and cold air meet.