paid content
 for

If You Think Your Pet's A Picky Eater, Here's What Might Be Going On Instead
Senior Branded Content Editor
By Krista Soriano
Senior Branded Content Editor
Krista Soriano is the Senior Branded Content Editor at mindbodygreen.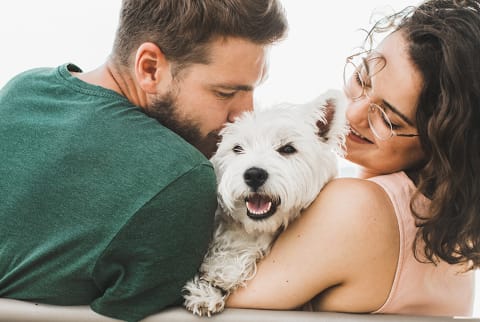 Image by Irina Efremova / Stocksy
April 17, 2019
It's a strange sight to behold, but it happens: Dinner's on the table—well, in this case, on the floor—and your dog is literally not having it. What gives? Is she full? Not feeling well? Is she bluffing? (All valid picky-pet-parent questions.)
If your dog's a relatively new addition to the family, or if you're trying out a new food, you might reason that your four-legged friend is just being picky or wonder if there's a food allergy at play.
"Food allergies are one thing we look for if we have a fussy animal," says Dr. Babette Gladstein, VMD, who has dealt with many food-sensitive animals at her veterinarian practice in New York City. "But there are a few tips I tell clients to try at home prior to testing."
For starters, our fur babies have plenty of nourishing food options, even if their stomachs are on the sensitive side. The award-winning Biologically Appropriate dog foods made by ACANA also come in five single-protein formulas made with limited ingredients, so it's a great choice if you've got a picky or food-sensitive eater. She'll love the fact that the formulas don't skimp on meat or flavor—think grass-fed lamb, free-run duck, or pork infused with freeze-dried liver—and that all ACANA Singles are easily digestible, too.
Read on below for more expert tips that might help solve the mystery of the uneaten dinner. (And it goes without saying, but check in with your vet right away if your dog is showing symptoms of sickness, pain, or discomfort.)
1.
Don't leave food out for grazing.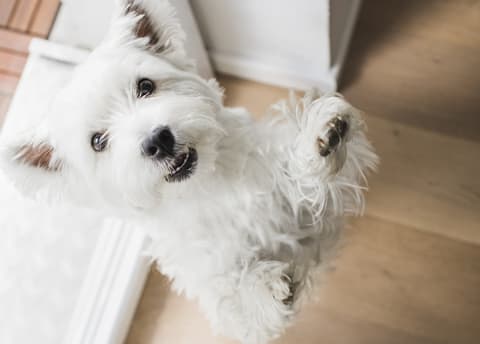 Image by Irina Efremova / Stocksy
In our human world, we've all heard about the science-backed benefits of intermittent fasting. With animals, it's the same the idea of having scheduled feeding times, and most experts keep it simple: Feed your dog (over 12 months old) twice a day—once in the morning and once in the evening.
Besides the risk of weight gain, "If you leave food down and let them graze," says Dr. Gladstein, "they're not going to be all that hungry at dinner—they're just going to be picky."
2.
Make it a family dinner.
Turns out, dogs just might want to have company when they eat. "When I'm having dinner at home, my pets eat at the same time," says Dr. Gladstein. "That way, it's like they're having dinner with me—even if they're in the other room."
Try making family dinnertime "official," and you might find that your animals bond better to their food.
3.
Stick to smaller portions.
Not unlike accidentally overwatering your plants (we've all been there), some folks might overfeed their pets and not realize it. According to Dr. Gladstein, "They may assume their pet will eat whatever they put in front of them, but if [they're given] too much food, they might just be full all the time."
So, what looks like a picky dog on the surface might not actually be the case—they might simply just be overfed.
4.
Remember that food is just one part of their wellness routine!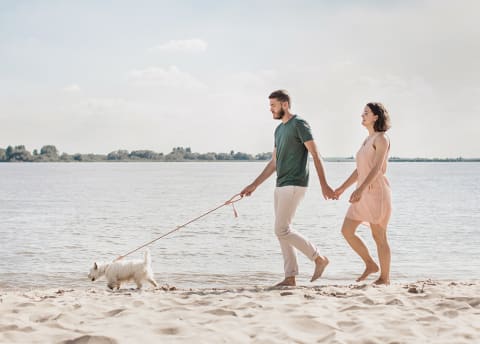 Image by Irina Efremova / Stocksy
Dogs are just like their humans in that their wellness isn't just about their diet. Make sure your pets are getting regular exercise and playtime—and switch things up every once in a while.
Besides exploring new places on your daily walking route, "doggie and me" exercise classes (hiking, swimming, yoga, and yes, even circuit training), designed so pups and their parents can have fun getting fit together, are things that exist! You can also sign your dog up for recreational agility classes, which are an entertaining playtime alternative for a "high-energy dog that's usually in an apartment or any dog that needs a little exercise," says Dr. Gladstein. And after a long walk or hike, stretching with your dog or giving her muscles a massage is a great way to solidify your bond.
Try teaching them a new trick, even if it's just to stand a different way or curl to one side to take a treat. "You can train a dog to take a treat at its shoulder, to turn its head, and that lateral movement is physical therapy," says Dr. Gladstein.
Little chunks of treats are perfect for this—you don't need to use big treats. ACANA also makes Singles treats, which are formula-matched to include the same quality meats, poultry, and fish as the brand's Singles kibble line, and the freeze-dried treats are a great size for new trick training.
And don't forget the oral hygiene. Cleaning your dog's teeth regularly is important for preventing oral disease down the line, so it's never too early to start. According to Dr. Gladstein, toothbrushing is an often-overlooked part of pet care and wellness and is necessary for maintaining physical health—picky eater or not!

Krista Soriano
Senior Branded Content Editor
Krista Soriano is the Senior Branded Content Editor at mindbodygreen. She holds a B.A. in journalism with a minor in communications from Messiah College, graduating summa cum laude. She has written and edited lifestyle content for over 15 magazines and websites, including ELLE, Esquire, Good Housekeeping, Cosmopolitan, Marie Claire, Women's Health, Men's Health, Runner's World, and DuJour. At mbg, Soriano helps our partners—which include non-profits and Fortune 500 companies—tell their stories, covering everything from the future of regenerative agriculture, ethical banking, and the endocannabinoid system. She lives in New York.