paid content
 for
Do You Have A Balanced Endocannabinoid System? Here's What To Look For
Image by Julia Volk / Stocksy
November 2, 2021
As wellness enthusiasts, we're always looking to learn more about our bodies and the systems that compose our overall health. Because the more we know, the better we can care for ourselves. We already know so much about the immune system, perhaps even more about the digestive system... But how much do we know about the endocannabinoid system?
Advertisement
This ad is displayed using third party content and we do not control its accessibility features.
What is the endocannabinoid system? Why does it matter?
Firstly, everyone has an endocannabinoid system (ECS), whether you've consumed hemp oil (Cannabis sativa) or not. In fact, the ECS plays a much larger role than many of us are aware. Composed of endocannabinoids, receptors, and enzymes, this system helps maintain our body's homeostasis as a "master regulator" that facilitates the signals between our cells and organs. How does it work? As our body produces endocannabinoid molecules or receives phytocannabinoids from the hemp plant (e.g., CBD, CBG, etc.), these bioactive compounds interact with receptors to signal a specific action, like helping us be more resilient to stressors and balance our mood.* Once the action is finished, enzymes then break down the cannabinoids and rinse/repeat.
Endocannabinoid receptors are found throughout the body, including our brain, immune cells, skin, GI tract, connective tissues, and bones. So it makes sense that research1 has connected the ECS to an array of functions, like motor activity, neurogenesis, immune response, mitochondrial activity, and even learning and memory. At this point, it's no wonder many of us are turning to the support of plant cannabinoids (aka phytocannabinoids), and one specifically: cannabidiol, or CBD.* Daily support with a high-quality supplement like the +PlusCBD Reserve Collection Oils by CV Sciences is one way for us to support a balanced and nourished ECS.*
Finding balance.
A balanced endocannabinoid system really just means one that is able to do its job. Remember, the ECS is all about homeostasis, which means it's constantly working to maintain a stable internal environment regardless of what happens outside of the body. And here are the many factors that go into its balancing act: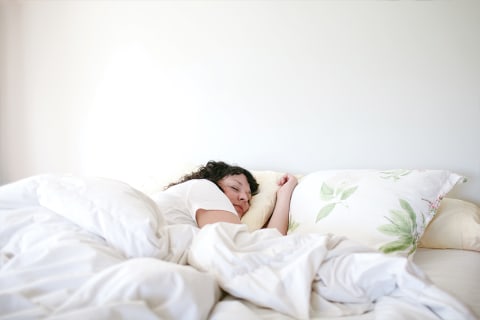 Image by Jennifer Brister / Stocksy
Advertisement
This ad is displayed using third party content and we do not control its accessibility features.
1. Joint comfort
When your joints need a bit more comfort, your ECS is waving at you. Cannabinoids like CBD interact with a specific endocannabinoid receptor known as CB1, which triggers neurotransmitters that are like buffers2 to reduce discomfort.*
2. Mood and mental well-being
While the research between the ECS and mental wellness is just getting started, there are some interesting connections already. Studies have shown that certain cannabinoids can regulate mood balance in humans.* In fact, CBD has been shown to help reduce a sense of anxiousness3 in clinical research.* According to Biochemical Pharmacology, "the endocannabinoid system is fundamental for emotional homeostasis and cognitive function4."*
Many wellness enthusiasts turn to hemp extract and its star cannabinoids like CBD as a way to support their endocannabinoid system, and in turn, their mental well-being.* +PlusCBD Reserve Collection Oils are formulated with full-spectrum hemp extract that provides a 10:1 or 20:1 ratio of CBD to THC for a more complete balance of phytocannabinoid effects.* Define phytocannabinoid? They're simply cannabinoids derived from the aerial parts of the cannabis plant. But don't worry, these hemp oils only have trace amounts of THC (actually by FDA law, U.S. hemp has less than 0.3% THC by weight), and CBD doesn't have psychoactive properties (i.e., doesn't get you high). They'll only leave you with an increased sense of relaxation and calm.*
Advertisement
This ad is displayed using third party content and we do not control its accessibility features.
3. Immune support
A balanced ECS is also one that suits up to support our immune system. Research has found that because cannabinoid receptors are found on immune cells, endocannabinoids help "control immune functions and play a role in immune homeostasis5."* They also help with communication between the nervous and immune systems and activate immune cells in the presence of inflammatory pathways that need to be reset.
4. Energy levels
Advertisement
This ad is displayed using third party content and we do not control its accessibility features.
5. Stress management
The job of homeostasis entails constantly maintaining inner balance. But considering how often our to-do list and Google Calendar threaten that balance, you know the ECS has something to do with stress7. Every time we experience external stressful stimuli (like conflict with our partner or a tight deadline), our internal systems react in a way that supports survival and well-being. That reaction ultimately comes down to a chain of reactions overseen by the ECS. In fact, hemp oil with cannabidiol, aka CBD, has been shown to improve response and resilience to stressors8.* We could all use more of that kind of resilience. Thankfully, +PlusCBD Reserve Collection Oils are formulated with cannabinoids for feelings of calm when targeted support is needed.*
6. Sleep cycles
There's nothing that throws us off balance quite like a rocky night of sleep. Studies9 have indicated that the ECS plays a key role in our sleep-wake cycle, as well as the different stages of sleep throughout the night. Like a healthier version of a bedtime snack, the Lemon Ginger and Dark Chocolate Mint flavors of the +PlusCBD Reserve Collection Oils make an ideal ritual for better sleep.* Delicious and supportive of deep relaxation, these oils may be the key to sweeter dreams.*
Advertisement
This ad is displayed using third party content and we do not control its accessibility features.
The more you know, the better.
A balanced ECS consists of all sorts of moving and interconnected parts. While there's still so much to learn about this intricate web of cannabinoids, receptors, and enzymes, one thing's for sure. We can provide simple support for our ECS with +PlusCBD Reserve Collection Oils by CV Sciences.* As we said, the more you know about your body, the better you can take care of it. And with these oils, who knew self-care could feel so good?
Shop this Story:
*These statements have not been evaluated by the Food and Drug Administration. This product is not intended to diagnose, treat, cure, or prevent any disease.
Devon Barrow
Branded Content Editor
Devon Barrow is a Branded Content Editor at mindbodygreen. She received her degree from the University of Colorado. When she's away from her desk, Devon is teaching yoga, writing poetry, meditating, and traveling the world. She's based in Boulder, Colorado.
Devon's first book, Earth Women, is coming soon. To learn more, join the mailing list, and receive updates, head to www.devonbarrowwriting.com.