Depressed People Have A Specific Pattern Of Social Media Use, Study Finds
mbg Editorial Assistant
By Abby Moore
mbg Editorial Assistant
Abby Moore is an Editorial Assistant at mindbodygreen. She earned a B.A. in Journalism from The University of Texas at Austin and has previously written for Tribeza magazine.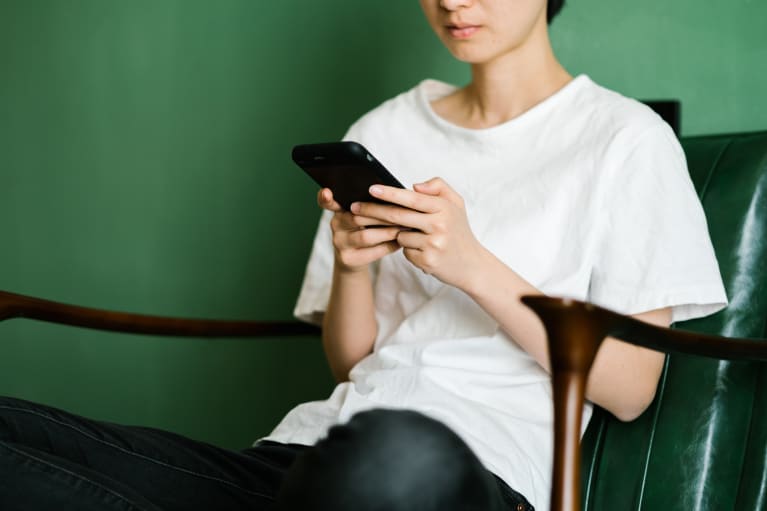 October 28, 2020 — 19:02 PM
Depression and social media activity.
Researchers analyzed Twitter content from 9,479 people total—688 of whom were diagnosed with clinical depression. Researchers took into account the timing and the content of their tweets to find a notable pattern that may help identify individuals with depression.
Compared to those without depression, the depressed cohort was more active on social media between 7 p.m. and midnight but less active from 3 to 6 a.m. And in terms of content? In general, depressed people's tweets involved more self-reflection and rumination than non-depressed people's tweets. The closer to dawn, the more ruminative, self-reflective, and emotional the depressed people's posts were.
Interestingly, both groups were most active at 9 p.m., but the peak was more apparent in the depressive group. "This peak of activity levels may correspond to a period of time after dinner and before bedtime that individuals use for recreational social media use," the authors say.
Humans run on a circadian rhythm (or a sleep-wake cycle), which affects hormones, behaviors, and cognition. "Unsurprisingly, a stable daily activity cycle is important to maintain physical and mental health," the study authors write. "In fact, disturbances of the human circadian rhythm are strongly associated with mood disorders, such as depression and anxiety, bipolar, and borderline personality disorder."
By analyzing social media, this study identifies one phase of the sleep-wake cycle that appears to be altered by depression: that time of day between 7 p.m. and midnight, peaking at the 9-o'clock hour, when people diagnosed with depression tend to be significantly more active online than non-depressed people.
More research is needed to confirm the association, but researchers say social media may be a helpful tool in identifying mental health disorders, like depression, and intervening early.