The World's Most Famous Food Blogger Just Shared The Vegetarian Thanksgiving Main Dish Of Your Dreams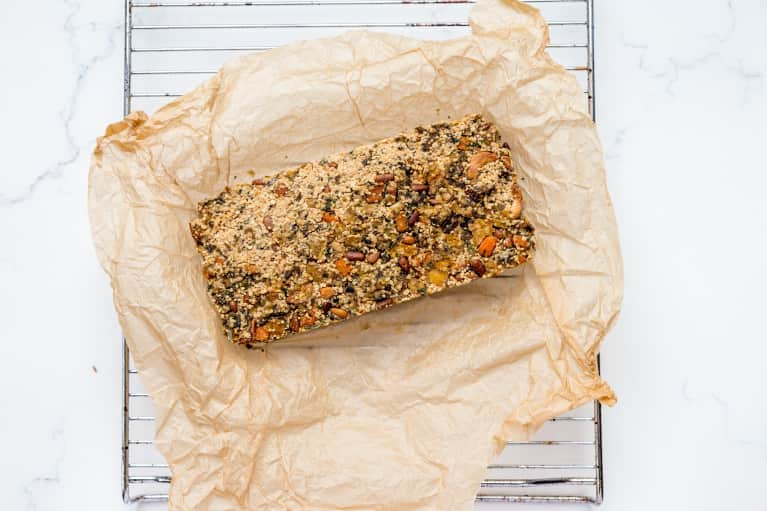 Our editors have independently chosen the products listed on this page. If you purchase something mentioned in this article, we may
earn a small commission
.
Written by mbg Food Director Liz Moody
Thanksgiving might be the ultimate You. We. All. holiday, with an emphasis on giving back, gratitude, and community—and, of course, plenty of delicious food. While a typical Thanksgiving table might be enough to induce a stomachache based on sight alone, we think of the holiday as an opportunity to nourish your body, in addition to your soul. With that in mind, we reached out to some of the year's biggest food stars to share their favorite healthy Thanksgiving recipe and some tips, tricks, and traditions that help them get through the holiday with a smile on their face (and bellyache free!).
If you haven't heard of Ella Mills, better known by her millions of fans as Deliciously Ella, you may have been living under a wellness-proof rock. The blogger and cookbook author burst onto the scene in 2012, when she shared the diet that helped her heal from a debilitating chronic illness. Now, four cookbooks, a deli, and a line of packaged goods later, Ella is poised to take over the healthy food world. This nut loaf, excerpted from her newest cookbook, Natural Feasts: 100+ Healthy, Plant-Based Recipes to Share and Enjoy With Friends and Family, is the perfect vegan main dish that even the biggest meat-lovers will enjoy. Packed to the brim with vegetables and herbs, it has a bright, savory flavor that'll keep you coming back for more. Editor's note: Because Ella is a Brit and doesn't celebrate Thanksgiving, we asked her to share her general holiday tips and traditions.
mbg: What are your favorite holiday traditions or rituals?
EM: I love cooking together—I love how making a feast brings everyone into the kitchen. We all have our different roles at home. I'm always in charge of the veggies, and my brother makes the absolute best roast potatoes!
mbg: What are your best tips for making a holiday dinner a bit healthier (but just as delicious)?
EM: Adding loads of great veggie sides with tons of spices and flavors. I always make my mushroom gravy, whole roasted cumin and date carrots, lemony Hasselback potatoes, maple and pecan sweet potatoes, and some sautéed greens.
When you're feeling super full after a huge holiday meal, what do you do to feel better?
EM: I love using the leftovers to make warm salads and soups. One of my go-to's is chili-roasted Brussels sprouts and carrots, which I bake until they're really golden and the sprouts have a nice crispiness to them, and then toss with wild rice and a roasted garlic, lemon, and olive oil dressing. It's simple but delicious.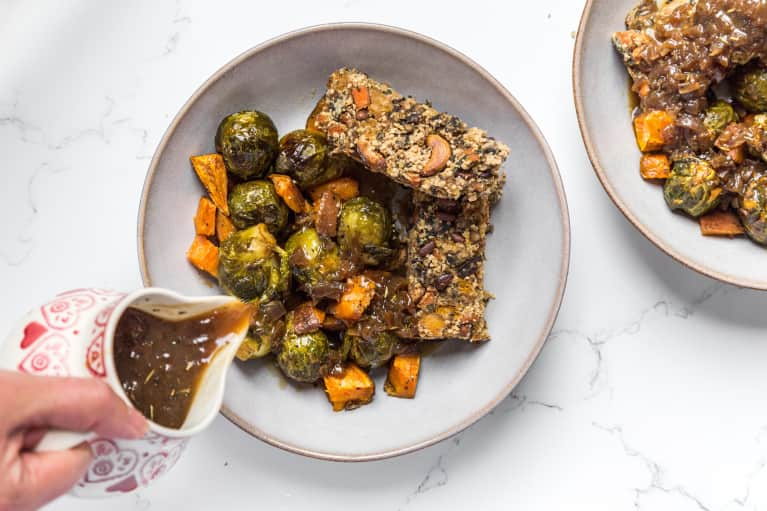 This is the ideal veggie option to share with friends for a long, lazy Sunday lunch. It's lovely and hearty and full of flavor from the pine nuts and cashews to the nutmeg, garlic, sage, tarragon, garlic, and parsley. It's full of amazing ingredients from carrots, mushrooms, and butternut squash to cashews, pine nuts, sage, parsley, and tarragon.
Serves 6
Ingredients
2 tablespoons olive oil, plus more for the pan
6 tablespoons pine nuts
generous ½ cup of cashews
1 celery stalk, finely chopped
7 ounces butternut squash, peeled and finely chopped
1 medium carrot, peeled and finely chopped
salt and pepper
3 garlic cloves, crushed
5 ounces cremini mushrooms, finely chopped
2 fresh sage leaves, roughly chopped
1 tablespoon roughly chopped fresh parsley
1 tablespoon roughly chopped fresh tarragon
A few good gratings of nutmeg
5 tablespoons rolled oats
½ cup plus 1 tablespoon brown rice flour
½ tablespoon ground chia seeds
Mushroom Gravy (see recipe below)
You need roughly the top part of the butternut squash for this (the bit from the stem end to the bulge), so save the rest for later or use it as a side, roasted or mashed. Also you can roast the squash seeds with a drizzle of oil and seasoning for 10 minutes, then sprinkle them over sautéed greens.
Preheat the oven to 400°F. Oil a 9-by-5-inch loaf pan or line it with parchment. Place the pine nuts and cashews on a baking sheet and roast them in the oven for about 10 minutes. They should look golden and give off a toasty aroma when you take them out. Set aside to cool.
Meanwhile, place a large nonstick pan over medium heat and heat 2 tablespoons oil. Sauté the celery, squash, and carrot in the oil with lots of salt and pepper. When the celery has started to turn translucent, add the garlic and cook for 1 minute. Add the mushrooms and cook for 5 minutes. Finally, add the herbs and nutmeg and stir well.
Place half the nuts in a food processor with the oats and whiz up as fine as they will go. Coarsely chop the remaining nuts, so they aren't too chunky, then add these and the ground nut mixture to the pan. Add the flour and chia seeds and mix well.
Press into the prepared loaf pan, cover with foil, and bake for 35 minutes. Take the foil off and bake for another 15 minutes. Let cool in the pan on a cool rack for 15 minutes (it will still be nice and hot). Take it out of the pan and cut into slices; be gentle, as it can crumble. Prepare and serve with Mushroom Gravy.
The Mushrooms and tamari give deeply savory flavors to this gravy. Sharpened with a little mustard and made aromatic with tarragon, it makes Sunday lunch a real treat. This makes enough for the Herbed Nut Roast, but if you like lots of gravy, double the quantities here.
Ingredients
0.4 ounces dried porcini mushrooms
2 tablespoons canola oil, more if needed
5 ounces cremini mushrooms, thinly sliced
2 garlic cloves, crushed
salt and pepper
1 tablespoon finely chopped fresh tarragon
1 teaspoon Dijon mustard
1 tablespoon cornstarch
1 tablespoon tamari
Put the dried porcini in a bowl with 2 cups boiling water and soak for at least 10 minutes.
Heat the oil in a nonstick frying pan over high heat. Add the fresh mushrooms and let them color on both sides, then reduce the heat to low, add the garlic, and season. (If the pan is dry, add a bit more oil.) Keep the garlic moving so it doesn't brown, or it will be bitter. Scoop the porcini out of the water, finely chop, and add to the pan, reserving the soaking liquid.
Once the garlic is translucent, add the tarragon, 1⅔ cups mushroom soaking liquid (avoiding any grit from the bottom of the bowl), and the mustard. Mix the cornstarch with 1 tablespoon water to a paste, add to the pan and let simmer for 5 to 10 minutes, until it has a nice consistency. Stir in the tamari.