This Recipe Has So Many Nutrients, Dan Buettner Calls It A "Longevity Cocktail"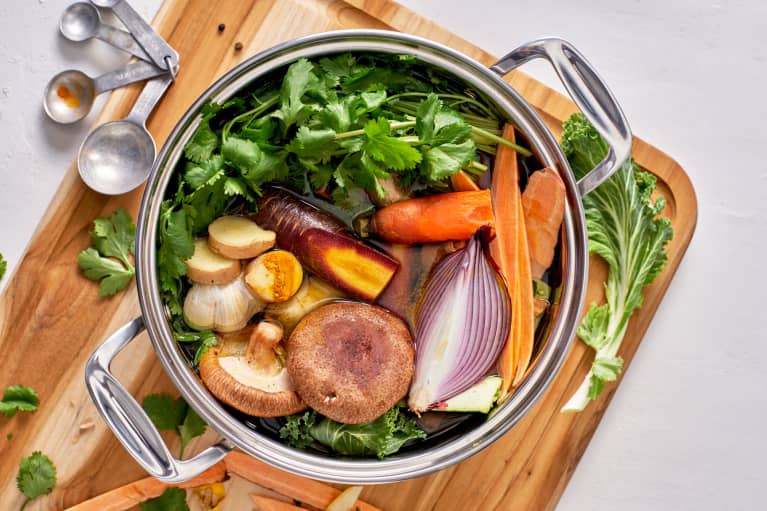 Our editors have independently chosen the products listed on this page. If you purchase something mentioned in this article, we may
earn a small commission
.
Take a look into Dan Buettner's kitchen, and you'll likely find a lion's share of whole, nutrient-dense plants and grains—specifically, those loaded with fiber. "One of the best things you can do [for longevity] is load up on fiber," the longevity expert, National Geographic fellow, and founder of Blue Zones shares on the mindbodygreen podcast. See, fiber is crucial for maintaining gut health and immune health (thanks to the gut-immune connection), which is why Buettner's favorite Blue Zones–inspired meals include plenty of fiber-rich foods.
"Of course, my approach to doing it is making this wonderful longevity cocktail," he continues. Yes, you read that right: Buettner swears by this recipe for living a longer and healthier life—so much so, he deems it a "longevity cocktail." Below, we got the scoop on this nutritious blend.
How to make Buettner's longevity cocktail.
Now, if you're familiar with Buettner, chances are you know he's a fan of simple, easy-to-make recipes. This longevity cocktail is no different: "Nothing fancy here; it's called minestrone soup," he explains. "It has three beans, six different kinds of vegetables, and provides a rainbow of different fiber species to feed all of those wonderful microbes in my gut."
You could totally stop right there—chuck a few veggies and beans into a pot of broth, season it, and call it a day. But if you're wondering about an exact recipe, well, you're in luck: In true journalistic fashion, I did some digging (also: longevity cocktail? How could I not learn more?). It turns out, Buettner previously raved about this very recipe on his website. The Sardinia Minestrone, he calls it.
Here's the full breakdown from Buettner (keep in mind, it serves eight!).
½ cup dried and peeled (or canned) fava beans
½ cup dried (or canned) cranberry beans
⅓ cup dried (or canned) chickpeas
7 tablespoons extra-virgin olive oil
1 medium yellow or white onion, chopped
2 medium carrots, peeled and chopped
2 medium celery stalks, chopped
2 teaspoons minced garlic
1 (28-ounce) can crushed tomatoes
3 medium yellow potatoes, peeled and diced
1½ cups chopped fennel
¼ cup loosely packed fresh Italian flat-leaf parsley leaves, chopped
2 tablespoons chopped fresh basil leaves
⅔ cup of Sardinian fregola, Israeli couscous, or acini di pepe pasta (chef's choice)
½ teaspoon salt
½ teaspoon freshly ground black pepper
¼ cup finely grated pecorino Romano
Drain the beans in a colander set in the sink. Rinse well. (If you're using dried beans, make sure to soak them overnight beforehand.)
Warm 3 tablespoons of the olive oil in a large soup pot set over medium-high heat. Add the onion, carrots, and celery; cook, stirring often, until soft but not browned, about 5 minutes. Add the garlic and cook until fragrant, about 20 seconds.
Stir in the tomatoes, potatoes, fennel, parsley, basil, and beans. Add enough water (6 to 8 cups) so that everything is submerged by 1 inch.
Raise the heat to high and bring to a full boil. Then reduce the heat to low and simmer slowly, uncovered, until the beans are tender. Adding more water as necessary if the mixture gets too thick. Simmer for about 1½ hours.
Stir in the pasta, and season with salt and pepper. Add up to 2 cups of water if the soup seems too dry. Continue simmering, uncovered, until the pasta is tender, about 10 minutes.
Divide the soup among serving bowls and top each with 1 tablespoon of the grated cheese.
Again, you can find the full recipe (with notes) on Buettner's website.
One of Buettner's favorite Blue Zones–inspired recipes is a hearty minestrone soup—it's so nutritious and full of fiber that he even calls it a "longevity cocktail." Not to mention, it's incredibly easy to make, and you can customize it with whatever beans and veggies you please.