paid content
 for

5 Curl-Friendly Hair Products To Make Your Natural Texture Pop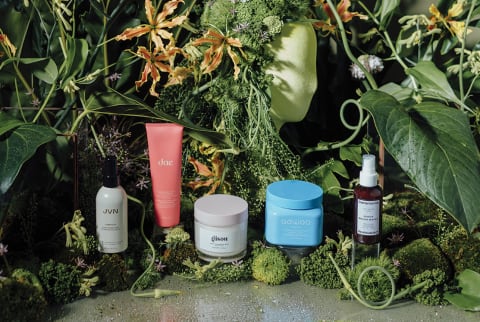 Image by mindbodygreen creative
July 26, 2022
Whether you've got waves for days, curvaceous curls, or stunning coils—we believe that our natural hair type is always something to be embraced. After all, the shape, color, and texture of our hair is an extension of our identity and personality. It's beautiful au naturel, and yet there's so much we can do to take our texture to the next level. So how do we make our unique pattern pop?
While our hair type is generally determined by genetics (and the heritability of curly hair lies between 85 and 95 percent1), our waves, curls, and coils come from an asymmetrical hair follicle, which causes the hair to curve into all sorts of fun shapes. Curvy hair also has an uneven distribution of keratin, the protein that makes up our hair… Thank you, science! So when it comes to enhancing our curvy hair—it's important to use products formulated with this specific hair composition in mind.
Whether you're dreaming of salty, seaside waves or need a little help detangling your full and fab head of hair, Sephora has the products we need for finessing our natural do. Carrying the up-and-coming finds soon to take the hair-world by storm, it's never been easier to give our hair the royal treatment it deserves. Between these top five products, get ready for the waves, curls, and coils of your dreams!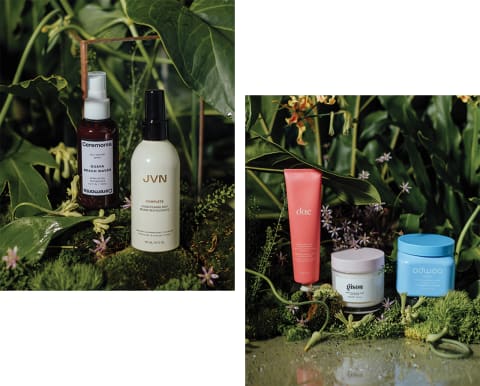 5 products for enhancing your natural texture:
1.
For effortless waves: Guava Beach Waves by Ceremonia
Ever wondered why your hair looks so perfect after a midsummer dip in the ocean? Salt has texturizing qualities. When your hair dries, it nestles between the cells of your hair cuticle, resulting in more defined waves. And for those unfortunate days when an ocean is not nearby, the Guava Beach Waves Texturizing Salt Spray by Cermonia is the next best thing. Formulated with pink Bolivian salt, plus guava fruit and leaf extract, this lightweight mist will leave your hair with more pronounced texture while protecting it from the sun.
Bonus tip: For that fresh-from-the-beach look, use this spray on damp or dry hair, spritzing from the middle of your strands to the ends. Use your fingers to scrunch your hair, working your way from the ends all the way up to your roots.
2.
For strengthening strands: Blue Tansy Reparative Mask by Adwoa
The healthier the hair, the easier it is to flaunt an all-natural style. And nothing provides a little R&R like the Blue Tansy Reparative Mask by Adwoa. This creamy treatment uses plant protein extracts to help seal damaged hair. On top of that, it features Moroccan lava clay, blue tansy flower oil, and spirulina extract to help detangle and improve the definition of your curls, all while reducing frizz. Sealing the deal with a little shine, safe to say this product does it all.
Bonus tip: To keep your hair in tip-top shape, stay on top of your visits to the hairdresser. Curly and coily hair should get a trim every three months, while thicker, wavy hair should get a trim every two months or so.
3.
For shiny locks: Honey Infused Hair Mask by Gisou
Wavy, curly, and coily hair is already stunning in the raw. But we all love shiny things—our hairstyle included. If you're looking for extra gleam and deep hydration, add the The Honey Infused Hair Mask by Gisou to your shower routine, made with sustainably-sourced Mirsalehi Honey from the Mirsalehi Bee Garden in the Netherlands (which has been around for six generations!). Honey is a natural humectant, meaning it restores our hair's moisture balance. After steeping in this liquid gold treatment, your curls will feel healthier, stronger, and shinier… We should see you strutting your stuff from a mile away!
4.
For tangled tresses: Complete Conditioning Mist by JVN
Sometimes our natural hair leaves us with our hands full, literally. While we have nothing but love for all that volume, tangles also come with the territory. As you're styling your natural do, work with the Complete Conditioning Mist by JVN to instantly hydrate and detangle your hair while removing frizz. Formulated with revitalizing hemisqualane to strengthen, plus tremella mushroom and hyaluronic acid to moisturize your hair—this mist will leave your hair silky soft and ready for any style.
Bonus tip: When the inevitable knots and tangles appear—easy does it. To avoid damage and breakage, use a wide-tooth comb or a paddle brush. Start from the bottom of your hair, and work your way up to the root.
5.
For defined curls: Cactus Fruit 3-in-1 Styling Cream by Dae
Sometimes all it takes to embrace natural hair is a little definition, especially when it comes to curls. There's nothing like abundant and bouncy curls to make us happy, and the Cactus Fruit 3-in-1 Styling Cream by Dae is the quickest way there. Infused with desert-derived extracts, this styling cream doesn't just define natural curls, it's our doorway to shinier blowouts and smoother styles. Three benefits in one sustainably-made bottle? Sounds like a hair-win to us.
Bonus tip: When you're going for extra curl definition, always apply your curl-defining products when your hair is damp. This helps your waves, curls, and coils stick together for a sleek and stunning look. And once your curls have dried—avoid running your fingers through your hair to keep them intact!
Turn up the volume.
Whether you're working with waves, curls, or coils—your hair is a natural phenomenon all on its own. But adding a few intentional products to your hair care routine can give your unique texture (and your confidence) a healthy boost. Whether it's keeping your curls in order or turning up the volume, your must-have products for enhancing all that hair can be found at Sephora. Our natural hair is always just a few products and tips away from salon-ready feels—so get yours, and start styling!
Devon Barrow
Branded Content Editor
Devon Barrow is a Branded Content Editor at mindbodygreen. She received her degree from the University of Colorado. When she's away from her desk, Devon is teaching yoga, writing poetry, meditating, and traveling the world. She's based in Boulder, Colorado.
Devon's first book, Earth Women, is coming soon. To learn more, join the mailing list, and receive updates, head to www.devonbarrowwriting.com.