This Cognitive Biotype May Respond Poorly To Antidepressants, Study Finds
Assistant Beauty & Health Editor
By Hannah Frye
Assistant Beauty & Health Editor
Hannah Frye is the Assistant Beauty Editor at mindbodygreen. She has a B.S. in journalism and a minor in women's, gender, and queer studies from California Polytechnic State University, San Luis Obispo. Hannah has written across lifestyle sections including health, wellness, sustainability, personal development, and more.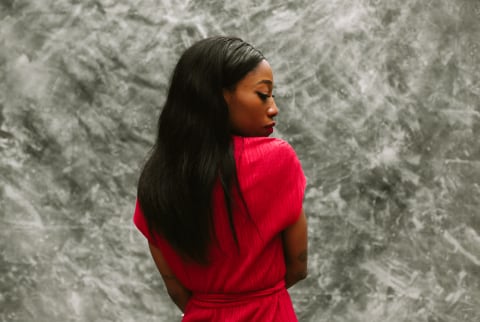 Image by Jimena Roquero / Stocksy
July 14, 2023
We carefully vet all products and services featured on mindbodygreen using our
commerce guidelines.
Our selections are never influenced by the commissions earned from our links.
Managing depression often requires a combination of therapies, treatments, and lifestyle changes that varies from person to person. And while medication may be helpful and life-changing for some people, it can be counterproductive for others.
Of course, this has been anecdotally true for quite some time. But new research offers an explanation on why some people may respond better to antidepressants than others—and it all comes down to our brain patterns.
A new biotype of depression may help explain medication efficacy
The new research study led by Stanford Medicine published on JAMA Network1 suggests that a certain "cognitive biotype" of depression may respond poorly to standard antidepressants.
Hold on: What's a biotype? According to the American Psychological Association, a biotype refers to a group of individuals with a similar genetic makeup. In this case, biotype refers to people who share similar neuronal patterns when it comes to learning and processing information and regulating mood.
The research focused on those with a cognitive biotype that made them have more difficulty with planning ahead, holding concentration, and exercising self-control (as shown by brain imaging scans that measure activity in certain brain regions). The typical symptoms of depression, including trouble with executive functioning, decision-making, memory, concentration, and the ability to suppress negative emotions in favor of positive behavior, are all more pronounced in this cognitive biotype.
In the study, researchers took 1,008 adults with previously unmedicated major depressive disorder and randomly assigned each person one of three common antidepressants: escitalopram (also known as Lexapro), sertraline (Zoloft), and venlafaxine-XR (Effexor). A total of 712 participants completed the eight-week prescription.
Both before and after the antidepressant treatment, the participants' depressive symptoms were measured using two surveys (one administered by a clinician and the other self-reported) and a cognitive assessment.
In this assessment, participants completed a series of cognitive tasks to measure things like memory, decision speed, and attention span while an fMRI tracked their neuronal activity.
After the antidepressant treatment, researchers found that the absence of depression symptoms was 38.8% for those with the biotype, and 47.7% for those without it.
The largest difference in treatment outcomes was with the group given sertraline (Zoloft)—where only 35.9% of those with the biotype saw improvement, while 50% of those without the biotype did.
"We find that 27% of people actually have this biotype and the people who have this are less likely to respond to the typical antidepressants that they might get like Zoloft or Prozac," board-certified psychiatrist Sue Varma, M.D., P.C., DFAPA, explains in a segment on her Instagram.
Varma notes to mindbodygreen that this finding can be helpful for people who feel discouraged after struggling to find an antidepressant that works for them.
Other potentially helpful therapies
This research further proves that there is no one-size-fits-all treatment for depression. While medication may be helpful for some, other methods may be better for those with certain brain makeups.
One therapy being studied for treatment within this cognitive biotype is transcranial magnetic stimulation (TMS)—a noninvasive, FDA-approved procedure that uses magnetic fields to stimulate nerve cells in the brain to improve symptoms of depression and obsessive-compulsive disorder (OCD). However, Varma notes that more research is needed to confirm the efficacy rates of this treatment.
Again, not every treatment will work for everybody, and research on how this particular biotype can find relief is still ongoing.
"Cognitive symptoms of depression are nothing new, but the understanding that a biotype exists is newish and helpful to keep in mind when antidepressants aren't working," Varma notes.
The takeaway
A new research study finds that people with a certain cognitive biotype may respond poorly to antidepressants compared to those without it. While more research is needed, this finding could prove helpful for medical professionals looking to tailor treatment to each individual and explore other options beyond antidepressant medication.
Hannah Frye
Assistant Beauty & Health Editor
Hannah Frye is the Assistant Beauty & Health Editor at mindbodygreen. She has a B.S. in journalism and a minor in women's, gender, and queer studies from California Polytechnic State University, San Luis Obispo. Hannah has written across lifestyle sections including skin care, women's health, mental health, sustainability, social media trends, and more. She previously interned for Almost 30, a top-rated health and wellness podcast. In her current role, Hannah reports on the latest beauty trends and innovations, women's health research, brain health news, and plenty more.