I'm 59 & My Skin Has Never Been More Resilient — Thanks To This Supplement

Contributing writer
By Heather Ryan
Contributing writer
Heather Ryan is a horsewoman and farm owner, who works as a guardian and advocate for both ex-racehorses and wild animals.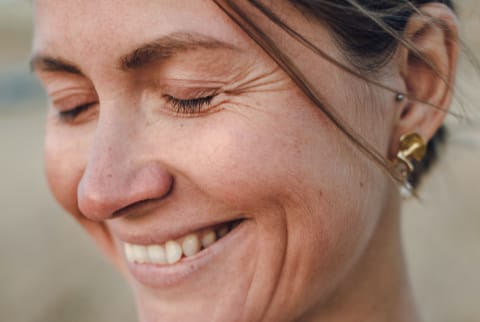 Image by OLGA MOREIRA / Stocksy
March 23, 2023
As a farm owner who works to rehabilitate ex-racehorses, I'm constantly in the garden and working hands-on. As I'm nearing my 60th birthday and spend most days outdoors, it's no secret that my body needs support from the inside out to keep up with my busy lifestyle and undying passions.
Over the years, I've noticed that regularly taking supplements has truly made a difference in my overall health and well-being. While I have been using (and loving) the basics, like probiotics and vitamin D, I decided to add another hero supplement to my lineup, and I am so grateful that I did.
Why I started taking cellular beauty+
Because I live at the top of a hill in Maryland, there is a bit of a wind vortex surrounding my home. This uptake in wind creates an entirely different climate, and the constant exposure to a harsh breeze significantly affects the look and feel of my skin.
When this brutal wind hits my face, a flush always follows suit. While it certainly doesn't stop me from spending time outdoors, I imagine it can't be good for my skin to experience the arid environment every single day.
When I leave the windy outdoors to enter my barn, a new climate arises: But this one is humid, the complete opposite of the wind tunnel I just experienced outside. This back-and-forth between dry and humid air causes my skin to fluctuate multiple times throughout the day. And while I'm no stranger to a hydrating serum, cream, or mask, nothing I used topically had created a lasting, noticeable change in my skin.
I knew I needed something to help my skin adapt to these ever-changing conditions, so I leaned into the idea of caring for my skin from the inside out. And then I found my holy grail: mbg's cellular beauty+.
My results
The best word I can find to describe my skin now is resilient. I've been taking cellular beauty+ for about five months now, and I can see my skin adjusting to whatever the weather throws at me with absolute grace. (Editors note: The phytoceramides in our formula can support a healthy skin barrier structure, and they have even been shown to improve skin hydration after just 15 days1 when taken orally.*)
Aside from making my weather adjustments easier, I have also seen an overall glow in my skin, one that I was missing before. It's the kind of radiance that truly shines from the cellular level, regardless of what creams or serums I layer on top.
I still love trying out new skin care products, but I find that cellular beauty+ has added a cushion of reassurance to my routine that no topical product has before. And while I am impressed with the results I have seen from cellular beauty+, I cannot say I am surprised, as I've adored many other supplements from mindbodygreen's star portfolio.
The takeaway.
As someone who spends their days in the garden, tending to my horses, and walking around the different sub-climates on my property, this supplement helps support my skin without sacrificing my active lifestyle. Not only has my skin become more resilient to the constant changes in weather, but I've adopted the unmistakable glow of healthy skin that's radiating from the inside out.
If you are pregnant, breastfeeding, or taking medications, consult with your doctor before starting a supplement routine. It is always optimal to consult with a health care provider when considering what supplements are right for you.

Heather Ryan
Contributing writer
Heather Ryan is a horsewoman and farm owner, who works as a guardian and advocate for both ex-racehorses and wild animals. She currently lives in Maryland with her husband.