paid content
 for

The Snacks That Keep Tove Lo's Nutritionist Energized While Constantly Traveling The Globe
By Courtney Swan
mbg Contributor
Courtney Swan is an LA-based integrative nutritionist and traveling "real foodist" on a mission to change the way America eats. She received her master's of science in nutrition and integrative health from Maryland University of Integrative Health.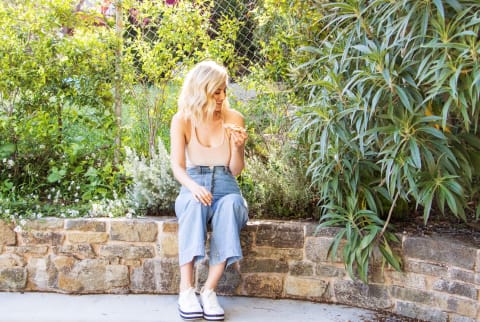 Photo by Tamara Muth-King
April 18, 2018
I am a nutritionist, traveling food activist and real foodist (meaning I don't believe in diets, I just believe in eating real food). I recently graduated with a Masters in Nutrition and currently touring the world with singer Tove Lo as her personal assistant and nutritionist. I am also the creator and food activist behind the brand Realfoodology. I spent the majority of my 20's working on the road as a tour manager for touring artists. As my passion for health and wellness grew, I simultaneously decided to pursue my masters in nutrition, eventually parlaying that into working as Tove Lo's right-hand woman—while still studying for my degree.
This lifestyle—and actively pursuing any passion day in and day out—requires a lot of energy. Life on the road is crazy, you're in a different city every day and there is never a consistent schedule, so no day is the same. You're not sleeping in your own bed (we're either in hotel beds or bunks on a tour bus every night), so your sleep schedule is not always consistent. You're constantly visiting new cities with an unfamiliar food scene that, despite the best laid plans, can easily throw a healthy eating routine off track. You have to get comfortable with the unknown and accept that you can never plan too far ahead. It's very exciting and fun, but it also makes having any routine a challenge! That said, there are a few key things that keep me sane in my insanely busy life.
1. Express gratitude daily.
I've found that expressing gratitude every morning for everything you are thankful for makes the difference between having a bad day and having a great day! It's also very important for me to get a workout in sometime in the morning, it helps keep my stress levels down and keeps me sane!
2. Hack your healthy eating.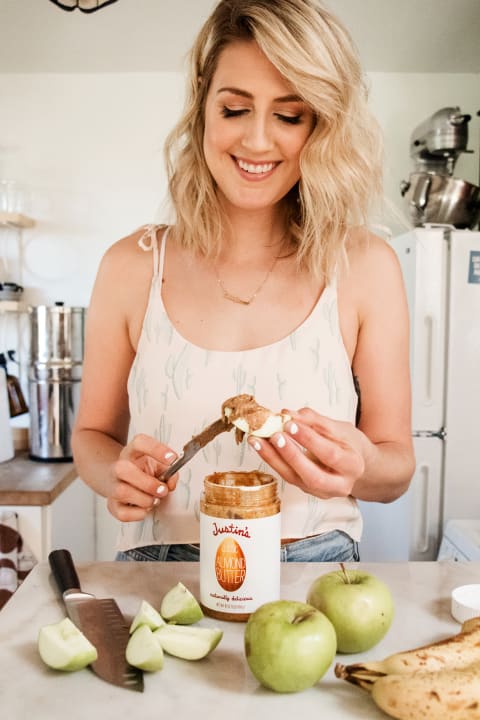 I always start my morning with a healthy, filling breakfast (usually after my workouts). Something that keeps me full? Almond butter. I like to switch it up so I never get bored, but my favorite go-to breakfast is a coconut yogurt parfait with a scoop of Justin's almond butter, some berries, and a handful of granola. Another favorite is a slice of toasted gluten-free sourdough bread with a good slather of Justin's almond butter and some berries on top of my favorite smoothie recipe: coconut milk, blueberries, 1-2 tbsp. almond butter, a handful of spinach and a few heavy dashes of cinnamon. Always being on the go means I need to keep quick, easy snacks on hand that I can grab on the way out the door. I often turn to Justin's nut butter because it's full of protein and fat to keep me full in between meals and it's so good—even just spread on an apple or spooned straight from the jar!
3. Work out 5-6 times a week.
Soulcycle and Megaformer Pilates are my go-to's. Even when we're on the road, Tove and I will go to classes (I use the Mindbody app to find classes in whatever city we are in). Or if we are at a hotel I will use the hotel gym. I have made up my mind that working out is just something I do when I get up, so no matter where I am or what I have planned for that day, a workout is always on the agenda. When you decide something is a priority you will do everything in your power to make sure it happens. Tove and I once laid yoga mats and a computer out on the floor of a venue in Denmark and did a workout video before the venue opened up to the public. There is no excuse to not get a workout in if you want it bad enough, you just have to be committed and decide it's important to you!
4. Make lists!
The best advice I was given is to make a list every morning of what absolutely has to be done that day and another list of what you hope to get done. After you've gotten through the musts if there's time for the others great! If not you transfer them to tomorrows list and tackle them then.
5. Find balance.
Finally, it's incredibly important to make time for yourself and your social life while not letting your end goal fall to the wayside. In my case, I had to balance studying, touring, and staying in touch with friends near and far. It was hard, but the reward far outweighed the work. In the end, I've learned that you aren't going to run an efficient and successful business if you aren't taking care of yourself and your needs, too.
I get asked a lot about how to pursue a dream that will leave a positive mark on the world. My advice? Work hard, but don't forget to take care of yourself by getting lots of sleep, moving every day, and making sure to fill your body with nourishing, energy-boosting foods. Oh, and don't forget to make time for your friends!

Courtney Swan
Courtney Swan is an LA-based integrative nutritionist and traveling "real foodist" on a mission to change the way America eats. She received her master's in nutrition and integrative health from Maryland University of Integrative Health. Swan uses social media to reach her audience, posting daily about the real food and organic movement on her Instagram account @realfoodology. She doesn't believe in diets, and promotes a real food approach to eating. Swan also tours full time with international pop star Tove Lo, but when she is not touring she resides in LA.