The Future May Hold An Annual Cancer Blood Test After New Breakthrough Study
mbg Editorial Assistant
By Eliza Sullivan
mbg Editorial Assistant
Eliza Sullivan is an editorial assistant at mindbodygreen. She received a B.S. journalism and a B.A. in english literature from Boston University.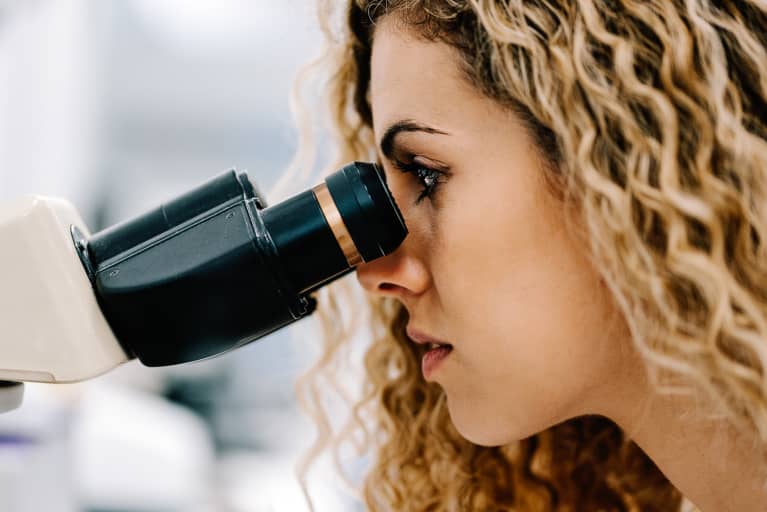 Early detection of cancer is one of the most powerful tools in fighting the disease and is oftentimes critical for treatment. For decades, researchers have looked to find a way to detect various types of cancers earlier, and now they may have found one.
An international team of researchers has identified a blood test that was able to detect stomach, esophageal, colorectal, lung, and liver cancers up to four years before other symptoms emerged—and they're hoping it could become the basis for a standard annual test in the future.
The new test, which researchers named PanSeer, uses DNA analysis to identify signatures specific to different cancers, at locations that have been linked to the presence of cancer.
"What we showed is: up to four years before these people walk into the hospital, there are already signatures in their blood that show they have cancer," Kun Zhang, Ph.D., a co-author of the study, said in a news release. "That's never been done before."
In the past, studies have looked to find malignant cells in blood samples of participants already diagnosed with cancer. However, the new study collected samples from over 123,000 participants who had no signs of cancer at the start of the study and over the next 10 years, during which time about 1,000 participants developed cancer.
Using the data, they established a machine learning algorithm that is able to predict the likelihood of a person having stomach, esophageal, colorectal, lung, or liver cancer. In the end, their test was able to detect cancer as much as four years earlier with an accuracy rate of 90%, and only 5% rate of false positives.
While it's promising, don't expect to see this test available any time soon.
While this new breakthrough is promising, the study authors say more research is necessary before this type of testing can become standard. Third-party researchers believe it's necessary to get independent confirmation of these results, along with further trials, before the test can become part of clinical practices.
"The authors are not suggesting that they have a test that can be used clinically at this stage," said Usha Menon, a professor of gynecological cancer who was not involved in the study. "They are clear that what they have is a robust preliminary demonstration of early detection of multiple cancer types four years prior to conventional diagnosis."
Essentially, this study and its test offer a promising first step toward a standard annual screening blood test for some cancers—it's new science, but there could be a promising future.
"We are still a ways away from having an accurate blood-based 'pan-cancer' screening test," explained Colin Pritchard, a molecular pathologist who was not involved in the research. "But it is not impossible to achieve."