paid content
 for

Can 4 Weeks Of Yoga & Pilates Transform Your Life?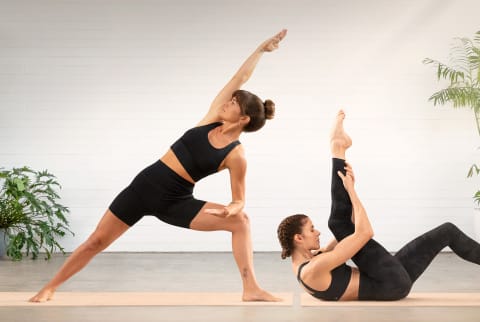 Image by Centr / Contributor
June 16, 2021
At any given moment, dozens of things are competing for our attention. There's laundry to do, mouths to feed, and texts to answer (or not)... In today's world, staying centered is invaluable, and that simply means connecting to that unwavering strength inside each of us that says, I got this. We all want more of that—and nothing cultivates center quite like the mindful practices of yoga and Pilates.
While yoga guides us toward center using breath and postures, Pilates cultivates the strength and resilience that helps us keep center...in a rather turbulent world. These practices are powerful on their own, but I've found that when you combine them—they're transformative, which is why, as a yoga instructor, I recommend the Centr Align program to basically everyone. Inspired by Elsa Pataky's favorite styles of training, it's four weeks of yoga and Pilates classes to build confidence, core strength, and flexibility. Our mindbodygreen community can get started with a 2-week free trial to Centr using access code MBGXCENTR14DAYTRIAL2. Accessible to all levels, with just a yoga mat, this program is all about finding grounding and transformation. Here's how.
Yoga: Transformation from the inside out.
As a practice, yoga works on all levels of mind, body, and spirit. The relationship between yoga postures and breath creates a foundation for present-moment awareness to thrive—and that's the centering quality. But yoga also enhances physical flexibility and strength. And how to start reaping the benefits? Simply show up to the practice.
That is exactly what Centr Align helps us do. Guided by Elsa Pataky's own yoga instructor, Tahl Rinsky, the yoga element of this program leaves you feeling so long and lean that you'll want to roll out your sticky mat the next morning. It doesn't matter whether you've never stepped on a yoga mat or are a lifelong yoga enthusiast like myself. Yoga is designed to generate transformation for any practitioner—once you're on your mat, the rest of the practice takes care of itself.
Image by Vertikala / Stocksy
Pilates: Strengthen your center.
Similar to yoga, Pilates is a fitness modality that shows you all the little muscles you didn't know existed. Through repetitive exercises targeted at specific parts of your body, Pilates increases body awareness. And because all Pilates movements require a degree of core stability, this practice guides you to your literal center and strengthens it. This centering strength is like a fire of transformation—as the fire burns brighter, you discover what you're really made of.
The Pilates part of Centr Align is guided by the renowned Sylvia Roberts, a former ballerina who proudly proves that Pilates can be a tough workout. These classes home in on parts of the body that we all love to strengthen—like our glutes and core. It's surprising how fierce the tiny movements of Pilates can really be (i.e., they burn so good), but the shakes transform into strength quicker than you think.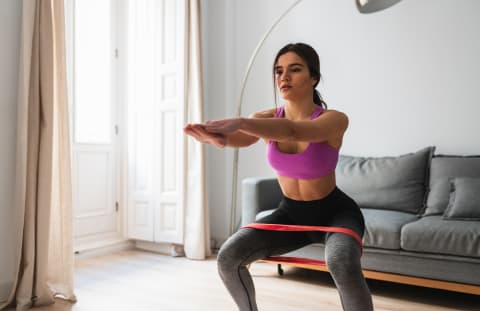 Image by Kike Arnaiz / Stocksy
What happens when yoga meets Pilates?
When yoga meets Pilates, a balanced sense of total body fitness emerges. Pilates brings the strength to the length that yoga provides. Yoga brings the calm to the intensity of Pilates exercises. The two together catalyze a physical sense of stability and strength, which translates into confidence on the mental plane. It's almost like the two were intended to coexist. I can say firsthand that Pilates significantly strengthened my own yoga practice, while yoga helped with my mobility in Pilates.
Throughout the four weeks of Centr Align (with four classes a week), you'll experience this potent synergy for yourself—and at any experience level. In fact, if you've never tried yoga or Pilates before, consider this your starting point. Each week offers you core foundations of each practice to inspire a long-term habit. Centr trainers Luke Zocchi and Bobby Holland Hanton even join once a week to prove that this program is for everyone (and more fully enjoyed with a friend or partner). Because Centr Align isn't about perfection, there's no such thing as failure! It's all about you and your willingness to try something new!
The perks of a program.
We all want to feel unshakeable and centered no matter what life throws our way, but we may need the motivation of a program to make it happen. Centr Align keeps us accountable as we show up to our weekly workouts. And the larger values of Centr, woven throughout the program, keep motivation flowing. Centr is a personalized digital health and fitness program founded by Chris Hemsworth, offering daily workouts, meal plans, meditations, and community from world-renowned experts. Centr believes health and wellness should be accessible to everyone through just three ingredients: being active, eating right, and living well.
What transformation looks like.
Transformation is all about shedding old habits and behaviors and inviting in the new. But in total transparency, it can be intense, raw, and sometimes overwhelming... I've found that both yoga and Pilates invoke transformation gently while anchoring us in our center, which is why Centr Align is the perfect way to implement sustainable and healthy change. Until August 8, 2021, our mindbodygreen community can receive a two-week free trial to Centr using access code MBGXCENTR14DAYTRIAL2 (redeemable via web at centr.com only). It's transformation, right at your fingertips.
The Centr/mindbodygreen two-week offer commences at 00 on June 16, 2021, and closes at 00:00 on August 8, 2021. All times are EDT. This offer applies to new Centr members only. To receive two weeks of free access, new Centr members must sign up for a free trial during the offer period on the website (centr.com). If you do not cancel your membership within the two-week free trial period, your nominated credit or debit card will be charged the subscription amount that was selected at the time of sign-up. This program is not designed or recommended for anyone under 18 years old; by signing up via the website, you are agreeing that you are 18 years or over. Always seek appropriate medical advice or assistance before embarking on any new fitness program. mindbodygreen is not responsible or liable for actions taken as part of this offer. Full Centr terms and conditions can be accessed here: https://centr.com/article/show/5294/terms-and-conditions.
Devon Barrow
Branded Content Editor
Devon Barrow is a Branded Content Editor at mindbodygreen. She received her degree from the University of Colorado. When she's away from her desk, Devon is teaching yoga, writing poetry, meditating, and traveling the world. She's based in Boulder, Colorado.
Devon's first book, Earth Women, is coming soon. To learn more, join the mailing list, and receive updates, head to www.devonbarrowwriting.com.