This Super-Calming Twist On A Turmeric Latte Will Help You Stay Sane Throughout The Holidays

Contributing Food Editor
By Liz Moody
Contributing Food Editor
Liz Moody is a food editor, recipe developer and green smoothie enthusiast. She received her creative writing and psychology degree from The University of California, Berkeley. Moody is the author of two cookbooks: Healthier Together and Glow Pops and the host of the Healthier Together podcast.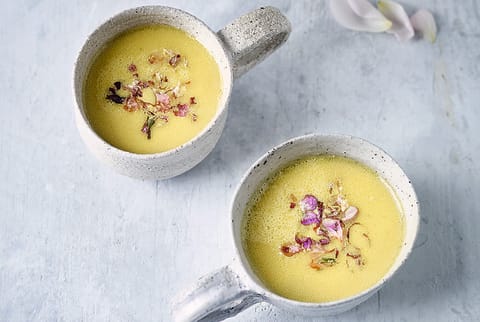 Photo by Rebecca Sullivan
November 16, 2018
While, yes, the holidays are a magical time of twinkling lights and togetherness, they can also bring the stress of transport, political conversations, and sleeping in your old twin bed. Never fear—this calming take on the classic turmeric latte, from Rebecca Sullivan's The Art of Edible Flowers, has swooped in to save the day. While turmeric does, in itself, help with anxiety by reducing the inflammation at its root, the addition of rose ups the ante even more. Rose has been found1 to slow breathing and relax emotional responses. Together with cardamom, it creates a delightfully exotic flavor profile that's just as crave-worthy as a second (or third) helping of pie. You can use your favorite milk as a base—I like Horizon Organic Grassfed Milk, which reaps the benefits of cows pastured on small family farms, and for non-dairy folk, So Delicious for carrageenan-free almond milk.
Rose and Turmeric Latte
1 cup milk of choice
1 inch fresh turmeric root, peeled and roughly chopped
Seeds from 2 cardamom pods, crushed
Pinch of freshly ground black pepper 
1 to 2 tablespoons rose water
1 teaspoon coconut oil
1 teaspoon raw honey or maple syrup, to taste 
Dried rose petals, to garnish (optional)
Place the almond or coconut milk in a blender with the turmeric, cardamom, pepper, rose water, and coconut oil. Blend to combine. Warm in a small saucepan to a light simmer if drinking warm. Turn off the heat and sweeten with honey or maple syrup to taste. Drink cold or warm, garnished with rose petals.
If you want to increase the quantities and make a large batch to drink throughout the week, it will keep in a covered jug in the fridge for 4 to 5 days.
And do you want to turn your passion for wellbeing into a fulfilling career? Become a Certified Health Coach! Learn more here.