Close Banner
Advertisement
This ad is displayed using third party content and we do not control its accessibility features.
paid content
 for

Brain Food: Ingredients That Help With Stress & Focus*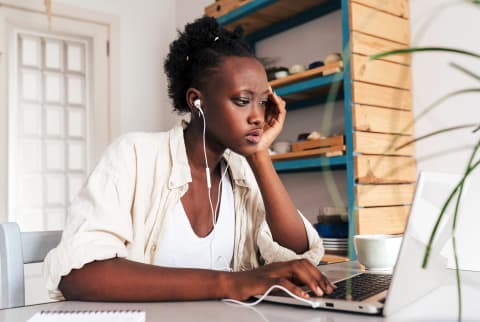 June 15, 2021
When you think about a healthy, holistic lifestyle, what comes to mind? Most likely, it's some combination of mindful movement and a diet that's rich in key nutrients. While both are imperative to our overall well-being, a new component has stepped on the scene: brain health. To manage this busy, modern life, we don't just need a healthy body—we need a healthy mind to manage the entourage of responsibilities, stress, and stimulation.
What makes a brain healthy?
Turns out, it's about more than computing the server's tip after a dinner out. According to the World Health Organization1, brain health "is a state in which every individual can realize their own abilities and optimize their cognitive, emotional, psychological and behavioural functioning to cope with life situations." We'll take more of that, please. Because these days, there's no shortage of reasons to feel stressed. We need all systems online to stay grounded in this world, starting with a healthy brain.
Enter: vitafusion(™) Brain Food.
Determining the actions we can take to support our brain health is our new favorite wellness inquiry. Our brain has been labeled "the most complex object in the universe," but one thing is simple: taking vitafusion(™) Brain Food as a new part of our morning routine. vitafusion Brain Food was formulated to help nourish the brain, with a specific emphasis on helping to support stress and focus.* And it's a supplement that prompts a larger, important conversation: What are the ingredients that help nourish the brain?
Ashwagandha
Cue the long scroll of reasons stress isn't good for us... We all know that stress affects all areas of our daily lives, which is why stress management is key. And for that, we may turn to adaptogens—ancient herbs that are associated with helping the body adapt to stress.* Ashwagandha, a popular Ayurvedic herb, is a classic adaptogen that has been used for thousands of years to help with stress. The ashwagandha in Brain Food contains an extract from both the roots and leaves to help you be your best self.*
Phosphatidylserine
We know, it takes some brainpower to read that word (pronounced fos-fuh-tie-dul-SER-een). Phosphatidylserine is a fatty substance found in the body and is a component of cells, including brain cells. Each serving of vitafusion Brain Food contains 100 milligrams of plant-based phosphatidylserine to help nourish the brain and support focus.* We all want to clock more minutes in the focus of flow state—what would happen if we planted intentions to cultivate that mental space,* instead of chancing upon it?
B vitamins
Also key ingredients in vitafusion Brain Food are B vitamins (B12 and B6). B vitamins nourish the brain but aren't actually produced by the body—meaning we have to get them from food or supplements.* Making Brain Food a part of our daily routine is a simple way to show up for our body and brain*—by providing essential nutrients!
Feed your brain.
As our understanding of comprehensive wellness evolves, we're finding that the mind matters. We're discovering that we can take specific actions to show appreciation for our brain—all the way from mindfulness practices to supplementation.* The vitafusion Brain Food gummy is a convenient (and tasty) way to make brain health a component of any morning routine.* Just two fruity gummies and you're covered. Brain food first, coffee later.
*These statements have not been evaluated by the Food and Drug Administration. This product is not intended to diagnose, treat, cure, or prevent any disease.
More On This Topic
more Health
Advertisement
This ad is displayed using third party content and we do not control its accessibility features.
Advertisement
This ad is displayed using third party content and we do not control its accessibility features.