Boost Immunity This Winter With This Simple Act Of Self-Compassion
mbg Contributor
By Caroline Muggia
mbg Contributor
Caroline Muggia is a writer, environmental advocate, and registered yoga teacher (E-RYT) with a B.A. in Environmental Studies & Psychology from Middlebury College.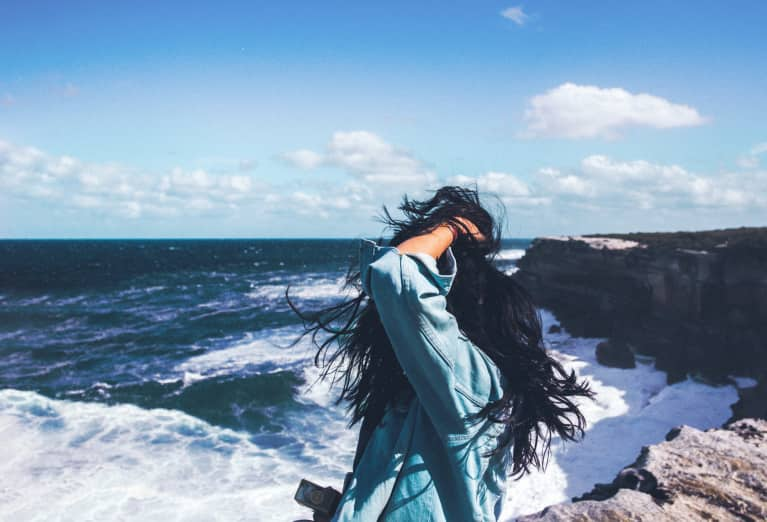 February 7, 2019 — 23:40 PM
Self-compassion, meaning being gentle and saying loving words to oneself, has previously been associated with greater happiness, more gratitude, and a positive outlook, but new research suggests it's essential not only for our mental health but our physical health, too.
The recent study by the Universities of Exeter and Oxford found that when people engaged in self-compassion exercises such as a loving-kindness meditation, for example, their heart rate slowed down and they eliminated the body's threat response.
This is particularly interesting because the body's threat response, or the fight-or-flight mode, elevates levels of cortisol in the body and can lower the strength of your immune system, making it more difficult to fight disease.
The researchers found the participants who listened to an audio track with affirming words felt more empathy for themselves and others as well as experienced a lower sweat response and heart rate compared to those who listened to critical inner voice audio, which did just the opposite.
"By switching off our threat response, we boost our immune systems and give ourselves the best chance of healing," said lead researcher Dr. Anke Karl, of the University of Exeter, in a statement.
It's worth noting the participants in the study were not suffering from mental health issues such as depression but suggest future research should explore the effectiveness of these exercises on those with depression and those experiencing acute distress.
No matter where you are in life, developing self-love practices is beneficial as it could help improve your mental and physical health and boost your immunity. That being said, we know it's not always easy, but there are some small steps you can take to begin.
Sometimes we go on autopilot and are unaware of how many of our thoughts are negative throughout the day. Start by writing down your inner monologue throughout the day. Keep a close eye for words like "should" or "could," as our inner critic can often tell us what we should've or could've done. As you journal, the voice inside your head you may begin to see patterns of negativity or positivity.
Practice loving-kindness.
Choose one of the phrases from your journal and think about the situation in which this voice surfaced. What was challenging or stressful at that moment? Allow yourself to feel the pain and discomfort of the moment when your inner critic hurt you. From there place your hands on your heart and practice a loving-kindness exercise repeating phrases such as "May I be caring to myself." Ask yourself what you need at that moment to heal and offer supportive words.
As you continue to do this exercise with each of the inner critic phrases you wrote down, you may notice the negative voice backing away and a positive one emerging. This process takes time as it is retraining your thoughts to support you instead of take you down. Most importantly be gentle with yourself through the process of inviting self-compassion back into your life.