This Turmeric Smoothie Has A Weird But Super Gut-Healing Ingredient. Would You Try It?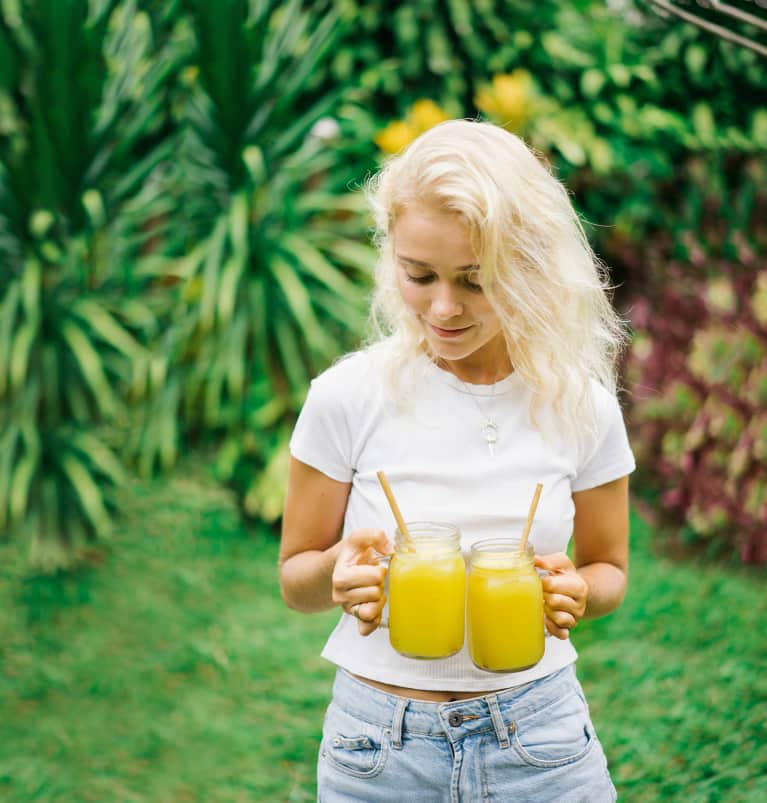 Bone broth has firmly established itself as a gut-healing go-to. It's rich in collagen, which soothes your digestive tract and boosts skin vitality; glycosaminoglycans, which help keep joints young and flexible; and glycine, a potent detoxifier. The only problem? Bone broth is, well, a broth—meaning that it's a warm drink, perfect for a winter filled with soups and stews but less appealing on a sweltering summer day.
Marco Canora, founder of Brodo, a trend-leading broth shop in Manhattan, wanted to change all of that—while killing another bird with the same stone. "Smoothies are one of my favorite grab-n-go whole foods," the award-winning chef told mbg. "Except the vast majority of them have north of 35 grams of sugar, generic highly processed protein powders, and lack of fat means your body isn't actually absorbing all of those fat-soluble vitamins."
Ever the innovator—this is the man who veritably invented sipping broth four years ago when he opened the takeout window at his farm-to-table restaurant as a way of utilizing all parts of the animals he purchased for the restaurant kitchen—Canora set about figuring out a way to add broth to smoothies, which he's dubbed "brothies." The result is a debut line of three flavors, one a vivid green, another a beet-purple red, and the last a golden turmeric-based blend.
According to Canora, broth adds a delicious, umami note to almost anything it comes in contact with, due to its high glutamate content (the G in MSG). Here at the office, we found that the subtly savory quality worked particularly well with earthy flavors, like the beet and turmeric. The turmeric version, Everything Orange, was the hands-down favorite, as the broth played up rather than fought the grounding qualities of the smoothie, while the ginger and citrus add brightness and zest.
Want to try it for yourself? Canora's shared his go-to recipe below.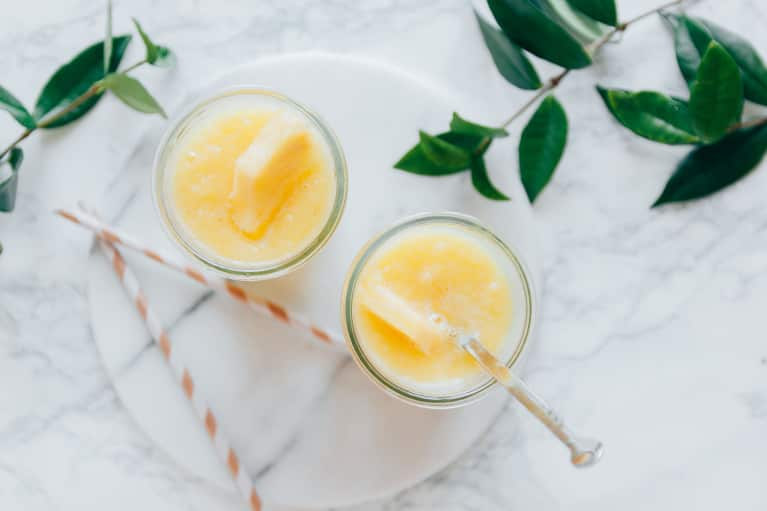 Everything Orange Bone Broth Smoothie
1 medium carrot
1 small orange, peeled
1 tablespoon grated fresh turmeric
½ a mango
⅓ of a banana
1 tablespoon grated fresh ginger
1 tablespoon flaxseed
2 teaspoons coconut oil
7 ounces chicken bone broth
Want to turn your passion for wellbeing into a fulfilling career? Become a Certified Health Coach! Learn more here.