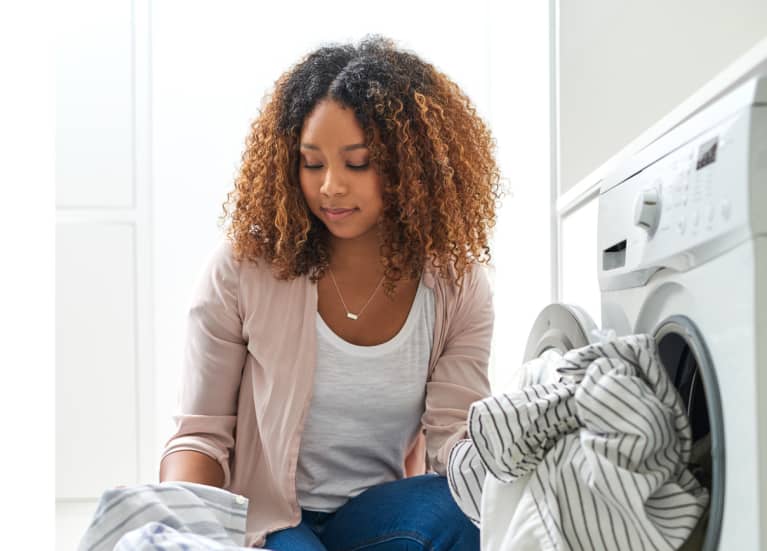 The sustainability conversation runs deep when it comes to what we eat and how we shop, but no one really talks about how we do our laundry.
The thing is, certain routines—especially household chores—are just so second nature that we usually don't question how we do them. But imagine if more people knew that dryer sheets are some of the most unnecessary and toxic household products: All it takes is the right conversation to spark immediate action these days (looking at you, plastic straws). So, let's talk about it!
Below, we round up some of the easiest ways to make our weekly routine a little less wasteful.
1.
Wash 4 out of 5 loads with cold water.
Look—we've all got to do laundry, so it's no surprise that the chore exerts a significant global footprint. Did you know that about 90 percent of the total energy and greenhouse-gas emissions produced by a single load comes from just heating up the water?
Crunching the numbers, washing four out of five loads in cold water could cut out 864 pounds of CO2 emissions a year (the equivalent of planting .37 acres of trees). It's good news for your energy bill and your clothes, too: Many care instructions actually specify using cool or cold water because it's gentler on your clothes and can protect them from fading, shrinking, or bleeding. (Speaking of bleeding, blood stains—makeup and grass stains, too—only come out with cold water!)
2.
Solve laundry's single-use packaging problem.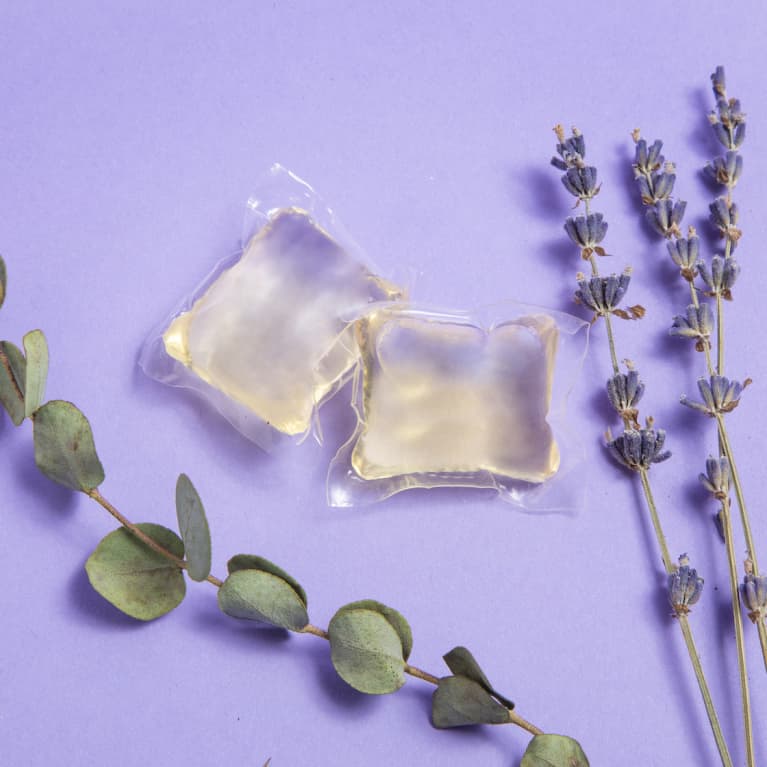 One of the most staggering truths about our waste is that only about 9 percent of all plastic actually gets recycled, so the stuff is going to stick around for much longer than our lifetime—taking up space in our landfills and slowly degrading into microplastics in our oceans. And plastic detergent tubs, containers, and bottles are a huge culprit: A whopping 68 percent are not recycled.
A company called Dropps is solving for this with a genius solution—biodegradable detergent pods packed in a compostable and recyclable cardboard box that doubles as its shipping container. And its conscious, nontoxic detergent is legit: The formula is so earth-friendly, it scored the Environmental Protection Agency's (EPA) Safer Choice certification in 2008 and has been a trusted partner ever since. They even have an unscented formula designed for sensitive skin that has no fragrances, dyes, or unnecessary chemicals—just plant-derived ingredients for clean clothes that's gentle enough for delicate fabrics. And since detergent is a constant need, Dropps provides a subscription service that saves you money, too.
3.
Think twice before washing a small load.
The wise online shopping advice to wait for a full cart before checking out also applies to laundry day: If you can, try waiting until you have a full washer's worth of laundry before doing a load (versus doing a few small loads over the course of a week). According to the EPA, even the most high-tech washing machines can use up to 27 gallons of water per load (and older models can use to 54 gallons per load).
4.
Ditch the dryer sheets forever.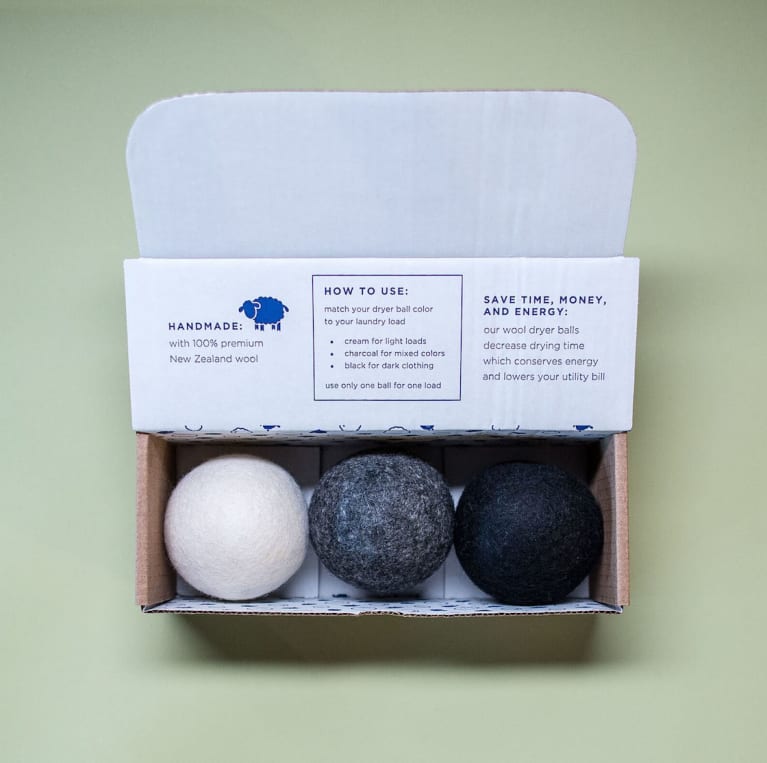 It's clear that these guys create a lot waste—you use them once, then toss 'em—but in order to get your clothes soft and fluffy, they also contain chemicals that are pretty toxic to the environment.
A more sustainable and toxin-free swap? Dryer balls. These wool balls are a tad larger than a tennis ball and do the same things that disposable dryer sheets do, like soften clothes, towels, and bedding, and get rid of static cling—but without the waste or harsh chemicals. They work by bouncing around in your dryer, creating air pockets between the clothes and drying them more evenly, which also majorly helps cut down on dryer time (depending on their size, some even shorten drying time by up to 50 percent, conserving energy and money). You can even infuse them with a drop or two of essential oils for a bit of fragrance, and the best part is that they'll last for a couple years.
Dropps also makes mineral-based, nontoxic fabric softeners pods that go into your wash cycle (which, unlike commercial liquid softeners, is safe for baby clothes and keeps your towels absorbent and your workout wear moisture-wicking). Most liquid and dryer sheet products work by clogging fibers with an icky, sticky coating. Dropps's magic? Tiny natural minerals that flow through delicate fibers, making clothes breathable, comfortable, and freshly fragrant (thanks to natural essential oils) from wash to wash.
And by the way, your dryer lint? It's compostable, so that's one less thing for you to stuff in your trash.