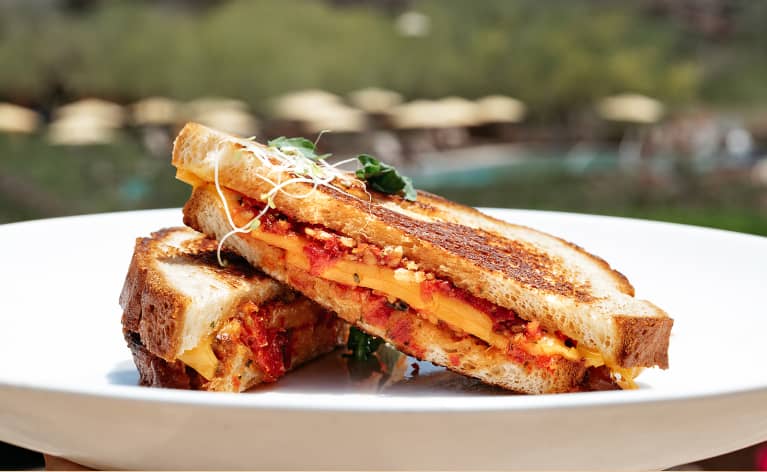 The classic grilled cheese sandwich is one of the very few things that we don't need a recipe to make. Gooey, melty cheese encased between slices of perfectly browned, crispy, buttery bread? It's very hard to go wrong, friends.
But it's 2019, and a planetary health diet is a thing! And while grilled cheese sammie purists might scoff at swapping in something dairy-free for the star ingredient, we're going on the record to say: Now's the best—not to mention, most important—time to do just that.
With the right dairy-free cheese, bread, and extras, you'll be surprised at how closely a plant-based grilled cheese can taste to the OG classic. Dare we say you might even be converted?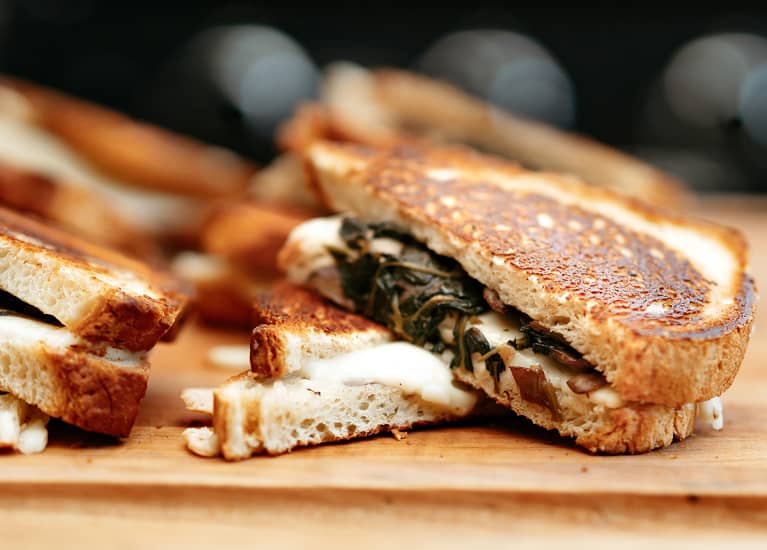 First things first, consider your dairy-free cheese wisely. These days, you can find a plant-based alternative that nicely replicates the saltiness, tanginess, or creaminess of most dairy cheeses, including mozzarella, smoked Gouda, Swiss, provolone, and more. Daiya, which makes a wide range of plant-based shreds and slices, is a good go-to for all these flavors since they're also made without some common allergens like soy and gluten.
Now, onto melting that dairy-free cheese. Start with two Daiya slices per sandwich (typically, you won't need to use as much as cow's cheese) and work up from there to find your ideal ratio of "cheese" to bread.
Dairy-free cheese will take a tad longer to melt, so the key is using low heat to avoid burning your bread. A loose lid on the pan will help get it melty faster. Keep in mind that dairy-free slices and shreds also tend to hold their shape better than dairy cheese, so don't be alarmed if it doesn't look melted—it'll still hit that gooey consistency.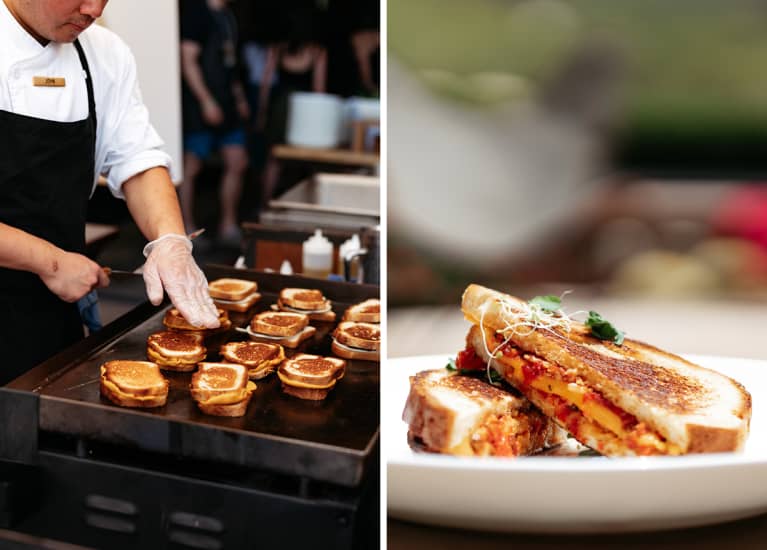 For that irresistible crunch, you'll want some texture to your bread. A whole grain or multigrain bread works perfectly. Your slices should be medium thick—about 1/2 inch thick is just right—so that it doesn't dry out and get too toast-like as you grill.
You can use a vegan butter to get that classic fried flavor—they're usually oil-based, which will help the bread toast in the pan. Lay both bread slices butter side down once the pan is hot and toasty, then layer on your "cheese." Wait for the bread to start to brown and use a fork or knife to check the consistency of the dairy-free cheese, then flip one slice over the other. Let the "cheese" meld into each other for few minutes, then bon appetit!
5 grilled "cheese" combos to try
Now you're ready to make your own plant-based based grilled "cheese"! The options are endless, but for inspo, here are five fail-proof combinations using slices available from Daiya.