10 Better-For-You Dishes To Bring To A Summer Picnic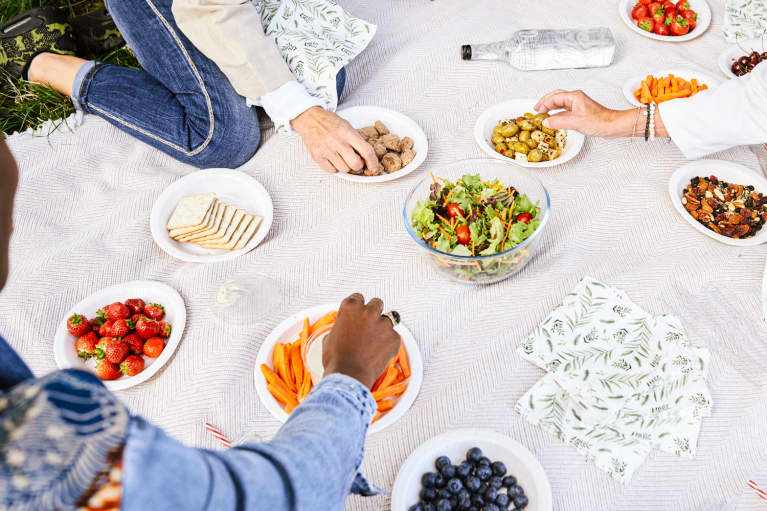 Our editors have independently chosen the products listed on this page. If you purchase something mentioned in this article, we may
earn a small commission
.
Nothing beats the joy of spreading out the picnic blanket and chatting away the warm afternoon hours, iced beverage in hand. But this summer, we're upgrading traditional picnic cuisine. It's time to trade in the potato salad and sugary beverage for snacks and sips that match our lighter summer mood. Why? Because there's a lot of picnic-potential out there with fewer carbs and more flavor, like Smirnoff Zero Sugar Infusions Vodka. We know there are many tricky factors to keep in mind when packing for a picnic — like travel time and warm temps — so we reached out to some of the country's top wellness experts to see how they picnic best! Here's what they said.
A kale salad made ahead of time is a good, easy healthy dish to bring. You can throw the dressing on before you go and the salad won't be soggy when you get there. It tastes even better the longer the dressing sits!
—Courtney Swan, M.S., founder of Realfoodology
Bring something with healthy fats to fill you up so you aren't inclined to eat all the junk food. When you are well fed, you won't get hangry! I think avocado fries breaded with almond flour and some healthy avocado-oil-based chipotle aioli dressing to dip it in is a good side to bring to a picnic. A spicy nut mix toasted in avocado oil is another.
—Will Cole, D.C., mbg Collective member and author of Ketotarian
My favorite foods to bring to a picnic are antipasti like olives, cheese, artichoke hearts, and cured meats. They won't suffer in the heat and are a total crowd-pleaser that even my kids will eat.
—Diana Rodgers, R.D., founder of Sustainable Dish
When it comes to what to contribute to a summer picnic, I always opt for a seasonal salad. This way you can guarantee there is at least one leafy green option available! Think arugula, cucumber slices, fresh berries, toasted walnuts, and perhaps some goat cheese tossed in a homemade dressing made with olive oil, lemon juice, and honey. It's simple and delicious, and I bet others will be grateful there is a veggie dish to balance out the less nutritional fare. I recommend storing the dressing in a separate jar and tossing it right when you get there—arugula is a fairly hearty green, but this will help keep it from getting soggy.
—Sara McGlothlin, holistic nutritionist, founder of SaraMcGlothlin.com
Pasta salad made with Banza chickpea pasta, loaded with veggies and tossed in an apple cider vinegar dressing and herbs. People love pasta salad, so give them what they want and introduce them to a way healthier version they won't believe is from beans. Here's how we make ours.
—Carlene Thomas, RDN, founder of OhCarlene
For a fun twist on sandwiches, I love making wraps out of collard greens or using scooped-out bell peppers instead of bread. The crunch is refreshing on a hot day, and it's an easy way to sneak in some extra vegetables. Sliced watermelon is also a delicious hydrating option that makes a refreshing, healthy dessert.
—Jessica Cording, R.D., mbg Collective member and founder of Jessica Cording Nutrition
I will mention there are foods I don't love to bring to a picnic. Deli meats or foods with mayonnaise can become breeding grounds for bacteria when exposed to warmer temperatures for longer periods of time. Since no one wants to rush a summer picnic and certainly no one wants a food-borne illness, I say ditch the (pasture-raised) egg salad or the (chickpea) mac 'n' cheese. It might be best to stick to your classic—but healthified—PB&J (using organic jelly and nut butter, and a sourdough or sprouted bread) and fresh fruit.
—Leah Silberman, R.D., co-founder of Tovita Nutrition
I like to make a crunchy broccoli salad with avocado oil mayo, raw sunflower seeds, broccoli florets, onion, red grapes and some nitrite-free bacon pieces on the top. This is a delicious salad that is usually a hit, and I know that I will have a healthy food option with vegetables and healthy fat so all I need to find at the picnic is a protein option to fill me up.
—Britni Vincent, registered dietitian at Nutritional Weight Wellness
I like to bring kitchari—sprouted rice and sprouted lentils cooked in the Instant Pot with plenty of ghee and a light touch of Indian spices like cumin, turmeric, coriander, and garam masala. It's easy to make, it travels well, and then people can scoop a portion into a bowl and eat with a spoon. It's healthy, satisfying, not too messy, and (bonus points), it's tri-doshic, meaning it is well-tolerated and beneficial for people of all ayurvedic doshas.
—Ellen Vora, M.D., mbg Collective member and founder of EllenVora.com
There are many healthy options you can bring to a picnic! My favorite is something as simple as our Cucumber Tomato Dill Salad, which is so fresh and light and a great way to add fiber to any picnic meal. It tastes great served chilled or at room temperature.
—McKel Kooienga, R.D., founder of Nutrition Stripped
Want to turn your passion for wellbeing into a fulfilling career? Become a Certified Health Coach! Learn more here.