paid content
 for

Beauty Enthusiasts Will Be Obsessed With Hair Care In 2022. Here's Why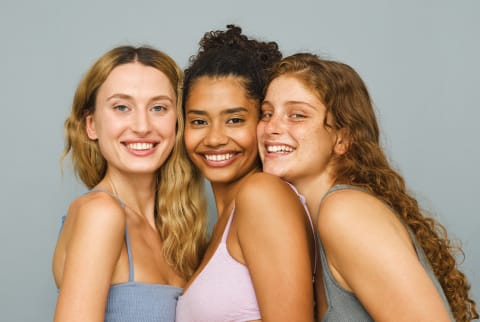 Image by ohlamour studio / stocksy
February 10, 2022
The start of a new year is the season for reassessing our routines and values, and beauty is no exception—especially in 2022. For so long, skin care has been the bridge between the wellness world and beauty world, with plant-based ingredients and hydration secrets threading through our conversations and search history. But this year, new science and technology bring a fresh focus front and center: All eyes are on hair care, with a market projected to reach 1.2 billion by 2024.
How we think about hair.
When it comes to our locks, most of us know very little. It's simply a good hair day or bad hair day (grab the beanie).
But our hair is so much more than a messy bun—it's a part of our personality and self-esteem.
Studies have proved that the way we perceive our own physical appearance, particularly hair, is directly connected to our "self-perceived goodness." They've also found that when describing others, hair is one of the top three features that people recall. Every type of hair is as beautiful as it is meaningful, and the more we can learn about it, the better.
In that spirit, recent research and innovation pioneered by Dyson at their Hair Science Laboratories have raised the awareness and inclusivity of all-things-hair. With a near decade of research led by thousands of hair scientists, engineers, and professionals, they've turned hair care into a science. After testing more than 2,000 miles of different hair types, Dyson has gone to literal lengths to help us better understand, celebrate, and style our individual locks.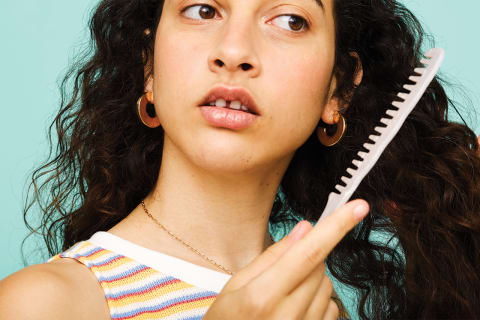 Image by ohlamour studio / stocksy
The driving force behind hair care's rise to the top? Damage control.
With hair inextricably linked to our identity, it's no wonder why hair care is moving front and center. Every one of us has #hairgoals. We all long for a thick, lustrous mane, but the hair damage is real. And nobody knows that like Dyson. Putting our hair under a microscope (no, but really), Dyson has determined the five "hair enemies'' that damage the main three elements of our hair—the cuticle (which makes our hair shiny), cortex (which makes it strong), and keratin (which gives it shape):
Extreme heat: Excessive heat damages our hair's cortex, making our hair dull and breakable.
Chemical treatments: Changing the color or style of our hair with chemicals breaks down the bonds in our hair's cortex and cuticle.
Mechanical damage: Often, we are too rough from activities like brushing hair, which weakens our hair and makes it more likely to break.
The sun and UV rays: Overexposure to sun can erode the vibrancy of hair color and damage the keratin.
Swimming: Chlorine damages our hair's outer layer, while the salt of seawater can increase the odds of breakage.
Whether your hair is straight, wavy, curly, or coily (or anywhere in between), damage is extremely common, if not inevitable.
Our hair strands grow for two to six years and collect damage and weaken along the way. But does that mean we have to set down the straightener or kiss the balayage goodbye? Not necessarily.
A new era of hair technology.
Our hair is a canvas of self-expression. We can have both creativity and protection, but we'll have to rethink how we're styling it. The days of watching our hair steam or smoke in the mirror are over. Instead of extreme heat, Dyson's hair scientists have determined that the best styling actually comes from controlled airflow and temperature.
With this in mind, Dyson applied their specialty in engineering to rethink our favorite hair tools. They brought rise to new technology, like Intelligent heat control, which measures temperature over 40 times a second to prevent heat damage and preserve natural shine, or their Air Multiplier technology™, which amplifies air by four times to produce higher pressure and precise drying or styling. So that we can style smarter, not hotter, they're transforming the hair world with three powerful tools: the Dyson Supersonic™ hair dryer, Dyson Airwrap™ styler, and Dyson Corrale™ straightener.
New year, new 'do.
When it comes to beauty, there are few things that feel as good as a voluminous blowout or silky straightening at the salon. But what about having the tools at home to open up a world of styling for every hair type?
Dyson hair care tools allow us to style our own sleek and smooth strands or dreamy beach waves but with less damage.
Without the worries of lightly toasting our hair, we can enjoy what our hair is really all about: self-expression! This year is all about expanding our repertoire of styles and with it, our confidence. And we've compiled a list of new do's for all hair types to get you started:
Hair tips that you can take home today.
Intuitively, we've always known that our hair is connected to our personality, identity, and even well-being. Learning more about the science and technology behind hair can help us make the most of our mane, where good hair days aren't just about appearance. We plan on moving through 2022 with style, inside and out, and that starts now with these everyday hair tips:
Use more conditioning to help reduce future damage, static buildup, and flyaways.
Brush your hair with wide-tooth combs to put less stress on your hair and detangle gently.
Keep your hair looking vibrant (especially if it's colored) by avoiding excessive heat.
When you brush your hair, start a few inches from the bottom, then move a little higher and repeat until you reach the root.
Use mild shampoos that are less irritating; look for the ingredient cocamidopropyl betaine.
Dry your hair naturally as often as you can, and when you can't, opt for the Dyson Supersonic™ hair dryer!
Devon Barrow
Branded Content Editor
Devon Barrow is a Branded Content Editor at mindbodygreen. She received her degree from the University of Colorado. When she's away from her desk, Devon is teaching yoga, writing poetry, meditating, and traveling the world. She's based in Boulder, Colorado.
Devon's first book, Earth Women, is coming soon. To learn more, join the mailing list, and receive updates, head to www.devonbarrowwriting.com.