The 15 Most Badass Women Of CrossFit

mbg Fitness Contributor
By Gabrielle Frank
mbg Fitness Contributor
Gabrielle Frank is a freelance health and fitness writer living in New York City.
March 28, 2020
We carefully vet all products and services featured on mindbodygreen using our
commerce guidelines.
Our selections are never influenced by the commissions earned from our links.
The CrossFit games are world-renowned as a test for the world's toughest athletes. This grueling and intimidating challenge is made up of a series of events that test functional movements—where contestants will move large loads for long distances—at a quick pace. Winners are coined the "fittest people on the planet."
But as you can imagine, these games are not so easy to win. The athletes have an idea of what the games will be like, but there is still an element of surprise, as the series of challenges they will face aren't revealed until right before the competition starts.
Now that you have an idea of what goes down in the CrossFit games, here are 15 women who truly have no fear—they've trained hard, and it shows. Check out the following most badass women in CrossFit Games history:
Kara Saunders, 30 years old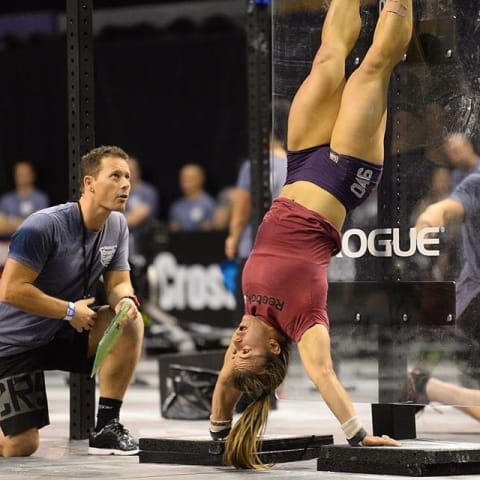 After only one year of training, this famed Aussie made her first appearance in a CrossFit competition. She won her first title at the 2012 Reebok CrossFit Games Australasia Regionals, and She's been named Australia's Fittest Female in 2012, 2013, 2015, and 2016.
Annie Thorisdottir, 30 years old
Photo by Photo courtesy of @anniethorisdottir
Hailing from Reykjavik, Iceland, Thorisdottir is a CrossFit icon. She is the world's first back-to-back female CrossFit champion, winning the games twice (in 2011 and 2012). After a serious back injury sidelined her in early 2013, she returned to the game with a vengeance in 2014 and placed second overall. She is currently the co-owner of Crossfit Reykjavik, where she also coaches and trains.
Elisabeth Akinwale, 41 years old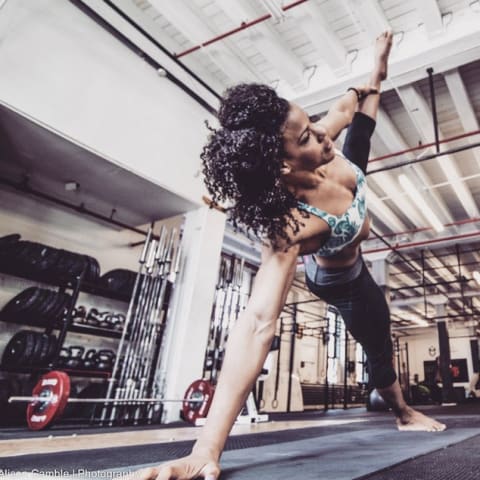 Photo by Photo courtesy of Alison Gamble Photography
As a 41-year-old who has had several knee surgeries, Akinwale isn't your typical CrossFit competitor, which is why so many fans across the country identify with her. She wowed spectators at the North Central Regional by performing a 200-pound hang snatch and a 315-foot handstand walk. She has since competed in five consecutive CrossFit Games. She is a two-time Regional Champion, winning over 20 events at the Games and Regional levels.
Brooke Ence, 30 years old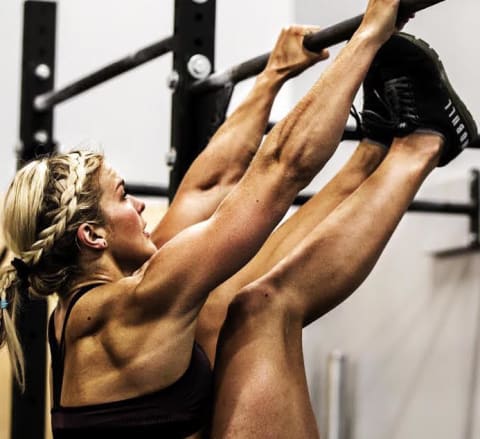 This former dancer missed qualifying for the 2014 Games by just 29 points. She placed first in the California Regional and went on to place 14th at the 2015 CrossFit Games in her rookie year. Since then, Ence has built a following for her reputation as an elite competitor. After undergoing spinal surgery in March 2017, Ence returned to competing, and has even made appearances as an Amazon woman in Wonder Woman and Justice League movies.
Camille Leblanc-Bazinet, 31 years old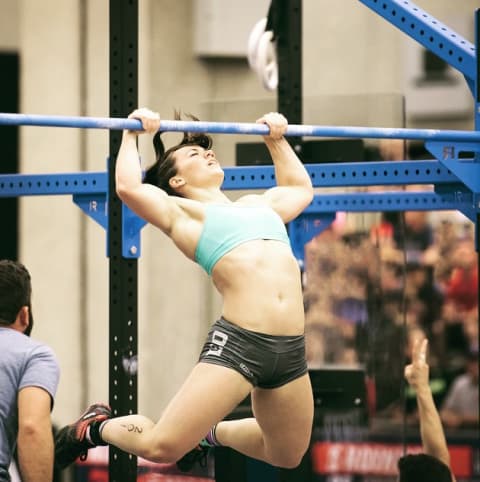 Photo by Photo courtesy of @camillelbaz
Leblanc-Bazinet has competed in the CrossFit Games seven times—and earned the title of The Fittest Women on Earth in 2014. Considered a CrossFit Games veteran, Leblanc-Bazinet is one of CrossFit's most enduring athletes. She has finished in the top 10 in four out of her seven Games appearances, also winning five out of seven regional competitions. She also currently serves on the CrossFit Level 1 Seminar Staff, and she has a degree in chemical engineering.
Sandy Hill, 64 years old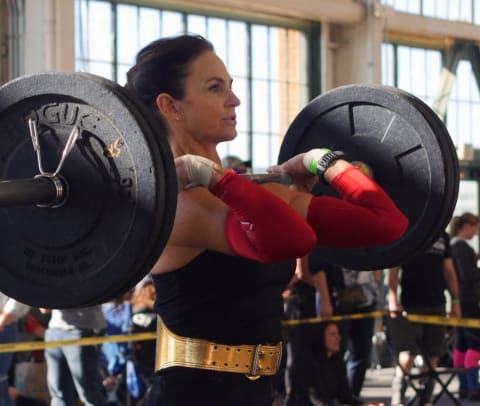 You might recognize Hill's name: she's the second American to climb the Seven Summits (highest mountain on each continent) in 1996, and survived a deadly storm on her descent from Mount Everest. The CrossFit games were considered her "next Everest."
Alethea Boon, 35 years old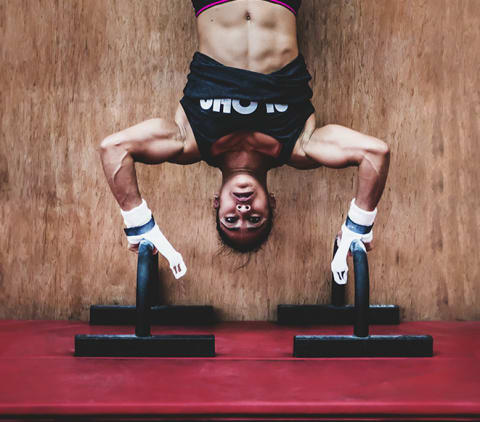 Photo by Photo courtesy of Reanna Jane Photography
This Aussie is a four-year CrossFit Games competitor with a best individual finish of 20th in 2015. Boon's a master of the handstand walk, as she told CrossFit.com, "Going upside down—it's my thing." A former elite gymnast, Boon represented New Zealand at the Commonwealth Games in 1998 and 2002, and was a reserve member of the New Zealand gymnastics team at the 2000 Summer Olympics.
Amanda Allen, 49 years old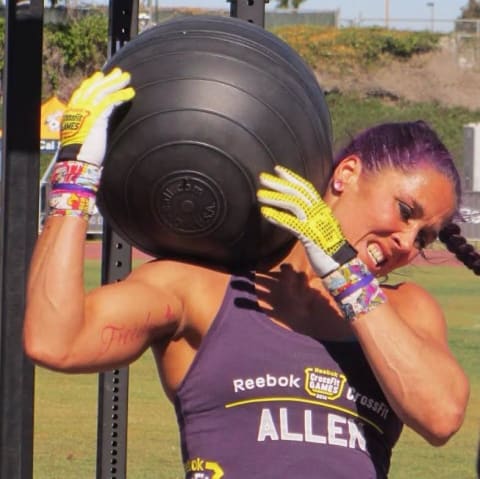 Participating in the Women's Masters 45 to 49 division, Allen won first place in the CrossFit Games. A six time CrossFit Games Athlete (Individual & Masters), she's well known for not taking rest days and completing multiple, high-volume training sessions every single day.
Lindy Barber, 29 years old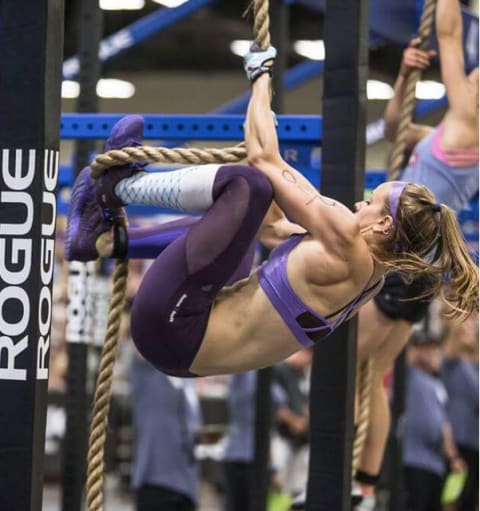 Photo by Photo courtesy of @lindybarber
After years of playing competitive soccer, Lindy Barber started getting into CrossFit in 2010. In 2011, three weeks into the Open competition—she felt a snap in her lower back. It turns out she had three different spine diseases and had to fight hard to get to where she is today: She was told she would never squat again. Lies.
She returned to the games in 2013, and she has qualified for the CrossFit Games twice as an individual, and is now competing on a team aiming to be back to back CrossFit Games champs.
Deborah Diamond, 65 years old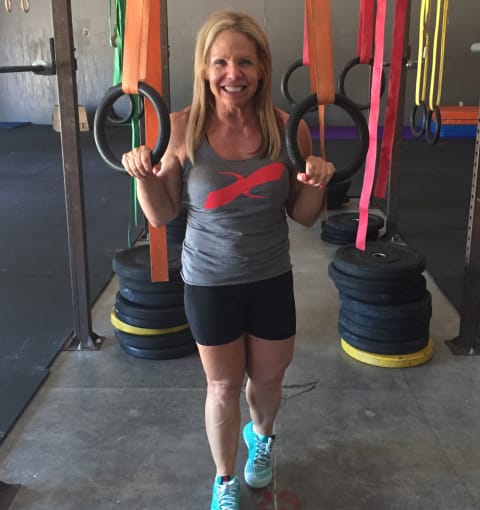 Another Women's Masters competitor, Deb Diamond is one to watch in the 60+ division. She finished first place in the masters' qualifier—and at just 129 pounds, she is a force to be reckoned with.
Becca Voigt Miller, 39 years old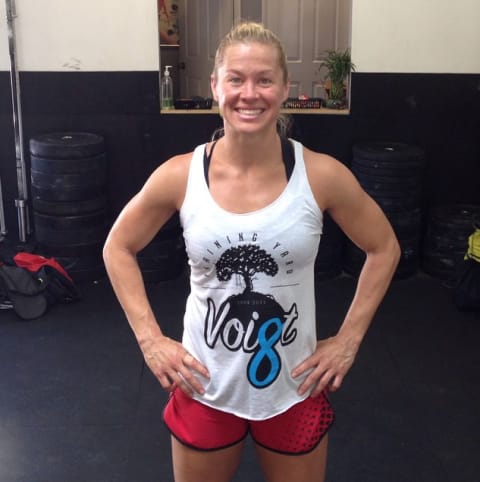 Photo by Photo courtesy of @beccavoigt
Voigt Miller is the only individual athlete to have the most consecutive individual CrossFit Games appearances. She first attended the games back in 2008, and has managed to qualify every year since. She made it to the podium in 2011 and is a fearless competitor. She was awarded the Spirit of the Games Award in 2014, and she currently owns CrossFit Training Yard in Toluca Lake, California.
Sara Sigmundsdottir, 27 years old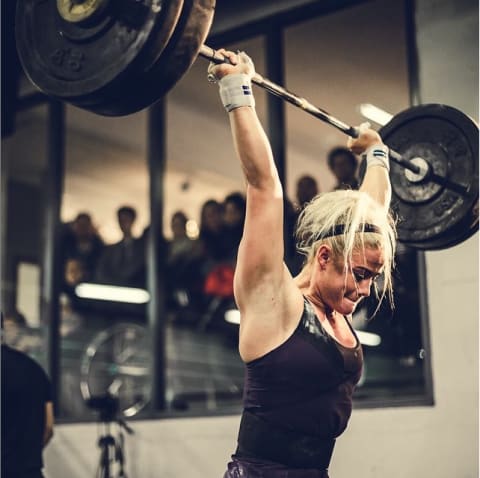 Photo by Photo courtesy of @sarasigmunds
This Icelandic CrossFit veteran became interested in CrossFit by first competing in endurance events. She first made a name for herself when, after taking third worldwide in the 2015 Open, she won the 2015 Meridian Regional, outperforming several former Games athletes including two-time champion Annie Thorisdottir (another badass woman we've highlighted above).
Brooke Wells, 24 years old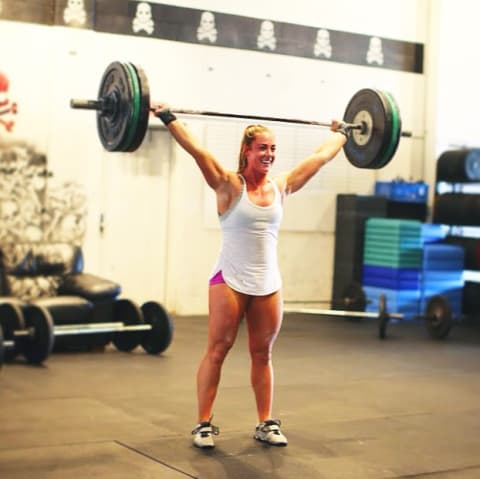 Photo by Photo courtesy of @brookewellss
Not many people can say they turned down a track scholarship because of their love for CrossFit, yet that is exactly what Wells did when she started at University of Arizona in 2014. She's dedicated herself to the sport, which was proven at the 2015 Central Regional, where she won at 19 years old. She is currently a student at the University of Missouri and a trainer at CrossFit Fringe in Columbia.
Samantha Briggs, 38 years old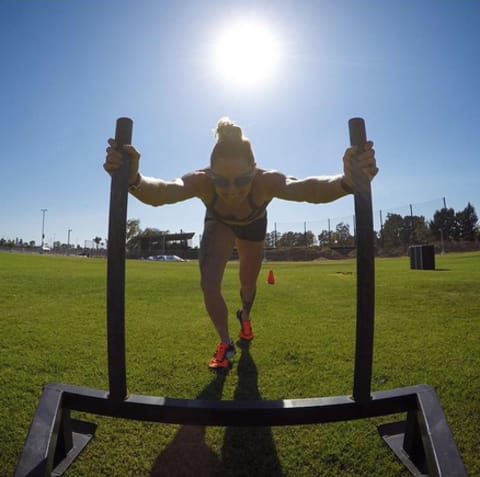 Photo by Photo courtesy of @bicepslikebriggs
Meet 2013's The Fittest Woman on Earth. While best known for her 2013 win, Briggs has qualified for the CrossFit Games four additional times: in 2010, 2011, 2015, and in 2016. She finished in the top five in four of these competitions.
Emily Bridgers, 32 years old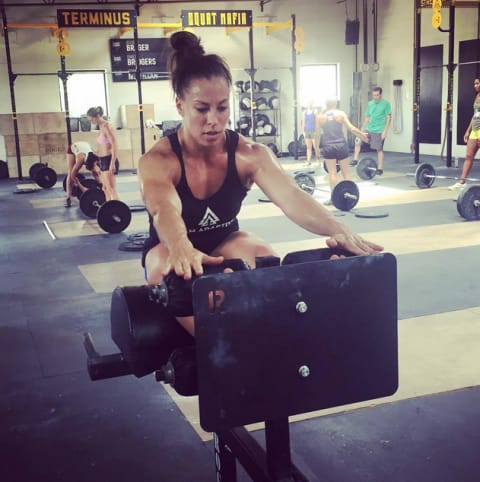 Photo by Photo courtesy of @emilybridgers
She might be petite at 5'1" and 134 pounds, but Bridgers can complete a 330-pound deadlift and a 177-pound squat. This former collegiate gymnast has been CrossFit-ing since 2010, and placed sixth at the 2014 CrossFit Games. A former collegiate gymnast, Bridgers currently owns CrossFit Terminus in Atlanta, Georgia.
No matter their titles or qualifications, all 15 of these women have proven to be strong, resilient, and downright badass. How's that for some workout motivation?

Gabrielle Frank
mbg Fitness Contributor
Gabrielle Frank is a freelance health and fitness writer living in New York City. She's written for publications like MORE Magazine, Cosmopolitan, EverydayHealth.com, and Women's Health.