paid content
 for

The At-Home Spa: 4 Ways To Upgrade Your Self-Care Routines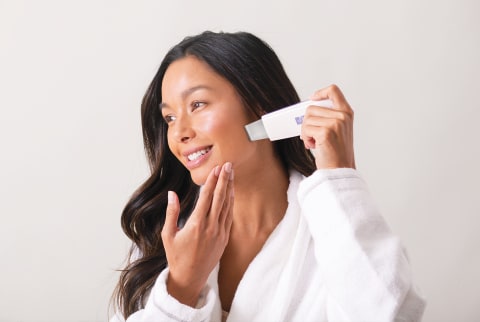 Image by Plum Beauty / Contributor
March 18, 2021
If we look at the silver linings, 2020 brought self-care to the forefront of our lives—beauty and skin care included. We realized that our beauty routines are more meaningful when they're about feeling our best, not just looking our best. And making beauty about self-care isn't just for our own benefit either... As it turns out, we're much better at helping others thrive when our own cups are first filled to the brim.
Repeat after us: Self-care isn't selfish.
Luckily for us, there are tons of potential self-care moments hiding in our beauty routines. With the help of Plum Beauty products, you can transform your routines into an all-out, at-home spa experience (so long, stress). We'll show you how. All you need is the intention to beautify as a form of self-care, and you're moments away from a refreshed mind, body, and spirit.
Start your at-home facial here.
Self-care and skin care—they're nearly interchangeable. With our skin being the largest organ, and a reflection of our inner health, we can't think of a better place to start than a soothing facial. Even better that you can stay in your robe and slippers for all the spa feels with the Plum Beauty Ionic Facial Steamer, which opens up pores for a deep clean. Start your at-home facial with about five minutes of steam to help your skin better absorb products and radiate that hydrated glow.
Indulge in your atmosphere and skin care routine.
Everyone loves a good spa day. Why? Because every detail of a spa is curated for relaxation, from the music to the aromatherapy to the cup of herbal tea... But there's no reason we can't recreate this at home. Upgrade your self-care by tending to the details: Find a spa playlist and get to steeping. Instead of settling for your same-old cleansing ritual, deep clean and exfoliate with this Facial Cleansing System. Or wash away the dirt and oils using the vibrations of the Compact Sonic Facial Cleansing Brush. Go the extra mile for the sake of self-care.
Massage out the stress with these youth-boosting tools.
Sometimes the line between luxury and self-care gets a little blurred. And we're cool with it—especially when it means a facial massage with the Amethyst Facial Roller by Plum Beauty. Facial rolling enhances blood circulation to reduce puffiness, fine lines, and wrinkles. Not to mention, it feels amazing to relieve the 42 expressive muscles of the face. Pro-tip: Put your roller in the freezer for a few minutes before you massage to help with inflammation. Or take your stress release and skin care to the next level with a little gua sha action, using the Plum Beauty Rose Quartz Sculpting Gua Sha Stone.
Groom your worries away.
Self-care encompasses the practices that help us feel like our most brilliant selves. Sometimes that requires a little grooming. Thankfully, instead of dropping dollars to trim those odds and ends, we can add grooming to our at-home beauty routine. That doesn't just include the at-home manicure we always talk ourselves out of (although this kit helps with that). You can also remove unwanted facial hair at home with the LED-powered Plum Beauty Facial Hair Remover, which helps smooth skin around the eyebrows, upper lip, cheeks, and chin. Why not make your skin as bright as your inner beauty?
Empower yourself and others with self-care.
Here's the deal: We live in a busy world where stress can sometimes feel like the norm. If we truly want to stress less, we have to make real moves toward creating me-time. Prioritizing self-care isn't greedy; it's a sign that we're empowering ourselves to actualize a healthier life. Through self-care, we nourish ourselves so that we can more effectively make the world a better place. Thankfully, brands like Plum Beauty are aligned with that intention to support us every step of the way. And now, your at-home spa day awaits.
Devon Barrow
Branded Content Editor
Devon Barrow is a Branded Content Editor at mindbodygreen. She received her degree from the University of Colorado. When she's away from her desk, Devon is teaching yoga, writing poetry, meditating, and traveling the world. She's based in Boulder, Colorado.
Devon's first book, Earth Women, is coming soon. To learn more, join the mailing list, and receive updates, head to www.devonbarrowwriting.com.