Close Banner
Advertisement
This ad is displayed using third party content and we do not control its accessibility features.
How Maayan Zilberman Achieves Her Signature Look & Glowing Skin
mbg Beauty Director
By Alexandra Engler
mbg Beauty Director
Alexandra Engler is the beauty director at mindbodygreen and host of the beauty podcast Clean Beauty School. Previously, she's held beauty roles at Harper's Bazaar, Marie Claire, SELF, and Cosmopolitan; her byline has appeared in Esquire, Sports Illustrated, and Allure.com.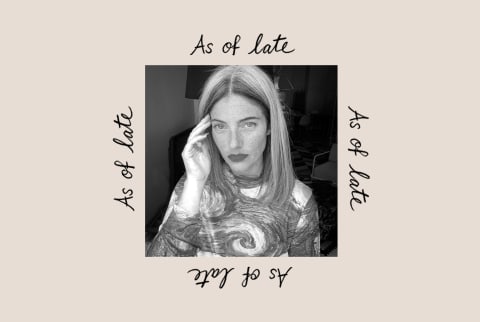 Beauty routines are never truly stagnant—practices evolve and change like we do. In As of Late, we chat with influential folks about their current products and rituals. Here, we get a snapshot of what they're doing right now: the sacrosanct formulas they use until the last drop, the fresh launches they've got their eyes on, and of course, the why behind it all.
I've been emailing with Maayan Zilberman—artist, confectioner, founder of Sweet Saba, and quite possibly one of the chicest women in New York—on and off for several months now about an assortment of work-related inquiries. Even over email, I could glean she was kind, whip-smart, generous with her time and self, and had exquisite taste in all things wellness, beauty, and fashion.
On that latter point, she was actually one of the very first people I had in mind of featuring when we crafted this series. I simply had to know what beauty products she's been into lately—and if I knew that intel, then it's only right I'd share it with all of you, too.
And let me tell you, my dear mbg beauty fam: She did not disappoint. Over an hourlong video chat, she shared enough product recommendations and tips to last me a lifetime. (OK, at the very least to get me through winter.) There were tales of wearing lipstick to bed, neroli-infused oils from a small-batch luxury brand I'd never even heard of, and so much more.
Here, exactly what Zilberman has been up to lately.
The tried-and-true: Oils all over. 
"I'm very much an oil girl. I started using oils at a time when everyone wanted to look very matte and very dry, so some people thought I was crazy for using them.
"I started by using DHC products from Japan; I used to order it from their catalog. My go-to was just a pure olive oil moisturizer—it's funny to say moisturizer because I think it was literally just olive oil—but I loved it. I prefer olive oil because I used to live in Jerusalem when I was a kid and there were olive trees everywhere. The scent of olive oil just feels very close to me.
"Once in like 1998, I was on a date and my face felt very dry, so I went into the kitchen during dinner and asked the chef if he could just give me a bit of olive oil. He probably thought I was a lunatic, but then it became totally cool to just apply pure oil on your face. And even now, when I'm out and realize I don't have a hand cream with me, I'll just ask to see if anyone has any cold-pressed oils I can use to rub into my hands and cuticles. So I'm still doing it.
"I also use oils in my hair. I don't love having a lot of product in my hair—even from the fanciest brands that promise to reduce frizz or hold curls or whatever. I've tried some, but they do nothing for me. So I just stick to my oil routine: Right now I'm using the hair oil from Bread. I also just love who they are, what they represent, and their packaging. I just wash my hair, towel dry, apply some of this oil, and then straighten it. Truly that's the only thing I do to my hair."
DHC Olive Virgin Oil Moisturizer
$ 42
We love a one-ingredient INCI list. Olive oil is a beloved multi-purpose product for hair, face, cooking, and so much more. The oil is high in antioxidants, like the nourishing vitamin E, and fatty acids to support the skin barrier and fight off free radicals. This oil is sourced from an organic olive grove in Baena, Spain.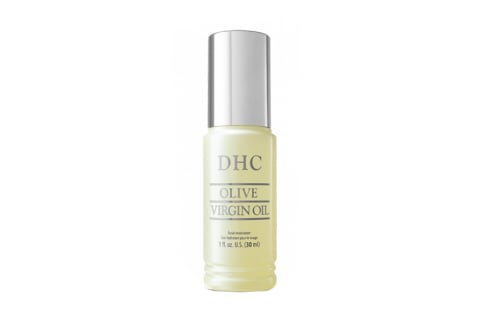 The secret: Good ole New York City tap water & tea.  
"I've always had dry skin. Especially before I realized I could fix it by just drinking more water. It's amazing when you realize a solution is easy and free—in New York all you have to do is turn your tap water on.
"From my experience, if you don't drink water, nothing works. All of your supplements, vitamins, face creams—everything that you want to work isn't going to work if you're not hydrated. I believe that you have to put in the work too. Don't complain and get on Amazon to write a review like 'Oh this face cream doesn't work or this isn't hydrating' if you're not drinking your water. Because no matter what you do, the equation isn't going to work.
"I don't track my water, I just drink instinctively. And it doesn't always just have to be water: I love herbal tea, too. Basically any liquid that isn't going to dehydrate you, like caffeine or liquor."
The steal: A classic multitasking cream.
"I use Weleda Skin Food as part of my nighttime skin care routine. That little green tube is a classic. I rub some of it on my hands to warm it up, then pat it all over my face—and that's my night cream! I like using it at night because it's a chance to layer on a really thick cream. I've trained myself to sleep on my back, which works out well so my face products don't get all over my pillowcases. Skin Food is actually supposed to be for your hands. I don't know how many people would be willing to put it on their face, but I do and it's amazing. I just wake up, and my face is fully supple."
The pleasure: A couture facial oil.
"Honestly I never really expect fancy things to do much for me. For example, designer clothes don't do that much for me—they don't bring me any more joy than vintage clothes do. But there's an amazing line of oils called Hildegaard. Obviously I love oils, and these are like the most high-end, couture, organic versions of facial oils. They make them in special editions, and every bottle is engraved with its number. I love this neroli-scented one; it's just so beautiful."
Hilegaard
Hilegaard Neroli
$455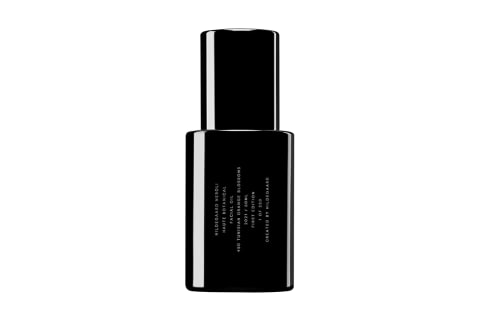 The thing my grandmother taught me: Wear lip stain to bed.
"I used to resent this advice when I was young because I thought it was vain, but then I grew to love it. My grandmother used to tell me to 'Put on makeup before you go to bed because you never know what's going to happen at night.' She meant it as a way to say always be and look ready.
"Later I was able to interpret it in a way that worked for me: Just the idea of going to bed feeling good about yourself really stuck with me. So for example, I do my whole nighttime routine—I brush my teeth, put on my night creams, do it all. And then I brush up my eyebrows to look shaped, apply a little lip stain, then spritz on a bit of perfume. And I don't take it super seriously, but it's just one of these little things that really does add joy to my life and makes me smile.
"I think this could be perceived as superficial or controversial, but I really do think the power comes from the way that you approach it. If doing this little ritual makes you feel good, then do it. If not, then it's not for you. Certainly I'm not telling people to go to bed with a full face of foundation. It's really just about doing something at night that makes you feel beautiful."
The surprise hit: A caviar infused essence.
"I've never been into toners. I've never wanted to add an extra step into my routine. And toners just felt like putting water on your face, so I never really understood it.
"But then I did a collaboration with La Prairie, and they sent me some products to try. I started using the essence-in-lotion and just loved it. It's not really a toner but more like a liquid moisturizer that goes under your face cream. I noticed the difference when I started using it because my skin care products stayed on better throughout the day. And on days when I don't use it—because I'm traveling or something—my moisturizer just kind of evaporates.
"I will say it's expensive. But I find that it lasts a long time because you're only doing a thin layer. Another tip to make it last longer: I always apply it with my hands, never a pad, because I think those little cotton rounds absorb too much.
"It's in this gorgeous blue glass bottle. They actually started using this shade of blue because the company had a studio next to the studio of the artist Niki de Saint Phalle in the '80s, who was using this shade of cobalt at the time. They were inspired by her work and started using it for their products. I think of her every time I use the bottle because it's this amazing connection with an artist who I love."
The carry-ons: Smart essentials. 
"I used to travel a lot—less so now, but I do love traveling-sized bottles for day-to-day since I'm carrying a lot of stuff for my kids. Plus, you never know when you need to go to an event or something.
"So I love these refillable bottles. They're so simple, user-friendly, and always the right size to pack. It's perfect because I can just use the same products that I would normally without having to get separate travel-sized versions of them—or have to change my routine.
"I always take supplements when I travel, especially a probiotic, because my diet ends up going bonkers when I travel."
REIS
REIS The Essential Refillable Travel Container
$ 18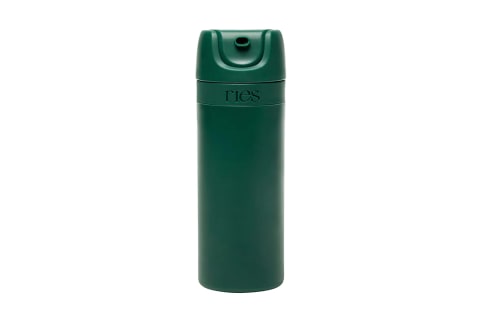 The signature: A red lip & freckles. 
"Red lips—always red lips. People always associate me with having red lips, a smile, and my freckles. Once my daughter saw me when I wasn't wearing lipstick, and she asked me what happened to my mouth. She was worried I had lost my mouth overnight! I just need to apply my lip color.
"I stock up on my favorite lip color, which is this liquid lipstick from About Face and the shade is Fireside. I literally have like 50 of them, just in case if something happens or they discontinue them. I need it with me until the end of time. They don't pay me to, but I talk about this product all the time. Someone once commented on my Instagram that I needed to disclose that it was an ad, but it really wasn't: I just love this product that much.
"Red lips are powerful. It's that feeling of being able to speak your mind: I put it on, and suddenly I have a voice. And there's a lot of meaning behind red lips: It's a sign of rebellion and defiance. For me, I love the glamour. I can have nothing else on—I could be in pajamas and no makeup—but with a red lip, I feel great."
Alexandra Engler
mbg Beauty Director
Alexandra Engler is the beauty director at mindbodygreen and host of the beauty podcast Clean Beauty School. Previously, she's held beauty roles at Harper's Bazaar, Marie Claire, SELF, and Cosmopolitan; her byline has appeared in Esquire, Sports Illustrated, and Allure.com. In her current role, she covers all the latest trends in the clean and natural beauty space, as well as lifestyle topics, such as travel. She received her journalism degree from Marquette University, graduating first in the department. She lives in Brooklyn, New York.