Close Banner
Advertisement
This ad is displayed using third party content and we do not control its accessibility features.
paid content
 for

The Art of Conscious Luxury: How to Treat Yourself With The Planet In Mind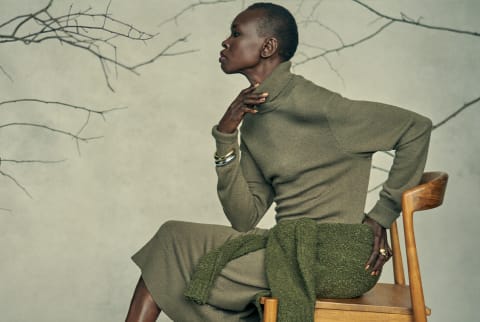 December 22, 2020
A little luxury goes a long way — especially after a year of stress and uncertainty. When we show ourselves care, we celebrate who we are, transform our day, and can enjoy time with the ones we love. But in the era of environmental and social responsibility, the concept of luxury has evolved. Enter: the art of conscious luxury. Conscious luxury ups the ante by valuing quality and eco-friendly practices. It's time to indulge in a way that benefits ourselves and the planet, because what could feel better than that?
Luckily, some conscious brands are leading the way in sustainable luxury. b new york is at the forefront with high quality, modern clothing in luxurious eco-fabrics. And, considering three out of five fast-fashion pieces end up in a landfill, this is a welcome change. The products that we choose to treat ourselves with matter — after all, textiles contribute more to climate change than international travel and shipping together.
Of course, luxury isn't just about shopping. Conscious luxury is how we mindfully cultivate each moment, finding pleasure in the simple things. Here are some ideas on how to create conscious luxury in your own life.
Go out-and-about in style. 
Our daily routines are full of luxurious potential. Simply embrace a little sustainable style as you head out the door. Run your errands feeling fabulous in the b new york Vegan Fur Coat, the quintessential symbol of luxury. Dress up your grocery store run or cozy up for outdoor cocktails, because who says you can't take luxury on-the-go?
Indulge yourself.
The intersection of lounging and conscious luxury is one we never want to leave. What better way to end the week then by nestling into your favorite sweats, a lacey bralette, and this elegant b new york Ultimate Sweater Duster made from recycled materials. Create a mood by lighting candles and turning up your favorite playlist. Craft yourself a warming elixir, and go all out with adaptogens, tinctures, and flower petals.
Uplevel your self-care routine.
Spa treatments have long been synonymous with luxury. Next time you want to treat yourself with a little self-care, get comfortable in these b new york Ultimate Sweater Joggers, as eco-friendly as they are soft. Steep a cup of herbal tea and dab on a calming essential oil, like lavender or ylang-ylang. Bask in the goodness of body care made using organic, planet-friendly ingredients.
Dress up your workday.
Conscious luxury puts a comfortable spin on everyday workwear. Tackle your Monday wearing something that enhances your confidence and conscience, like the b new york Minimalist Knit Blazer, made from recycled materials. Brighten your Zoom calls with a new shade of moisturizing lipstick.
Cook a luxurious dinner.
Everyone deserves a taste of luxury. Pick a recipe that you would normally save for a special occasion, and savor it with a friend. Dress up with the b new york Ecovera Hi-Lo Shirt, made from renewable wood sources. Sip on a wine varietal that you've been longing to try. Don't forget to treat yourself to dessert.
Redefine luxury.
Luxury has long been associated with high dollar amounts and consumerism. Conscious luxury is the movement that asks us to reconsider what luxury really means. Is our luxury really self-care if it has consequences on the planet as a whole? Can we find luxury in the minute details of daily life? Brands like b new york invite us to take care of ourselves and the planet simultaneously. We can't think of a better intention for this year!
More On This Topic
more Lifestyle
Advertisement
This ad is displayed using third party content and we do not control its accessibility features.
Advertisement
This ad is displayed using third party content and we do not control its accessibility features.