Focaccia Art Is The Latest Quarantine Food Trend — Here's How To Make It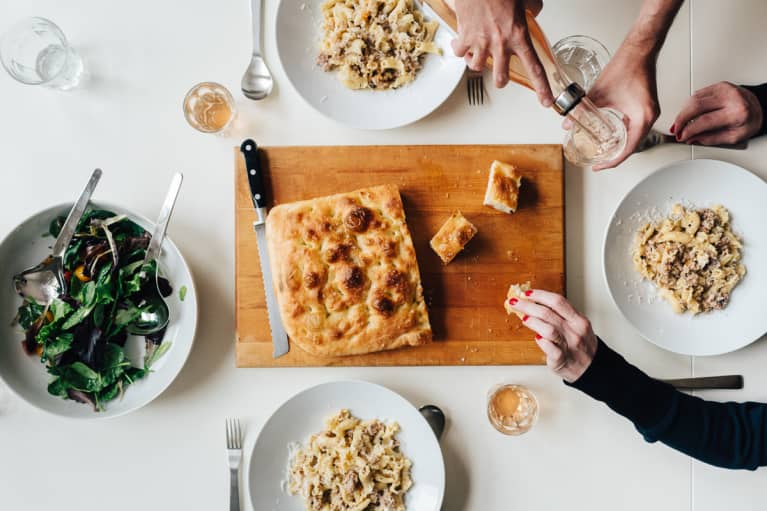 Our editors have independently chosen the products listed on this page. If you purchase something mentioned in this article, we may
earn a small commission
.
For whatever reason, the quarantine has turned a lot of people into breadmakers. The latest bread trend, following banana bread and sourdough, seems to be focaccia gardens. Cropping up all over social media, these creations involve artfully placing vibrant vegetables and aromatic herbs atop a carb canvas. The end result is an edible garden that tastes as wonderful as it looks.
While the project may seem like something for pros, you can easily do it at home. We consulted author of The MIND Diet and registered dietitian Maggie Moon, M.S., R.D., who made her own blooming bread and taught us how to do the same.
What is a focaccia garden?
You may have seen some photos floating around social media—after all, these whimsical bread creations certainly catch the eye. In fact, tags "#focacciagarden" and "#focacciaart" collectively have over a thousand posts on Instagram so far. For your viewing pleasure and a bit of baking inspiration, here are a few of our favorites from Instagram (including Moon's own masterpiece):
How to make a focaccia garden.
Because baking supplies may be limited, feel free to get creative with what you have on hand. That goes for both the toppings and the actual focaccia recipe. "Using all-purpose, whole wheat, or even pastry flour instead of bread flour still yields tasty results," Moon says.
Aside from modifying flour to increase the whole grain content, she followed this classic focaccia recipe from Bon Appetit as her bread base. Here, Moon shares her modified recipe, plus how she crafted her veggie garden:
5 cups whole wheat pastry flour
1¼ cups all-purpose flour
1 (¼-ounce) packet dry active yeast (2¼ tsp.)
Pinch of sugar
2 tablespoons kosher salt
5 tablespoons extra-virgin olive oil, divided, plus more for greasing, drizzling, tossing garnishes
Flaky sea salt
1 to 2 stalks scallions, bottoms trimmed (can sub asparagus)
2 to 3 baby carrots, sliced a few times lengthwise
¼ red onion, cut into 15 medium-large oblong slices
¼ red bell pepper, cut into 10 triangles (can sub hot red peppers)
½ head of garlic
Prep your garnishes, cutting them into desired shapes and then tossing with olive oil to keep from over-burning in the oven. I like to work on a large cutting board about the same size as my baking sheet, but any clean working surface will do.
Arrange garnishes as desired, pushing gently into the dough to keep them in place. You can use any vegetables that you normally would roast.
Start at a short end of the sheet pan with the centerpiece scallions, centered as if "growing" up from the bottom. Arrange carrots to the right and left at the base of the scallions.
At the "top," arrange red onion slices in three groups of five pieces in a flower or pinwheel shape. Below the red onions, add the smaller red pepper pieces in two groups of five in a flower or pinwheel shape.
Distribute roasted garlic cloves throughout. Sprinkle generously with sea salt. Bake on a center rack for 25 to 35 minutes, rotating halfway through. Let it rest in the pan for 10 minutes before transferring to a wire rack to finish cooling.
Cut into desired shapes.
Note: Any bread you expect to enjoy in the next day or two can be tightly wrapped in plastic and kept at room temperature. Extra bread should be wrapped tightly in plastic wrap and stored in the freezer.
Tips for making your own.
If you're a novice baker and worried about the end result, don't fret. "Focaccia is the best bread for beginner bakers," Moon says. "There's plenty of room for error, and you'll still get amazing results, including that fresh-baked bread smell wafting through the kitchen."
Visualization and time are two tools for any successful baker, according to Moon. "Read through the entire recipe first, visualizing each step in the entire process before diving in," she says. "Then, take it one step at a time and enjoy the downtime in between." She calls time an ingredient that most of us have in stock.
Most of all, have fun!