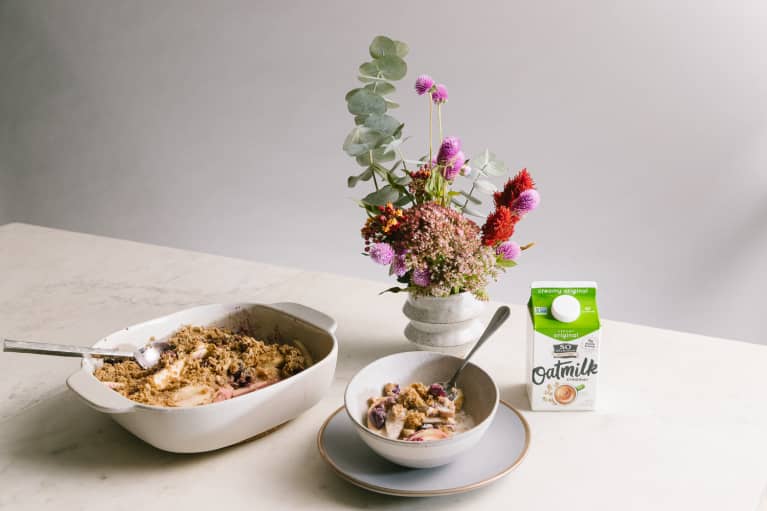 Here at mbg, we're all about Food With Benefits—whether those benefits save you money, time, or help heal your body. In our video series, we'll show you how to make delectable recipes, each with a unique benefit. Whether it's a dinner for four for under $5, these meals, snacks, and desserts will make inspire you and make your mouth water! Up today: a seasonal apple crisp with a bright new twist.
There are desserts that are surefire crowd-pleasers (at both the dinner party level and the leftovers level) and the humble apple crisp (or crumble, or cobbler) is one of them. This season, we introduced a bright and bold new flavor to the classic—Concord grape!—and to top it off, used our favorite So Delicious Dairy Free Oatmilk Creamer to keep the recipe fully plant-based. It's super easy to make, too, so if you're still looking for an impressive Thanksgiving dessert, hit play (and get the full recipe) below.
Apple Concord Grape Crisp
For the filling:
2 cups crushed Concord grapes, seeds discarded
¼ tsp kosher salt
2 ½ lbs tart apples such as Fuji or Granny Smith
2 Tbsp oat flour
For the crumble:
¼ cup coconut oil, at room temperature
¼ cup date sugar
½ cup oat flour
½ cup old-fashioned oats
1 tsp vanilla
½ tsp kosher salt
Method
Preheat the oven to 350°F. In a large bowl, combine all filling ingredients and stir well to incorporate. Transfer to an oiled 9x13 baking pan.
In a separate bowl, make the crumble. Mix the oil, sugar, flour, and oats, using a fork to bring ingredients together. Add creamer, vanilla, and salt and combine, creating a lumpy mix.
Sprinkle the crumble mixture over the prepared apples and grapes and bake for 30 minutes until golden and bubbly. Serve warm with a splash of creamer.