Close Banner
Advertisement
This ad is displayed using third party content and we do not control its accessibility features.
I Tested The Apollo Neuro Wearable For 45+ Hours — Here Are My Honest Thoughts
Assistant Beauty & Health Editor
By Hannah Frye
Assistant Beauty & Health Editor
Hannah Frye is the Assistant Beauty Editor at mindbodygreen. She has a B.S. in journalism and a minor in women's, gender, and queer studies from California Polytechnic State University, San Luis Obispo. Hannah has written across lifestyle sections including health, wellness, sustainability, personal development, and more.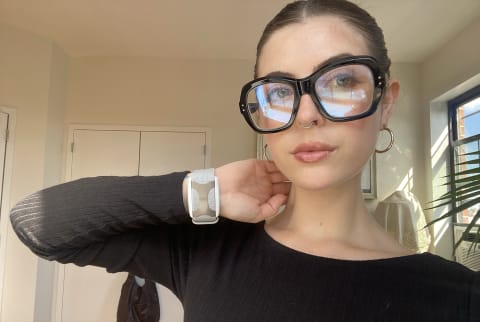 We carefully vet all products and services featured on mindbodygreen using our
commerce guidelines.
Our selections are never influenced by the commissions earned from our links.
From sleep trackers to HRV monitors, it's fair to say the wellness community is obsessed with sporting fancy gadgets in pursuit of better health—but most of them simply provide motivation for you to better your own habits rather than helping you actively make a change.
The Apollo Neuro wearable is an exception; it uses the power of vibration to inspire less stress and better sleep. The result? An instant, noticeable improvement to your mood.
If you're skeptical about a vibrating bracelet soothing your worries, I hear you—because I was too. However, I put this device to the test for more than 45 hours. And while it may sound strange at first, this vibrating bracelet has actually improved my focus and supported my daily wind-down routine more than I imagined.
Final thoughts
The Apollo Neuro Wearable
scroll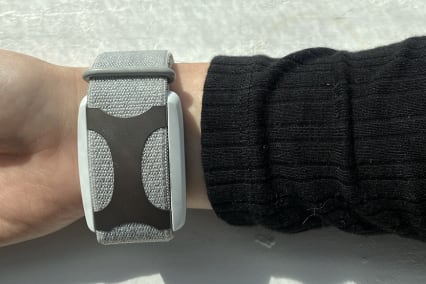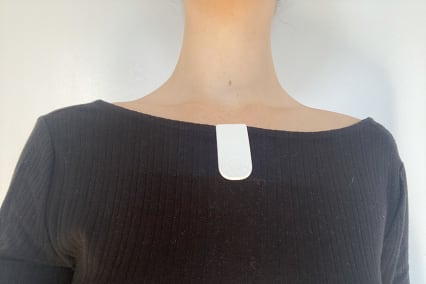 Who should try it

If you're someone who actively uses wearables and wants to reduce stress, The Apollo Neuro wearable is a worthy investment. After 45 hours of testing, I found that it helps me get into the zone to improve focus just as well as it helps me zone out for a more relaxed state.
Who should skip it

If you don't use wearables, The Apollo Neuro wearable may not be the best place to start considering the price point. It's almost $300 and really requires you to commit to regular use to see the most benefits.
What is Apollo Neuro?
Invented by board-certified psychiatrist and neuroscientist David Rabin MD, PhD, The Apollo Neuro wearable is based on decades of research into vibration therapies (and how they impact the body and the mind).
The small, vibrating device is about the same size as a matchbook; you can either clip the Apollo Neuro wearable onto a shirt, a bracelet, or an anklet.
How the Apollo Neuro wearable works
To make the most of the wearable, you'll need to download the Apollo Neuro app, where you can select your "vibe" or goal for wearing the device.
Each vibe has a unique vibration intensity and pre-set duration curated by the Apollo Neuro team. You can alter these setting to best suit what your body is craving (i.e. less intensity or more intensity; shorter time frames or longer ones).
Need to stay focused? There's a vibe for that. Want to unwind? There's a vibe for that, too. There's even a vibe for sleep, so you can wear your Apollo Neuro wearable all night long for optimized rest.
Making the most of your device with SmartVibes
Beyond the device itself, the brand just launched a membership option called SmartVibes–join this and your device will function as a responsive wearable for better sleep and easier mornings. Simply use the "Labs" tab in your app to set your fall-asleep and wake-up times. Once that's dialed in, your Apollo Neuro wearable will actually help you sleep better—the device will sense when you wake up in the middle of the night and send you soothing vibrations to help you fall back asleep. In the morning, an awakening vibration pattern helps alleviate grogginess to start your day on the right foot.
My testing method
Now let me be clear, I didn't just test this product for half an hour and come up with a consensus. I've been a dedicated wearer—clocking over almost 45 hours thus far (and yes, the app tracks how often you use it). I've tried every setting and each wear position, so I'd consider myself a worthy tester at this point.
My experience
When I first attached the Apollo Neuro wearable to my T-shirt, I felt a sense of comfort that was unique compared to other ease-inducing devices, supplements, or practices that I've tried before.
It's like my mind can finally stop buzzing because something on my body is already buzzing. The situation reminds me of listening to piano music while working; the vibrations eliminate the space for random thoughts, keeping me in the zone. I found that wearing this device helped stop cyclical chatter in the back of my mind, which was preventing me from really calming down before.
Given my success with the relaxation function, I was doubtful the same device could be used to enhance focus—but it did just that. When the "focus" vibe is selected, the vibration intensity and speed are kicked up just a bit, lighting a fire to my motivation.
The "fall asleep" vibe is another favorite—an incredibly gentle, oddly comforting vibration that really does assist in the process of dozing off.
How I use it
For focus: I think focus is my favorite setting, because it never disappoints. For this purpose, I clip the device to the front of my shirt. The vibration is stronger, and I like to feel it front and center.
For relaxation: When I use the Apollo Neuro wearable for relaxation, I opt for the shirt clip or the bracelet option depending on what I'm doing. When I meditate, I like to center it on my t-shirt. When I'm just unwinding around the house, I opt for the bracelet.
For sleep: When I use my Apollo Neuro wearable at night for sleep purposes, I wear it as an anklet. For some reason, I just find that more comfortable for sleeping than wearing it as a clip or bracelet–but that's just me.
Other options:
These are just my favorite functions, but there are plenty more "vibe" to choose from including social, energy, recovery, unwind, and more. Remember that this device is meant to be customizable, so play around with the settings and find a vibration level and setting that supports your goals.
Research-backed benefits
A few potential benefits of adding the device to your routine include:
Alleviating anxiety
Improving cognitive performance
Improving heart rate variability (HRV)
Dropping into a deeper meditative state
My suggestion: Put it to the test
Should you decide to invest in the device, let me give you a piece of advice: Wear it consistently—I'm talking about the full 90 minutes during the day and 90 minutes during the evening or night. This is where the greatest benefits come. Don't worry about logging it on your own, because the Apollo app takes care of that for you.
If you do wear a wellness tracking device such as an Apple Watch or Oura Ring, you can actually track some of the improvements your Apollo Neuro wearable brings you, like balanced HRV, a better sleep score, improved athletic performance, and so on.
Feeling more relaxed and having better cognitive performance can't necessarily be tracked on the basic wearable devices, so these are effects that you'll have to feel for yourself. As someone who started out the journey skeptical of a wearable device promising better well-being, I have to say this one is actually worth it—the research echos my conclusion, too—and it's only just beginning.
FAQ
Does the Apollo Neuro actually work?

Our tester saw a noticeable difference in their focus, sleep, and relaxation when wearing the device. Research confirms their experience. The brand has run 7 clinical trials—including two double-blind randomized placebo-controlled crossover trials—with supported the device's use for improving HRV, sleep, and focus while reducing stress and feelings of anxiety.



How long does it take for Apollo Neuro to work?

Our tester found the Apollo wearable starts working right away with the effects lasting up to 90 minutes post-wear. Per the brand, effects should last up to two hours.
Is Apollo Neuro FDA approved?

No, the Apollo wearable is not FDA-approved. However this is a wellness device, not a medical one. So there's no reason for the FDA to oversee it!
The takeaway
I didn't think a vibration device would do much for my well-being, but it's truly become a staple item in my life. The Apollo Neuro wearable has improved my focus and even helped me find pure relaxation faster than before. Plus, Apollo provides a 30-day money-back guarantee, so you have time to test it out and see if it's a fit for you.
Hannah Frye
Assistant Beauty & Health Editor
Hannah Frye is the Assistant Beauty & Health Editor at mindbodygreen. She has a B.S. in journalism and a minor in women's, gender, and queer studies from California Polytechnic State University, San Luis Obispo. Hannah has written across lifestyle sections including skin care, women's health, mental health, sustainability, social media trends, and more. She previously interned for Almost 30, a top-rated health and wellness podcast. In her current role, Hannah reports on the latest beauty trends and innovations, women's health research, brain health news, and plenty more.