An Antioxidant-Packed Berry Crumble Recipe That's Perfect For Summer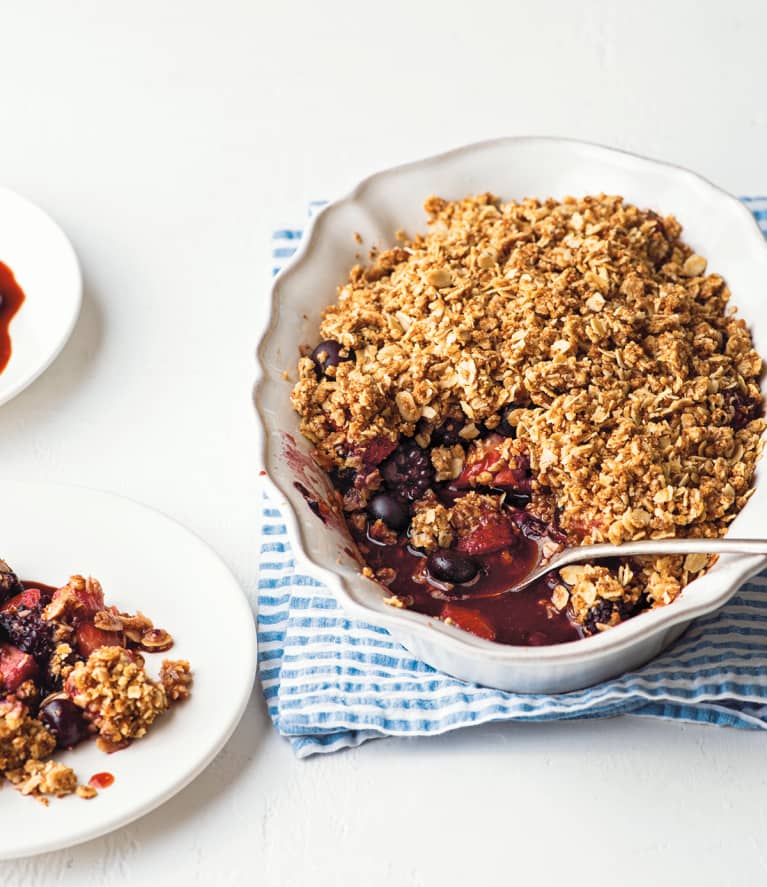 Our editors have independently chosen the products listed on this page. If you purchase something mentioned in this article, we may
earn a small commission
.
I am a huge proponent of always having a go-to dessert recipe in your back pocket, poised for any impromptu celebration. Or, in the case of something like this cobbler, a wonderful occasion to use all that seasonal fruit from the farmers market. This time of year, my eyes are always open for fresh berries, and this recipe really lets them shine.
"A crumble is like a no-nonsense pie," writes Lisa Dawn Angerame in The Vegan ABCs Cookbook, "It's just the right blend of rustic and impressive." Here, blackberries, strawberries, and blueberries come together for the ultimate triple berry mix, but there's no need to stick exactly to the recipe—in fact, Angerame encourages changing it up.
"Go with a single berry or your favorite two-berry combos," she writes. "If it's summer, you could go with stone fruits like peaches or plums. If it's winter, peel some apples or pears. The possibilities are endless."
But there are benefits to sticking with the berries: "A lot of the polyphenols come from some berries," Mahmoud Ghannoum, Ph.D., shares on the mindbodygreen podcast. Polyphenols are one of the most abundant antioxidants in our diet and can be found in foods like berries, along with dark chocolate, onions, wine, and some herbs.
Since making this sweet treat couldn't be simpler, and there are benefits to be had, I can't really imagine a better summer dessert; can you?
1½ cups blackberries
1½ cups strawberries, hulled and cut into quarters
1 cup blueberries
¼ cup coconut sugar
1 teaspoon all-purpose flour
1 teaspoon lemon zest
1 tablespoon fresh lemon juice
¾ cup old-fashioned rolled oats
¼ cup all-purpose flour
¼ cup coconut sugar
¼ cup vegan butter, softened
Pinch of salt
Preheat the oven to 350°F. Place a 1-quart baking dish on a half sheet pan.
To prepare the berries, add the blackberries, strawberries, blueberries, coconut sugar, flour, lemon zest, and lemon juice to a big mixing bowl. Mix together and set aside.
To prepare the crumble, add the oats, flour, coconut sugar, butter, and salt to a small mixing bowl. Use your fingers to mix everything together.
Turn out the berries into the baking dish along with any excess berry juice. Sprinkle the crumble mixture over the top of the berries.
Bake for 30 minutes. Serve warm or at room temperature.
Reprinted with permission from The Vegan ABCs Cookbook by Lisa Dawn Angerame, Page Street Publishing Co. © 2021. Photo credit: Alexandra Shytsman.