Why Aloe Vera Is Key For Treating Dark Spots On The Body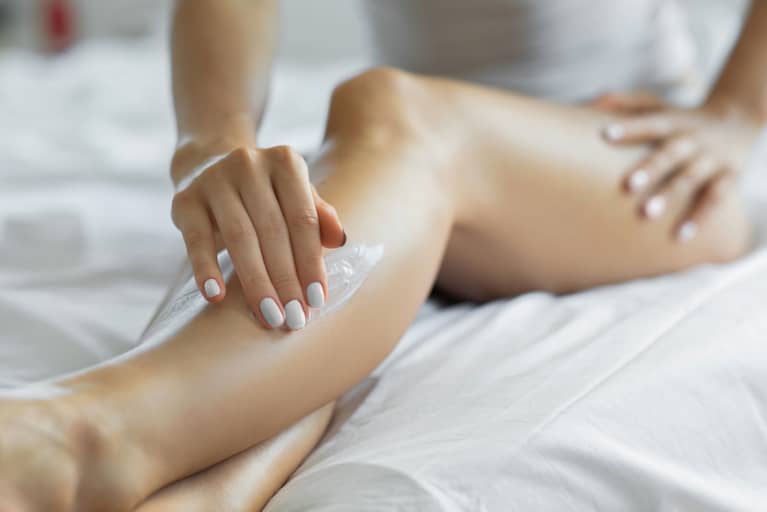 When you're walking through the skin care aisle at any beauty store, you'll likely see "dark spot corrector" slapped on the front of more than a few products. From chemical exfoliants to vitamin C serums and more, you'll have a plethora of options to choose from. But what about treating dark spots on the body?
Not as many body care products prioritize dark spot treatment, yet hyperpigmentation can happen anywhere. Fortunately, there's one ingredient that's easier to formulate in body lotions that, according to research, can help combat dark spots.
Why aloe vera is A+ for dark spots. 
The ingredient you may not have thought of for treating these very marks: aloe vera.
A common misconception is that aloe vera is only useful for post-sunburn relief, but it actually has countless additional benefits—dark spot treatment being one of them.
Aloe vera contains a natural compound called aloesin, which has brightening capabilities that can help speed up the fading process. In one study, aloe was applied to the skin four times a day for two weeks. Aloesin was proved effective with fading post-acne hyperpigmentation in that study.
In another report, topical application of aloesin proved to directly inhibit hyperpigmented skin from producing more melanin—hyperpigmentation simply means excess melanin production in your skin, so keeping the pigment-producing cells from becoming overactive is key.
This ability to inhibit melanin production in hyperpigmented skin is especially important when it comes to treating sun spots. As you know, SPF is key to preventing sun damage in the first place, but using aloe vera post-sun can help prevent preexisting spots from getting darker and help them fade with repeated use.
It's not just sun damage that can lead to dark spots on the skin—body blemishes and ingrown hairs can lead to hyperpigmentation as well. Dark marks on the face may be easy to spot-treat, but getting a single dot of product on the hard-to-reach areas like the back isn't so simple.
That's why finding body lotion that contains a hefty amount of aloe vera is key. If you look at the ingredients list and see aloe vera as the first ingredient, that's a good sign. This means there is a substantial concentration of aloe in your blend, rather than trace amounts.
If you don't feel like scanning ingredient lists for hours, let us leave you with this: At mbg, we know the power of aloe vera, which is why it's the first ingredient in our postbiotic body lotion—and it's organic aloe vera, we might add. So if you're looking to treat dark spots on the body, this product is an easy go-to.
Kathy L., a verified postbiotic body lotion fan, attests: "In just a month I saw a large difference in the sun damage on my chest and arms. The dark spots have lightened pretty significantly. The lotion is my new best friend in skin care!" she says.
While there may be a never-ending list of dark spot treatments for the face, hyperpigmentation-focused body care isn't as prevalent. If you're trying to lighten dark spots on your body, look for a lotion with aloe vera, as it's been shown to help fade hyperpigmentation in clinical studies. Believe it or not, there are even more benefits to using aloe vera on the skin, especially for those who are acne-prone.