Close Banner
Advertisement
This ad is displayed using third party content and we do not control its accessibility features.
paid content
 for

A Natural Food Chef Shares Her Secrets For Reducing Sugar Intake
By Phoebe Lapine
mbg Contributor
Phoebe Lapine is a food and health writer, gluten-free chef, wellness personality, culinary instructor, and speaker, born and raised in New York City, where she continues to live and eat. She holds a B.A. from Brown University.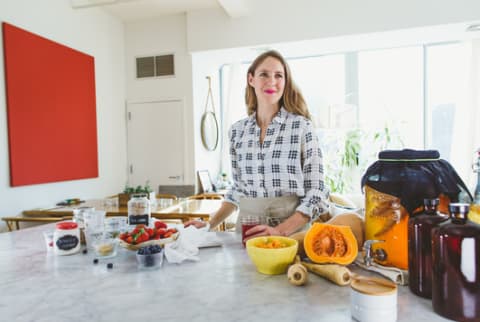 Photo by BrakeThrough Media
It took me a while after I was diagnosed with an autoimmune disease to get on board with the health hand I was dealt. As a young aspiring chef and food writer, having dietary restrictions felt like a big handicap. But after I began using my skills to heal myself in the kitchen—with leafy greens and nourishing fats—it changed my culinary outlook for the better.
The tweak that had the biggest impact on both my taste buds and my overall health was weaning myself off of sugar. As I attempted to find the middle ground between health and hedonism—one that still included all my favorite comfort foods—I realized how much mindless sugar I was eating every day. It was housed in places I didn't think to look and brought me very little conscious pleasure.
Here are some of the ways I've tweaked my life on the sugar front and kept my cooking just as satisfying.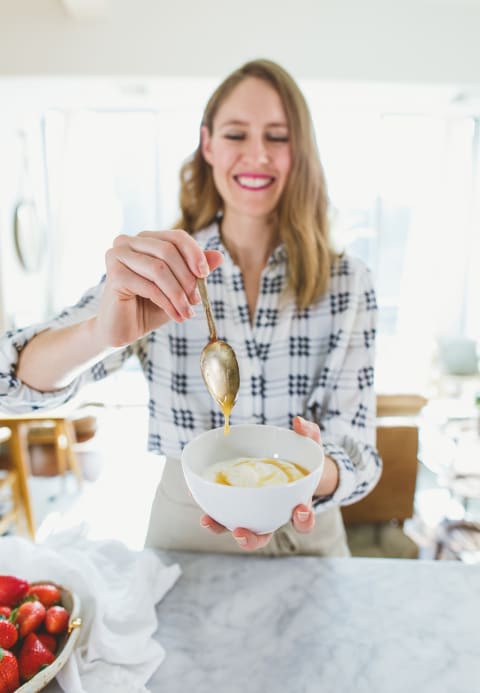 Photo by BrakeThrough Media
1. Batch up breakfast.
So much of the supermarket aisle contains some form of added sugar, and by unconsciously eating so much of it in everyday prepared foods, we actually drive our cravings for more. The way we start the day is especially important for setting the stage for good eating habits. As the hours lapse, so, too, does our willpower. And this situation is made far worse when our blood sugar is directed on an unstable track from the get-go.
Breakfast foods tend to rack up more sugar violations than most. Beyond those Frosted Flakes, it's also lurking in gluten-free toast, many nut butters, organic breakfast bars, and flavored oatmeal. When I batch cook on weekends, I try to add a breakfast dish to my rotation—make-ahead frittata bites or coconuty oats (see No. 3) are my go-tos. If I'm running out the door, I'll grab siggi's plain yogurt with a touch of raw honey.
2. Add a dash of coconut.
Coconut and its by-products have a subtle sweetness without high sugar content. I buy unsweetened flakes and add them to homemade granola, trail mix, and energy bites. Coconut milk gets added to smoothies, puddings, curries, and even chowder! So much restaurant cooking—especially Asian cuisines—uses table sugar to achieve that addictive tang on your palate.
Coconut milk can add some of that sweetness to savory sauces to balance out spice and acid. Finally, coconut aminos are a great substitute for soy sauce and gluten-free tamari and can help you keep homemade peanut sauce and Asian-inspired marinades low-sugar (and soy-free) while maintaining their sweetness.
3. Rethink treats.
One of my "golden health rules" is to set myself up for success at home so I can enjoy more flexibility out on the town. There will always be a time when I'm faced with a delicious gluten-free baked good and want to embrace a YOLO clause. But part of feeling good about those indulgences is making special occasion treats really feel special.
Because of this, I try not to stock overly processed snacks or sweets in the house. When I do need a grab-and-go treat, I reach for one with simple ingredients such as siggi's vanilla yogurt. If I have an extra sweet craving, I'll mix dark-chocolate chips right into the cup!
Photo by BrakeThrough Media
4. Top salads with roasted root vegetables.
So many veggies become nature's candy when caramelized low and slow on the stovetop (ahem, onions) or baked at high temperatures in the oven until crispy. Root vegetables like parsnips, butternut squash, and sweet potatoes are addictive when cut into matchsticks and baked—hello, healthy fries! But they're also great for topping salads.
Since most commercial dressings have loads of added sugar, our taste buds have been trained to crave a pop of sweetness in our salads. I used to add a handful of dried cherries or cranberries until I discovered that even those are usually sweetened further with fruit juice concentrates. Now it's all about that root-veg base.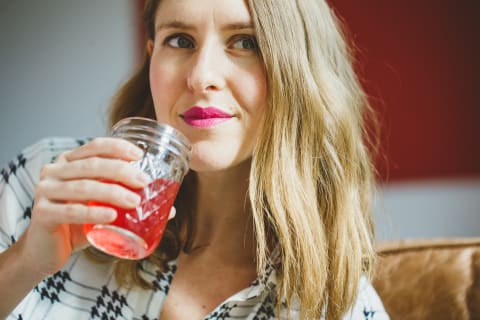 Photo by BrakeThrough Media
5. Swap soda for kombucha.
The beverage aisle is where many of our added sugar calories come from. Even "healthy" drinks like coconut water still have the same sugar and calorie content of a generic sports drink. I've made plain old H2O my drink of choice for the most part. But when I'm craving something sweeter, I'll grab a bottle of kombucha. These bubbly teas use sugar in the fermentation process—it's what the live cultures eat!—but there's very little by the time it makes it into a bottle. I've even started making my own!
6. Use raw honey or maple syrup when a craving strikes.
While I try to live with less sugar, I don't want my life to be devoid of simple pleasures like the smell of freshly baked cookies or hot cocoa. I keep raw honey around for adding a little extra sweetness to teas, homemade cocktails, and other minimally heated concoctions (high heat will kill all the added nutrients in unprocessed honey). And I have a cheaper bottle around for baking. Both honey and maple syrup have a lower fructose content than table sugar, and this does my liver many favors, since it's the organ that processes fructose.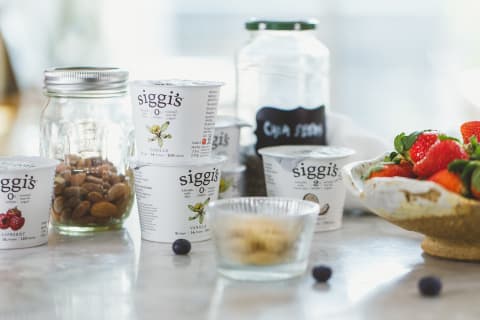 Photo by BrakeThrough Media
7. Balance sweets with fiber.
The trick to having your cake and eating it too (at least, without a giant blood-sugar crash) is to add as much fiber as possible. This slows the absorption of sugar into your bloodstream and gives your liver more time to deal with the deluge. I try to add lots of nuts and seeds to my baking and to focus on sweet treats that involve fresh fruit, which has its own natural fiber to balance out1 its sugar content.
More On This Topic
more Food
Advertisement
This ad is displayed using third party content and we do not control its accessibility features.
Advertisement
This ad is displayed using third party content and we do not control its accessibility features.