By Phoebe Lapine
mbg Contributor
Phoebe Lapine is a food and health writer, gluten-free chef, wellness personality, culinary instructor, and speaker, born and raised in New York City, where she continues to live and eat. She holds a B.A. from Brown University.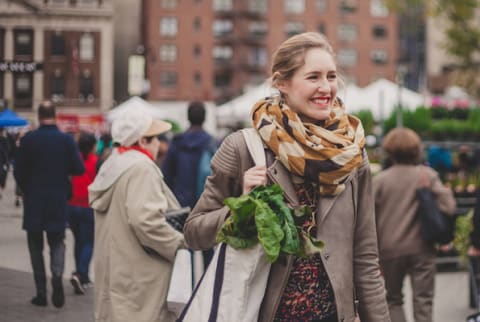 March 4, 2015
Though I've been cooking healthy meals for a living for over five years, this month I wanted to give myself a challenge. I wanted to see how far I could stretch $40 at the farmer's market, and use it to prepare clean meals for the week.
For a lot of people, including myself, the farmer's market can be a money pit. Between the bespoke jams and artisanal duck prosciutto, it's easy to leave having spent everything in your wallet, with your bag full of impulse buys that are a far cry from the building blocks of a meal.
Advertisement
This ad is displayed using third party content and we do not control its accessibility features.
But when you start with a plan and tailor your shopping list to mostly produce, you may be surprised at all the things you come home with.
As part of this wellness experiment in budget-friendly healthy eating, for the last few weekends, I've managed to turn $40 dollars into over 20 servings of food, in just 4 hours of cooking. Here's how you can do it too:
1. Make a menu.
Chose 5 or 6 recipes (portioned at 4 servings each) that are relatively simple and will keep well for the week ahead. An ideal breakdown is two one pot meals (stews or soups), 1 produce-centric grain or starch, and 2 to 3 easy vegetable sides. Make a complete shopping list of all the ingredients you need and eliminate any garnishes or add-ins that you don't think are necessary, unless they already exist in your pantry.
2. Limit the meat.
Buy cheaper varieties or cuts of protein — like bluefish, ground pork, or slow-cooking beef shanks — and commit to a menu that only involves 1 pound of meat or seafood. This will either mean 1 hardy stew or 2 dishes where the meat is more of a garnish and stretched by other ingredients.
3. Rely on your pantry to fill in the gaps.
Use dried legumes or whole grains instead of meat to bulk up a dish. If you don't already have these at home, use the bulk bin section of the regular grocery store to stock-up on these go-to pantry items.
4. Put an egg on top to make it a complete meal.
There's nothing more worth your money than a dozen fresh eggs at the farmer's market. You can tell the difference in the health of the chicken it came from by simply looking at the vibrant orange yolks on your plate. Since the majority of your farmer's market menu includes make-ahead vegetarian meals, you can add some last minute flair by topping your dinner with a fried egg.
5. Use your budget wisely.
Besides the pound of meat and dozen eggs, the rest of your shopping list should be fruit and vegetables. Depending on what recipes you choose, there are probably things you're going to need from the regular market (things like lemons, ginger, etc.). Know the clean fifteen and dirty dozen. Look over your shopping list and see which "cleaner" items you can get away with buying at the regular grocery store.
6. Learn to eat more simply.
Not every meal has to feel like a production. It's great to make yourself and your loved one something special every now and then. But getting into the habit of cooking also means learning to embrace and reuse leftovers. Being able to pack a lot of dishes into one cooking session also means learning to love some of the humble one-pot recipes that make up so many ethnic cuisines. The beauty of farmer's market produce is that you don't need to gild the lily to make it delicious. One or two of your dishes can just be simply roasted vegetables with olive oil and sea salt.
7. Stick with one ethnic theme.
To get the most out of your meals by mixing and matching, you want to make sure that all your dishes go together. The best way to do this is by sticking with one ethnic cuisine and using the spices and condiments from that region throughout your menu.
8. Set aside an afternoon to cook.
Cooking is a habit-forming activity like going to the gym. The first step is to commit and make time for it. Buying a truckload of perishable produce at a premium is one way to kick your butt into cooking gear. Budget about four hours of cooking to prepare your meals. Use the first hour to do the majority of your prep work — clean and chop the produce, and get your other ingredients organized. Aim to use the next two hours for cooking and the last hour for clean up. If you have a buddy or partner, you might just be able to do it in even less time!
9. Sample menu.
Here's what I made on my first $40 farmer's market challenge:
· Split Pea Soup with Carrots and Kale
· Moroccan Roasted Beets with Slivered Almonds
· Roasted Broccoli with lemon zest
I made some of the vegetables do double duty, like spliting the kale between the stew and the soup, and using the beet greens in one dish and root in another. As you get more used to this type of simple corner-cutting cooking, you'll find your own clever ways to make a little fresh organic produce go a long way.
If you don't have a farmer's market near you, try the $40 challenge in the organic aisle of the produce section and use the same rules for buying organic meat and eggs in other departments.
I hope that in doing so you'll discover what I did: that giving yourself the weekly gift of premade wholesome food doesn't have to come with a massive price tag. And you don't have to be a professional chef in order to prepare it.
Photo courtesy of the author
Advertisement
This ad is displayed using third party content and we do not control its accessibility features.

Phoebe Lapine
Phoebe Lapine is a food and health writer, gluten-free chef, wellness personality, culinary instructor, and speaker based in New York. She has a B.A. from Brown University, but but was born and raised in New York City. On her award-winning blog, Feed Me Phoebe, she shares recipes for healthy comfort food and insights about balanced lifestyle choices beyond what's on your plate. Lapine's forthcoming memoir, The Wellness Project, chronicles her journey with Hashimoto's Thyroiditis and how she finally found the middle ground between health and hedonism by making one lifestyle change, one month at a time. Connect with her on Instagram and Facebook for more creative clean recipes and inspiration.
Read More