paid content
 for

A Natural Chef's 7 Grocery Store Hacks To Eat Clean On A Budget
By Phoebe Lapine
mbg Contributor
Phoebe Lapine is a food and health writer, gluten-free chef, wellness personality, culinary instructor, and speaker, born and raised in New York City, where she continues to live and eat. She holds a B.A. from Brown University.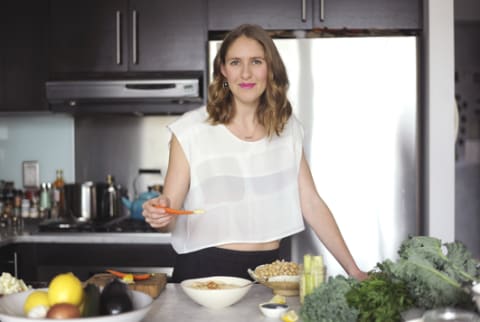 December 20, 2016
Looking for some inspiration in the kitchen? As part of the International Year of Pulses, mbg and USA Pulses are teaming up to motivate you to take the Pulse Pledge and eat pulses once a week for 10 weeks. We'll make it easy for you by sharing delicious ways to cook with pulses that you won't be able to resist.
For most people, myself included, going to the grocery store can be a stressful experience—they're designed to accost your senses with new impulse items at every turn. It's hard enough to know what to buy without the added task of trying to find food that's actually as healthy as its packaging claims. Which is why I think mastering the market is one of the most important aspects of learning how to #PrepLikeAPro—and it's one that will allow you to cook healthy food without breaking the bank.
Sticking with a weekly grocery budget and learning how to batch cook many meals in a single weekend afternoon are important parts of making home cooking easier and more affordable. Here are some other tips for navigating the market with both health and money in mind:
1. Always make a menu and shopping list.
It's important to let the produce aisle inspire you. But if you're just getting in the habit of cooking, it will be better for your budget to have a set game plan before heading to the store. If you're working from a recipe, make a complete list of all the ingredients you need and eliminate any garnishes or add-ons that aren't necessary. Designing your menu around existing items in your pantry and fridge—just as you would a seasonal ingredient at the farmers market—will also help save you money and cut down on waste.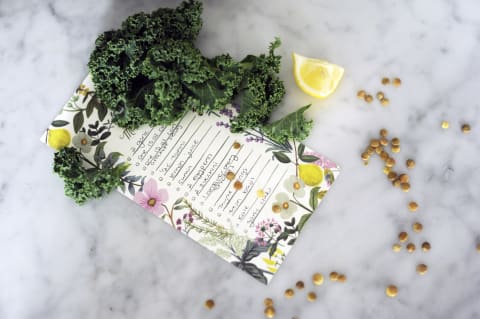 2. Stick to the perimeters.
The edges of the store are where the produce, meat, and seafood counters are. They're also usually where you can find bulk bins, which are great for budget-friendly whole grains and nutrition-packed pulses (dry peas, beans, lentils, and chickpeas). More on that below.
3. Don't forget about your freezer.
Can't make it to the store every week? Stock up on frozen vegetables! Store-bought frozen veggies are picked at peak freshness, allowing you to enjoy offseason produce whenever you want. You can also take advantage of sale items at the grocery store by relying on your freezer for keeping—don't pass up that special on wild sockeye salmon, because you can bring home some fillets and freeze them individually for future use.
Another idea is to cook a big batch of beans or chickpeas (which can be used in everything from salads to dips to soups to desserts) and store in the freezer, where they can last up to six months. Simply thaw out as many as you need when you're looking to amp up the protein and fiber in your meals.
4. Load up on plant-based protein.
Eating less meat and incorporating more plant-based proteins into your diet is a great way to save money while upping nutritional value. Pulses in particular are an awesome option because they're filled with healthy fiber and are a great shelf-stable protein source in the winter months, when other quality ingredients can be hard to come by. Pulses are also super affordable—lentils, for example, cost about 10 cents per serving compared to beef's $1.49 and have the lowest carbon footprint of any protein source out there.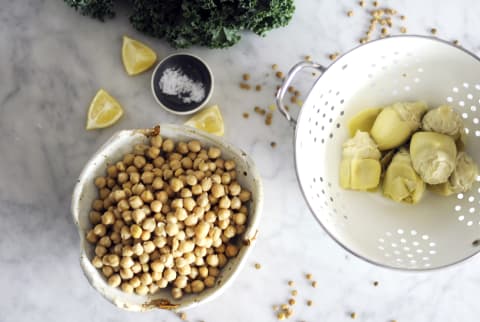 5. You don't have to cut out meat entirely, though.
When you do buy meat, simply avoid name-brand cuts and species; unfortunately, a cow is not made up of all filet mignon and the sea is not 70 percent salmon. Ask your butcher or fishmonger to recommend some cheaper options.
6. Buy in bulk.
You end up paying a premium for packaging, so pulling straight from the bulk bins is a better alternative. You can buy just as much or as little as you need, and you only pay by weight. Additionally, purchasing from the bulk bins allows you to limit your potential waste while also providing the exact serving size you need. That's why I source all my pulses, whole grains, nuts, seeds, and dried fruit in bulk bins and store them at home in Mason jars or other glass storage containers.
Buying in bulk also applies to packaged goods. You may not be making homemade artichoke hummus tonight, but if you see a sale for canned chickpeas, artichoke hearts, tahini, or olive oil, it pays in the long-term to stock up when these shelf-stable items are at their cheapest. If buying canned items, Trader Joe's and Eden Organics are two great brands that use BPA-free liners.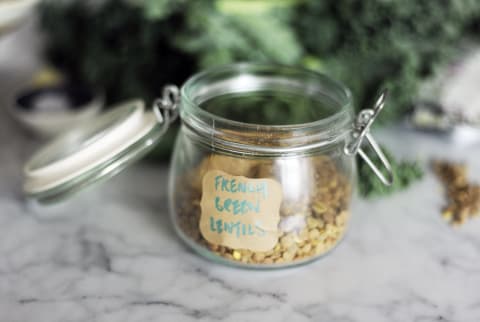 7. Use your spice rack.
This is one of the best ways to create flavorful meals out of humble ingredients. Suddenly, one can of chickpeas from your pantry can become three different dishes with the addition of spices: Add smoked paprika, and you have this Spanish stew; ground cumin, ginger, and turmeric and you have this Moroccan tagine; add dried thyme and vegetables and it becomes this Provençal chickpea ratatouille (recipe below).
Spices also have amazing medicinal powers. You can slowly build your collection up over time, but keep in mind that many spices will lose their punch and efficacy after a year or two.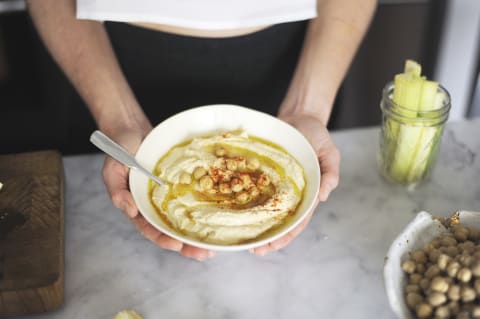 Looking to incorporate pulses into your diet? Try my warm and hearty chickpea ratatouille; that's in constant rotation at my dinner table.
Roasted Chickpea Ratatouille
1 pound eggplant (smaller ones are better), cut into 1-inch dice
¾ pound zucchini, cut into 1-inch dice
¾ pound summer squash, cut into 1-inch dice
1 pound cherry tomatoes, halved
1 onion, sliced
4 garlic cloves, minced
1 teaspoon salt, plus more to taste
4 thyme sprigs
4 tablespoons olive oil
2 cups chickpeas, drained
¼ cup chopped fresh basil
Heat the oven to 425°F. Combine the eggplant, zucchini, squash, tomatoes, onion, garlic, salt, and thyme in a large roasting pan. Drizzle with the oil and toss to combine.
Transfer to the oven and roast, stirring occasionally, until the vegetables are lightly browned and tender and some water has released from the tomatoes to create a sauce, 30 to 40 minutes.
Add the chickpeas, stir, and return to the oven until the chickpeas heat through, 5 to 10 minutes. Remove from oven, add the basil, and stir. Taste and adjust the seasoning and serve hot, warm, or at room temperature.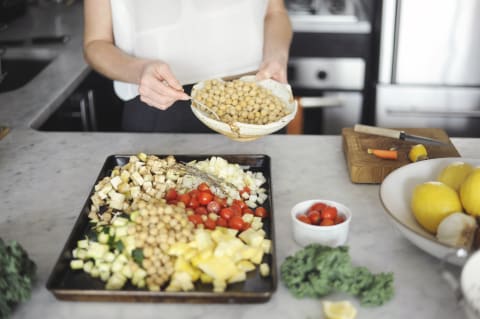 If this sounds like a delicious challenge to you, take the Pulse Pledge and be sure to share your pulse cooking adventures with us on Instagram with #pulsepledge.
Phoebe Lapine
Phoebe Lapine is a food and health writer, gluten-free chef, wellness personality, culinary instructor, and speaker based in New York. She has a B.A. from Brown University, but but was born and raised in New York City. On her award-winning blog, Feed Me Phoebe, she shares recipes for healthy comfort food and insights about balanced lifestyle choices beyond what's on your plate. Lapine's forthcoming memoir, The Wellness Project, chronicles her journey with Hashimoto's Thyroiditis and how she finally found the middle ground between health and hedonism by making one lifestyle change, one month at a time. Connect with her on Instagram and Facebook for more creative clean recipes and inspiration.