Gray Hair Has A Coarser Texture — This One Trick Can Keep The Strands Soft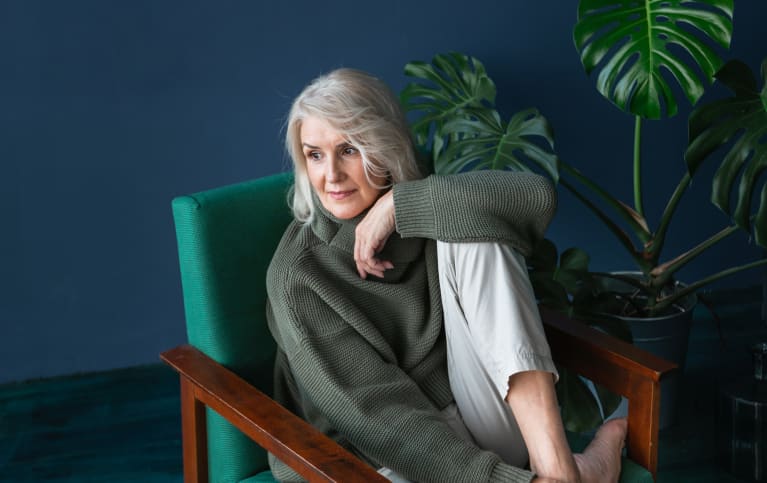 Once you go gray, the new shade isn't the only noticeable shift: Did you know your hair texture changes, too?
It's true: When your hair follicles produce less melanin (which provides the vibrant hue), they tend to produce less sebum as well. Without the natural emollient, the hair can become more fragile and coarse over time. As Erica Conan, director of education at ColorProof, once explained to mbg: "You lose protective layers on the hair strand, resulting in a cuticle that has a smaller diameter, creating a finer texture to your hair. Your finer hair will feel more coarse and dry because it is not retaining moisture as well with the loss of these protective layers."
If you're not used to tending to coarse, dry hair, this may pose an issue. However, experts tout this clever trick to help lock in hydration and keep the strands touchably soft: Enter, the mighty mist-and-seal.
A mist-and-seal trick for coarser hair.
You see, water typically evaporates from parched, coarse hair fast—like, as soon as you step out of the shower fast. To lock in as much hydration as possible, you may want to add some water back to the thirsty strands before sealing the cuticle with a styler. That's where the extra spritz comes into play: Mist your mane with water to replenish hydration, then coat the hair in product to immediately keep all that moisture in place.
As for the keratin-infused sealer Malary mentions, this type of product can help pump the hair with essential proteins that help strengthen the hair bonds (which is important, considering silver strands lose protective layers as melanin and sebum dwindle). Just make sure to have an adequate balance of protein and hydration—too much protein can actually cause brittleness for some.
We often discuss gray hair in terms of color (it is the most visible change, after all), but those silvery strands transform in texture, too. Specifically, the loss of melanin and sebum can cause it to become drier and more coarse. If you've never dealt with this type of hair texture before, you may want to consider tweaking your hair care routine—starting with this low-lift hack.