The One Tonic I Recommend For Amazing Sleep: An M.D. Explains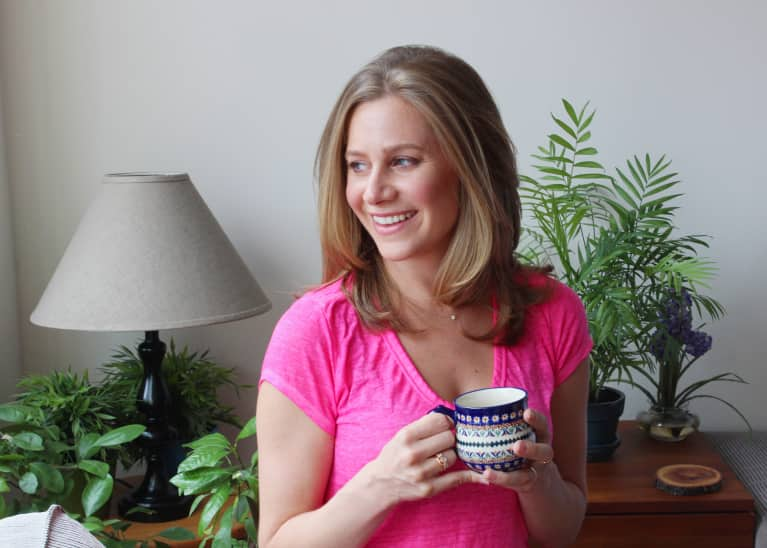 Ellen Vora, M.D., is a holistic psychiatrist practicing with Frank Lipman, M.D., at the Eleven Eleven Wellness Center in NYC. This week, we're sharing Dr. Vora's expertise in a new series on natural techniques for better sleep. To learn more, check out her mindbodygreen course, The Doctor's Guide to Falling Asleep Naturally + Getting the Best Rest of Your Life.
If you're struggling with sleep, try this blended chamomile latte for a cozy, effective nightcap.
It packs several ingredients that help promote a good night's sleep. Chamomile tea is an evidence-based remedy for insomnia. Cherries provide melatonin, the hormone that helps us feel sleepy. And coconut oil and almond butter give us stable blood sugar overnight while almond butter has the added benefit of magnesium and tryptophan to promote sleepiness. Collagen and raw honey can also help us sleep through the night.
I recommend this new twist on a nightcap for a deeper night of sleep:
Ingredients:
Freshly brewed chamomile tea
Optional: add cinnamon, cloves, and star anise to the tea
¼ cup frozen organic cherries
1 tablespoon sprouted almond butter
1 tablespoon coconut oil
1 tablespoon collagen
Optional: 1 tablespoon raw honey
Step 1: Brew your chamomile tea. I recommend using filtered water. You can try Aquasana or Berkey water filters. If you have it on hand, add cinnamon, clove, and star anise to the tea mixture.
Step 2: While your tea is brewing, add the cherries, almond butter, coconut oil and collagen to the blender.
Step 3: Once your tea has steeped for a few minutes, add it to the blender and blend.
Optional Step 4: Sprinkle your finished latte with cinnamon powder.
Enjoy.