paid content
 for

The Nighttime Routine Of A Mom Who Gets 8 Hours Of Sleep Per Night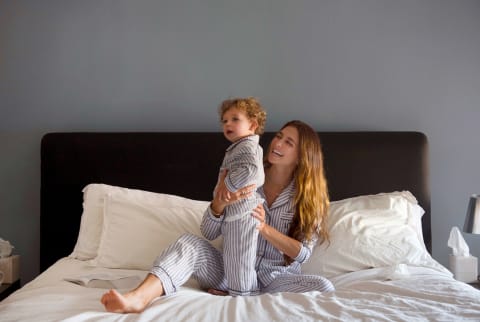 August 28, 2017
I have a confession: The thing that scared me more than anything when I first found out I was pregnant was the lack of sleep I'd get once I had a baby. I'm the person who counts on my fingers every night how many hours of sleep I'll get if I go to bed at this exact moment in time—no joke.
Motherhood, as all of us moms know, is the most exhausting but by far the most rewarding job I have ever done. As a mother to a wild and full-of-energy 2-year-old boy, a health and wellness coach, and a yoga and Pilates teacher—plus, I'm working hard all the while to build my business—great sleep is the most important gift I give myself every single night. Because without good sleep, it's impossible to do all that we do without losing our minds!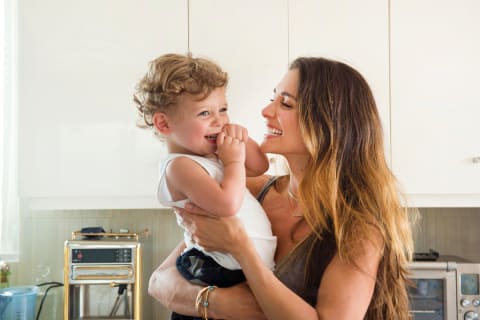 One of the biggest challenges for me is the transition from summer to fall (which means first day of school for my baby...how is this possible?!). Settling back into my regular sleep routine is one of my biggest challenges after a summer filled with lots of travel and exciting events. We recently traveled to Israel and Ibiza, and my time clock is still off after weeks of being back. Prioritizing my sleep is the most important thing to me, and using melatonin has helped me fall asleep faster, allowing me to get back into a routine of going to bed earlier, even when my body is telling me it's ready to go out like I'm still in Ibiza. Thankfully, melatonin has helped me get right back on track so I'm ready to take on my day when I wake up in the morning...free of grogginess, since it's 100 percent drug-free and non-habit-forming.
At night, after I put my son to bed, it's my time for self-care. Morning and nighttime while my son's still asleep are my chances to take the best care of myself so I'm able to be 100 percent present as a mom, a wife, and a boss.
Here is a step-by-step approach to my grounding nighttime routine that I always make sure to stick to, no matter where I am in the world.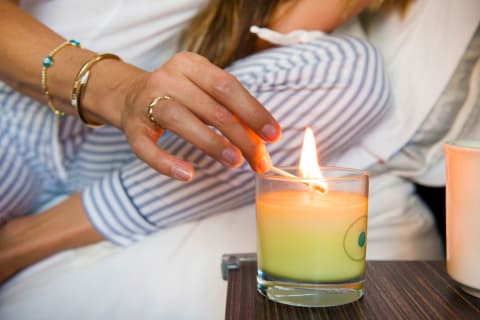 1. I light a candle after dinner and dim all the lights while I clean up. It immediately calms me.
2. If I have a lot of energy from the day and feel completely overstimulated, I do one of my wind-down flows on my @fitner_app channel to help calm my mind and body.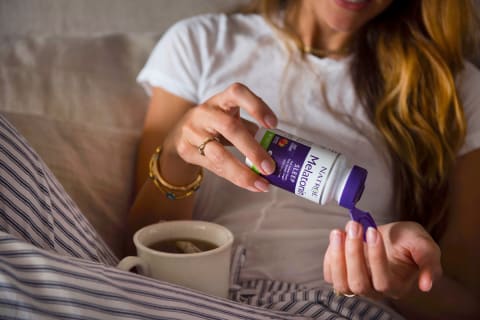 3. I then have a quarter cup of a calming tea like chamomile and take Natrol Melatonin to ensure I get a solid night's sleep. This is essential especially after traveling, when my time clock is totally off. P.S. This gives me absolutely NO drowsiness in the a.m. This is why I love Natrol...I go to bed easily but I wake up feeling like myself!
4. I put on a good face mask for whatever my skin needs at that time and finish up all my emails while it's drying.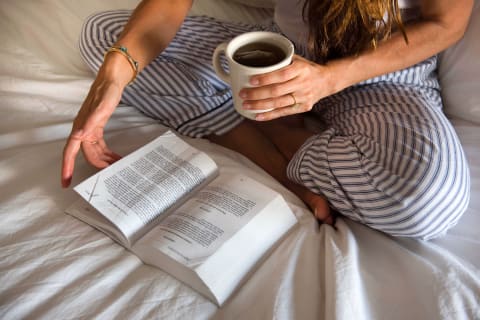 5. I reread my lesson of the day in A Course In Miracles, then meditate for 10 minutes before going to sleep so I can clear my mind from all the clutter of the day.
6. I just started using an essential oil lamp and I'm in love. I use a calming, minty oil at night that relaxes every fiber in my body. I think of it as wiping the slate clean before bringing that energy into my sleep.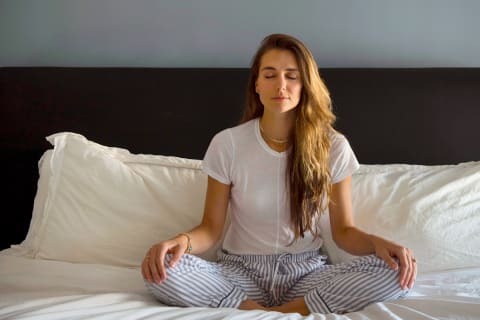 7. I say a prayer before I close my eyes, and by that time, the melatonin is in full force and I am out like a light.
This may sound like a lot of steps but it's what keeps me completely sane as a busy mom and businesswoman and allows me to have an amazing night's sleep every night, without fail. I don't know about you, but I will do whatever it takes to have a full night of beauty sleep—so for me, this is just par for the course.

Melissa Wood
Health & Fitness Coach
Melissa Wood-Tepperberg is a mom, certified health and wellness coach, meditator, yoga teacher, and thriving on a plant-based diet. Melissa's three pillars of focus are meditation, mindful eating, and movement. Melissa Wood Health is a platform for sharing all of the wellness tips that she swears by—food, fitness, beauty, fashion, and overall lifestyle—to help achieve your best self.