paid content
 for

The 9 Best Ever Gifts For Foodie Dads
Senior Branded Content Editor
By Krista Soriano
Senior Branded Content Editor
Krista Soriano is the Senior Branded Content Editor at mindbodygreen.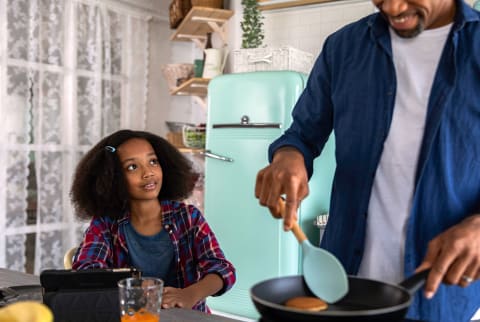 Image by Jovo Jovanovic / Stocksy
June 3, 2019
If the macaroni necklace you brought home from kindergarten was any indication, you were on to something. Nowadays, you know the real way to Dad's heart, and just in time for Father's Day, we've rounded up nine thoughtful gifts that your favorite family guy and his appetite will seriously appreciate. (Hint: It involves actual food.)
Top Kitchen Tools
Image by Vitamix / Contributor
1. A genius cooking assistant. Searing aromatics on a skillet without burning them is hard enough. But for the dad who loves finding recipes online, the real struggle might be keeping his phone screen free of saucy fingerprints while following said recipes. With Google Assistant's help on Google Home, Dad can listen to step-by-step cooking instructions hands-free for more than 5 million recipes from Bon Appétit, the New York Times, and more.
2. An all-powerful blender. Even if the dad you know somehow isn't obsessed with smoothies and shakes yet, he will be soon. With the easy-to-use Vitamix® Ascent® Series A3500 blender and the Vitamix Aer™ disc container for his emulsifying or craft cocktail needs (if he's fancy), he'll love whipping up everything from his post-workout protein shake to soups, sauces, and marinades in a matter of seconds.
3. A barbecue season essential. Is pops a meat lover? This tool by aptly named company Meater might just be his new best friend. It's the first wireless meat thermometer that'll send real-time updates and helpful pointers to his phone when he's grilling, baking, pan frying, and smoking his favorite meats—from a whole chicken to a tri-tip—for perfect results every time.
Shop these gifts:
Foodie Dad Favorites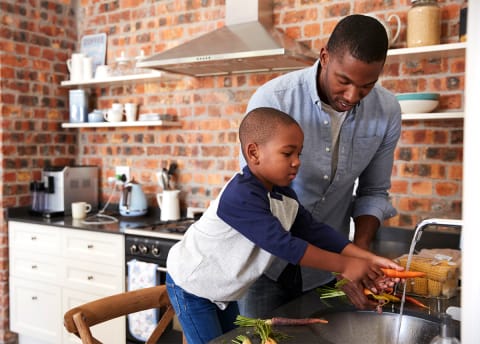 Image by monkeybusinessimages / iStock
1. A good-looking portable fire pit. From summer s'mores to winter bonfires and slow-cooked cast-iron meals in between, this timeless fire pit from Barebones Living is durable enough to hold heavy logs and is super easy to tote around from the backyard to his favorite campsite. Think of it as a gift for the whole fam.
3. A self-watering herb keeper. Name one foodie dad who doesn't love a fresh garnish. This Cole & Mason potted herb keeper draws water from Hydro-Felt pads to keep his favorite herbs alive and kicking; aka it's the gift that keeps on giving. Finally, no more wilted, brown, or just plain ol' dead herbs—and no more money wasted buying them, either!
Shop these gifts:
Simple Pleasures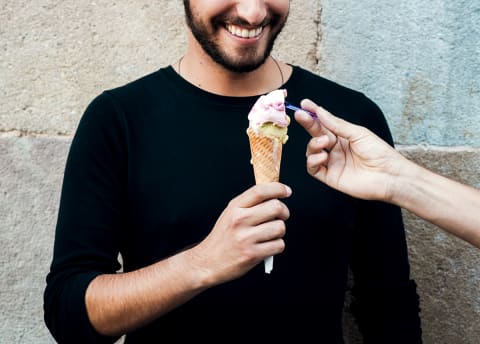 Image by Vera Lair / Stocksy
1. A must-have mug. Whether he's camping, fishing, grilling, commuting, traveling, or just at home reading the morning paper, a mug that keeps his coffee or tea steaming hot is truly a gift. Our pick? This stainless-steel vacuum-insulated mug from YETI is one of the toughest, most well-designed mugs out there.
2. A small-batch hot sauce subscription. For the dad who likes it hot, keep his taste buds happy all year round with a quarterly shipment of high-quality, never gimmicky hot sauces from across the globe, curated by Fuego Box. A subscription gets him a new box of sauces based on his desired heat level every few months, or just choose a one-time gift box.
3. An engraved ice cream scooper. Here's a treat for dessert-loving dads: A personalized ice creamer scooper from Zeroll—the maker of the classic heat-conductive handle that uses the natural warmth of his hands to scoop his favorite frozen ice cream like butter. He'll think of you every time he goes in for a scoop, and then for seconds.
Shop these gifts:

Krista Soriano
Senior Branded Content Editor
Krista Soriano is the Senior Branded Content Editor at mindbodygreen. She holds a B.A. in journalism with a minor in communications from Messiah College, graduating summa cum laude. She has written and edited lifestyle content for over 15 magazines and websites, including ELLE, Esquire, Good Housekeeping, Cosmopolitan, Marie Claire, Women's Health, Men's Health, Runner's World, and DuJour. At mbg, Soriano helps our partners—which include non-profits and Fortune 500 companies—tell their stories, covering everything from the future of regenerative agriculture, ethical banking, and the endocannabinoid system. She lives in New York.