7 Things You Need To Know Today (May 31, 2018)
mbg Health Contributor
By Gretchen Lidicker, M.S.
mbg Health Contributor
Gretchen Lidicker earned her master's degree in physiology with a focus on alternative medicine from Georgetown University. She is the author of "CBD Oil Everyday Secrets" and "Magnesium Everyday Secrets."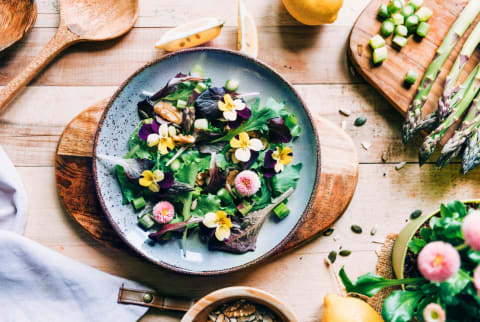 May 31, 2018
1. Are greens "high-risk"?
Nine food and safety consumer advocacy groups think so. They're petitioning the FDA to categorize leafy greens as "high-risk," which would subject them to more regular inspection. The groups say it will help trace E. coli outbreaks (like the recent widespread Romaine one) and give consumers more peace of mind when eating their vegetables. (FoodDive)
2. Are you 45? Time to add this cancer screening to your list.
According to new guidelines, colon and rectal cancer screenings should start at age 45, earlier than the previously recommended age of 50. This change comes on the heels of younger adults being diagnosed with the cancers. (CNN)
3. Think you're not a HIIT person? Think again.
High-intensity interval training may seem intimidating for first-timers, but new research shows that taking the first step and trying it may be half the battle. Once study participants got started with HIIT, they tended to think of it as just as enjoyable as more moderate exercise like cycling.
4. Queer women have more health problems than straight women.
Queer women are more likely to have health problems than straight women—they're more likely to develop type 2 diabetes, for example—buy why is this? According to researchers' theories, it probably has to do with the fact that minorities experience more stress, which has negative health consequences. (The Cut)
5. Way more people died in Puerto Rico than was previously thought.
When Hurricane Maria swept Puerto Rico last fall, the death toll was initially thought to be 64 people. Months later, a new study conducted in part by Harvard University found that the death toll is more like 4,600—and that's in large part because the disaster response was so inadequate. In fact, 11 percent of Puerto Ricans are still without power. (The Atlantic)
6. There's an open exhibition at Storm King, an art center in upstate New York that focuses on climate change.
Storm King has always been an environmentally focused artist institution, but this special exhibition on display now through November 11, 2018, puts forth a dozen different artists' interpretations of climate change. One example is by the Dear Climate, a protest group that uses art as a medium and created signs that read, "Give me luxury or give me breath," and "Say hello to hurricanes." (The Guardian)
7. Mental health is still largely ignored by American medical systems, and the numbers show its physical toll.
According to a study released by JAMA Psychiatry, people with schizophrenia are 3.7 times more likely to die at any age than the average population—that's a higher likelihood than someone living in the world's most poverty-stricken countries. But interestingly, the causes of death aren't usually suicide or directly linked to episodes of mania. Instead, they are heart attacks, cancer, diabetes, and chronic disease. (NYT)