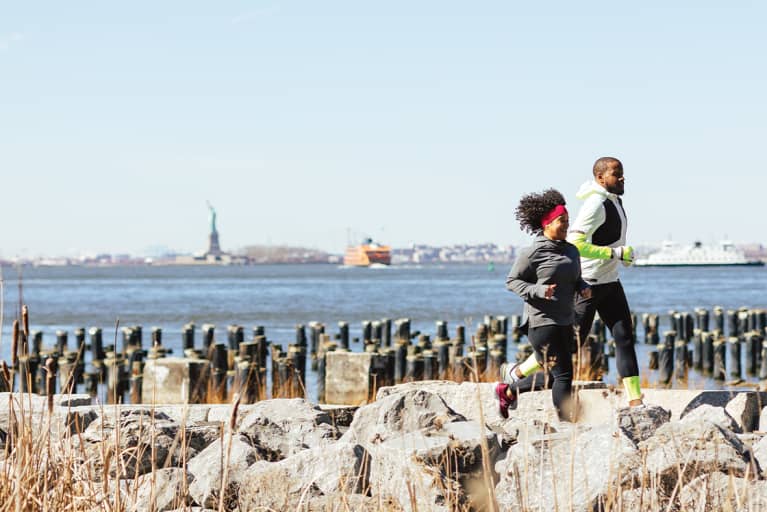 Running is not for the faint of heart. As if the cardio weren't enough, running builds full-body strength, takes our endurance to new heights, and shows us what we're capable of. And maybe it's that infamous runner's high or the surplus oxygen pumping to our brain, but the end result is always worth it: tons of fun.
And like anything fun, running is best enjoyed with a friend. This form of exercise certainly has its highs and lows (literally, hills) but a running buddy can help you keep your pace regardless. Whether it's that motivational text that gets you up off the couch and into your running gear, fresh from Zappos' Running Shop, or enjoying a post-run meal together, an accountabili-buddy is the best way to keep the pep in your step. And if you're looking for proof—just check out what the Harlem Run club is up to! Harlem Run club running buddies Lisa Rivera and J.D. Davis, featured in this article, know that a little company and fresh gear can go a long way (shop their full looks here!). So find yourself a cardio compadre and get motivated together with these five tips: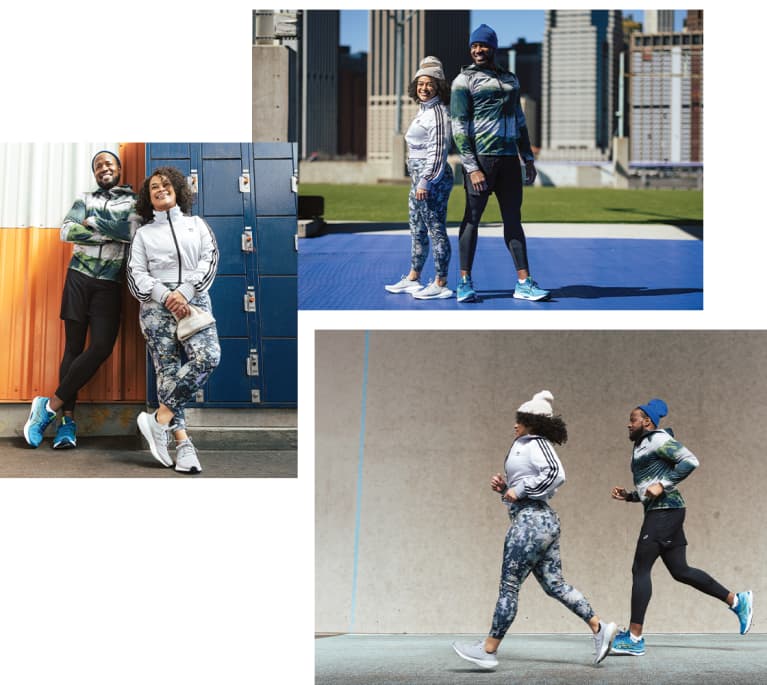 1. Set mutual goals that make running more accessible.
Running can be for everyone, but only if you adapt it to your needs, and a running buddy can help with that. Set mutual goals with your pal that are realistic but also push an edge. Are you trying to run faster? Farther? Then commit (together) to a running schedule that will get you there over time. Here's what Lisa Rivera, part of Harlem Run, recommends for setting goals:
"Start where you are and create short-term goals, like today [and the next few days] you will walk for 10 minutes. Next week you will try to run and walk for 15 minutes. The following month you might want to increase to 20 minutes of running straight and so forth… Just start where you are."
With mutual goals set, you're less likely to choose Netflix over your running shoes. And speaking of, no matter how many running friends you end up making, your running shoes are your No. 1. Just try out the perfect balance of stiffness and support found in the Adidas Running Ultraboost 22, and you'll see what we mean.
2. Get excited with running gear that you love.
The shoes you choose will make or break your run. Nothing motivates like a sparkling pair of new running shoes, but make it a bonding activity and peruse Zappos' Running Shop with your running bud. If you're really looking to get excited, try out the new HOKA Arahi 6 shoe, designed to strike the perfect balance between plushness and support. Or, for an extra focus on comfort, opt for the New Balance Fresh Foam 880v11, optimized to help your stride feel freer and unrestricted.
3. Hold each other accountable to the best versions of yourselves.
Here's the thing about having a running buddy—when you'd rather skip the run and stay under the covers, you've got someone else to answer to. You and your running partner should always expect the best of each other, even when the inevitable discouragement comes around. If your friend isn't in the mood to lace up, pull out all the stops: Send an inspirational text, show up dressed-to-sweat on their doorstep, or remind them how close they are to meeting a goal. But be prepared to receive the same when the roles are reversed!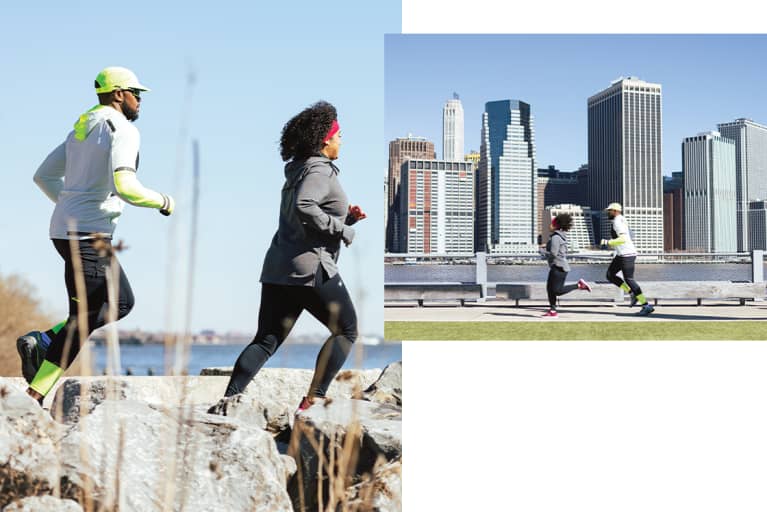 4. Get creative and plan more entertaining runs together.
Instead of your run being a mere point A to point B, turn it into a fast-paced adventure. Take your runs to unexpected places—like a nearby reservoir, new trail, botanical garden, or new neighborhood. A sturdy and agile pair of Brooks Adrenaline GTS 22 will take you anywhere with durable structure and next-level cushioning. Or, jazz up your jog by choosing the same high-vibe playlist or audiobook to listen to—because yes, dance parties and book clubs can be enjoyed on the go.
5. Celebrate your runs with some post-sweat nourishment and recovery.
There are few feelings on earth better than being on the other side of a long and challenging run. Celebrate your feat (or should we say, feet) with a little stretch, a protein-rich meal, and tons of hydration. If you're short on time, make it a ritual to at least hit the smoothie bar before you part ways, and cheers with your protein shakes! Taking that moment to acknowledge your hard work is like fuel in the tank for your next run.
And how does Rivera recover from her runs? "Foam rolling is so important," she describes. "I have yet to meet a runner who loves foam rolling, but we accept that it is needed to be preventive. Thinking long term will help with preventing some injuries and/or making them worse."
According to Rivera, "Not every run will go as planned or feel great, but you will never regret doing that workout!" And we agree. Every single run will feel like a challenge, but with the right support, we can take them head-on. At the most basic level, that starts with our running shoes. Whether that's the Asics GEL-Nimbus® 24, built for speed, or the many other options available at Zappos' Running Shop, the best runs really do start from the ground up. From there, it's the motivation and companionship of a running bud that puts the fun in our run. Because a solo run may bring us closer to our goals, but together is always better.