Happy Solstice! 5 Rituals To Ring In The Longest Day Of The Year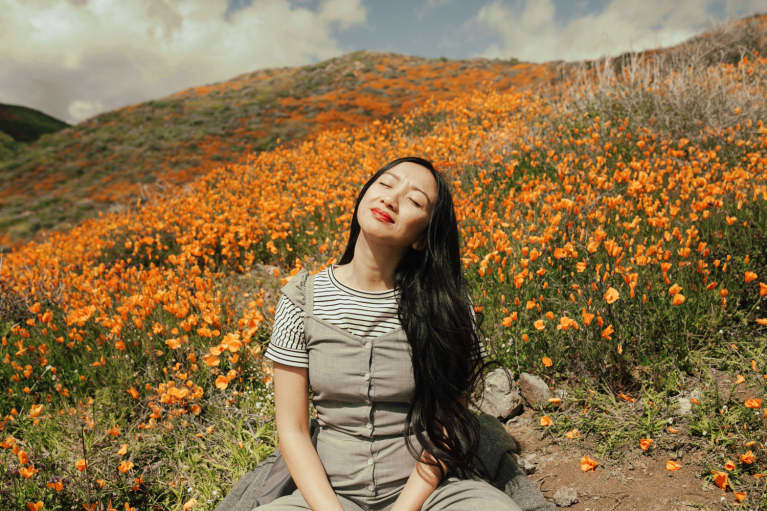 The summer solstice is a celebration of the longest day of the year, and it marks the height of the waxing season: a time when nature is blooming. Summer is synonymous with love, romance, and joy. Even the month of June was named after the goddess Juno, whose domain was love.
Since this marks the moment that the sun begins to wane, cultures around the world have celebrated it by lighting bonfires to guarantee the sun's return next year. Often, as part of these rituals, celebrants picked prized summer flowers and herbs—mugwort, chamomile, geranium, St. John's wort, thyme, and pennyroyal—to throw on their festive bonfires. They believed these fires would banish sickness from their livestock and their families. For good luck, they jumped across the fire and even walked on hot coals, precursor to fire-walking ceremonies practiced today.
In North America, Native Americans celebrate with a Sun Dance: offering a healing prayer to the Great Spirit and one of thanksgiving for the gift of the buffalo and for life itself. It begins with a period of fasting and purification. The ritual can last four days, as the participants dance to unify with Spirit and harmonize with all life.
Looking to do your own solstice ritual that celebrates the love and abundance of Mother Earth? Here are a few simple ones to try today that are inspired by ancient, time-honored tradition:
There is an Italian tradition of exchanging a pot of basil and cucumbers with your sweetheart. It is said that if your plant grows thick, your love will grow in joy and happiness. Take a cue from this gesture, and give a friend some honey to add sweetness to their life. The term honeymoon actually comes from the fact that there is an abundance of honey at this time.
2.  Spend some time around flowers.
I like to think of flowers as spiritual messengers. They encourage us to honor our creativity and wisdom. Breathe in the essence of jasmine for sensuality, rose for love, and gardenias for peace and sweetness. Surround yourself with sunflowers to bring in bright, warming energy.
3. Make a wish over a flame.
For protection and luck for the coming year, make a wish over a flame. You can use a small candle, but please take care to be safe. If you are outside with a small fire, place fresh herbs in the fire for health and good luck. I like to use mistletoe, mugwort, vervain, St John's wort, lavender, and chamomile.
The traditional dance for the summer solstice is a figure-eight dance that expresses the turning of the seasons and the cycles of the year. Whatever dance you choose, let yourself break loose and rejoice in the rhythms of life today. I invite you to step into sacred time and space. As mystics have known for eons, you are not dancing alone; you are dancing with the universe. Let spirit dance through you.
In many cultures this short night is a time to pray, set intention, and celebrate the coming season. Camp out with friends, or if you want to join thousands of pilgrims, go to a sacred site ceremony like Stonehenge, Machu Picchu, Chaco Canyon in New Mexico, or Callanish in Scotland.