Close Banner
Advertisement
This ad is displayed using third party content and we do not control its accessibility features.
paid content
 for

5 Simple Things To Do If Your Skin Is Redness-Prone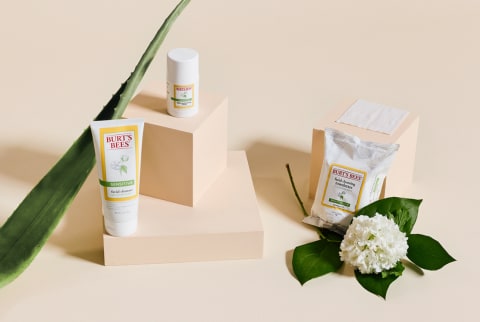 Photo by Miachel Breton / mbg Creative
It's not easy having sensitive skin. Even seemingly minor changes in your routine can launch an episode of tomato-face. Allergy season, drinking alcohol, exercising intensely, and/or indulging in some spicy food are a few common culprits—and hey, sometimes these things are well worth it! They aren't necessarily "bad" for you, but if you're going through a period of sensitivity, there are things you can do to help your skin out.
1. Use a gentle, calming skin care regimen.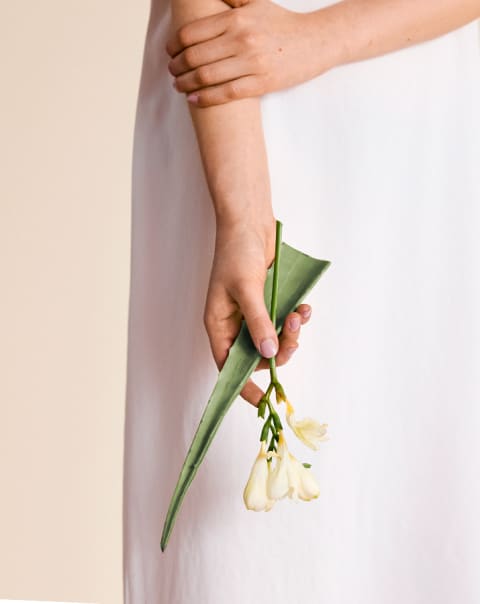 Photo: Miachel Breton / mbg Creative
This is easier said than done. With more skin care brands out in the world than ever before, it can be tough to find the ones that are actually safe for sensitive skin. Burt's Bees sensitive skin care line is approved for use by the National Eczema Association (NEA), is fragrance-free, and contains soothing ingredients like cotton extract and aloe. Moreover, sensitive skin can benefit from a consistent skin care regimen and not experimenting too much with a constant influx of new products. Often, there are one or more ingredients in a single product that aggravate sensitive skin, and if you can't isolate the skin agitator, it's impossible to know what it is.
2. Avoid spicy and inflammatory foods.
Photo: Miachel Breton / mbg Creative
Skin that's redness-prone is stimulated by foods that rev up the system1, including alcohol, caffeine, and spicy foods. Depending on your individual sensitivities, it may look different for you. Some people are more sensitive to sugar and gluten, for instance. Others react to the actual temperature of foods or how certain foods and spices raise their body temperatures. Whatever your "triggers" are, sensitive skin often benefits from avoiding them.
3. Try jade rolling.
Photo: Miachel Breton / mbg Creative
Hear us out: Jade rolling is a soothing, feel-good addition to any skin care regimen. It's trendy for a reason! The jade is said to help the skin's lymphatic drainage process along (goodbye, puffy skin), and the jade stone itself has a cooling effect, which can help soothe redness-prone and sensitive skin. It's quite nice to use a jade roller after using a moisturizer to help it absorb. Apply Burt's Bees Sensitive Daily Moisturizing Cream, allow it to sit for 30 seconds or so, and then use light pressure to roll your jawline, underneath your cheekbone, over your sinus area, and across one side of your forehead. Then roll the opposite side of your face. For an extra burst of cooling sensation, try putting the roller in the fridge for a while before using it!
4. Never forget to wash your face.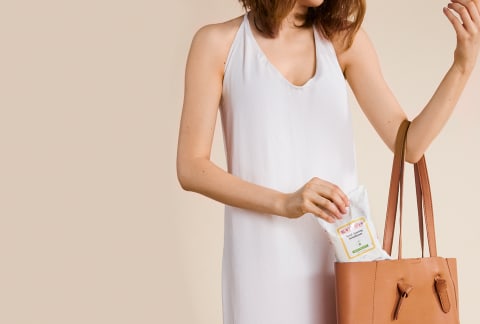 Photo: Miachel Breton / mbg Creative
Going to bed with makeup on, or with leftover sun protection, or even with "clean" skin that hasn't been washed with a gentle cleanser is a gamble. It's important to remove the day's buildup from the face, as pollution exposure becomes a growing concern as it relates to skin health, but leftover residue can build up over time. If you're too tired at the end of the day or traveling, try Burt's Bees Sensitive Cleansing Towelettes with Cotton Extract, or if you just haven't found a cleanser that's gentle enough for your sensitive skin, Burt's Bees Sensitive Facial Cleanser is a great option.
5. Consider stripping fragrance from your personal care routine entirely.
Photo: Miachel Breton / mbg Creative
If you've seen good results from removing fragrance from your skin care products, try stripping it from all of your personal care—body wash, deodorant, perfume, and even laundry detergent. If that seems daunting, try it for a month and see what happens with your skin on your face, scalp, and body. You may be pleasantly surprised!
The most important thing when it comes to sensitive skin is keeping things simple so you can listen to your body. Keep track of your sensitivity and what you're doing when you notice a flush so you can better understand your triggers and, hopefully, get ahead of them when it's important.
Shop Burt's Bees